Houston grand jury clears police officer in killing of unarmed black man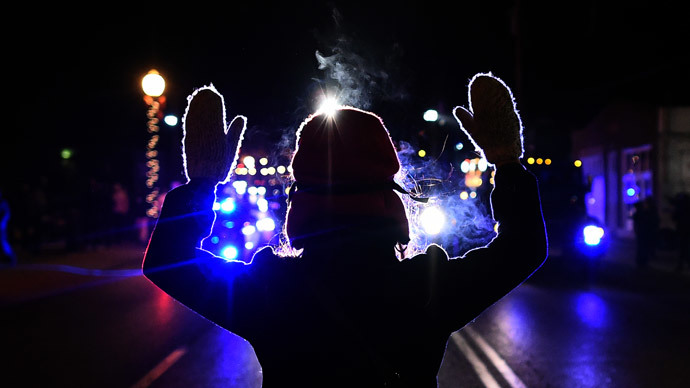 A Texas grand jury has declined to indict a Houston police officer in the January shooting death of an unarmed black man. Officer Juventino Castro was off-duty when he shot and killed Jordan Baker in an alley behind a strip mall.
Castro was working a second job in private security ‒ but was wearing his police uniform ‒ at the shopping center, which reportedly had a lot of break-ins. He saw Baker – whom he said matched the description of the robbery suspect – looking in windows, according to the Houston Police Department.
Castro said he tried to stop Baker in the parking lot because he looked "suspicious" and matched a description of the robbery suspect, namely that Baker was wearing a black hoodie, the Houston Press reported. Castro's lawyers said there was a struggle, then Baker charged at the veteran officer, who fired once.
The community college student and father was unarmed when he was killed.
The officer is the only living witness to Baker's death, KTRK reported.
Another grand jury clears a police officer in the death of an unarmed young black man http://t.co/wTsYxm6JTapic.twitter.com/goKtpq9RLg

— Anthony De Rosa (@AntDeRosa) December 23, 2014
The case got the personal attention of Harris County District Attorney Devon Anderson after Baker's mother, Janet Baker, showed up at a December 1 town hall meeting with local leaders including Harris County Sheriff Adrian Garcia and State Sen. John Whitmire, the Press reported. The discussion prompted Anderson to allocate nearly $2 million in asset seizure funds towards body cameras for local cops. She later met with Janet Baker for three hours to talk about the case and the grand jury process, according to the DA's office.
"I want to express my deepest sympathies to Janet Baker and the entire Baker family," Anderson said in a statement after the grand jury declined to press charges against Castro. "I know they are disappointed, but the grand jury's decision means they found that there was no probable cause to believe a crime was committed. It does not constitute an endorsement of the officer's actions."
"It is our policy to present all of these cases to a grand jury so 12 representatives of our community will hear all the evidence and make a decision on whether charges should be filed," Anderson continued. "In these cases we seek the most diverse grand jury that is available at the time and we ensure that there are no former or current police officers or prosecutors on the grand jury we present to."
Baker's death gained national attention in the wake of grand jury decisions clearing police officers in the deaths of Michael Brown in Ferguson, Missouri, and Eric Garner in New York City. Local activists hoped that Castro would stand trial, unlike Ferguson Officer Darren Wilson or NYPD Officer Daniel Pantaleo.
"To hand over a decision like this, 48 hours before Christmas, is unconscionable," local activist Deric Muhammad told KTRK. "It's as if they put a non-indictment in the box, put a bow on it and gave it to this mother to take home and said, 'Merry Christmas'. That is the kind of system that we are dealing with here in Houston and Harris County."
"What can I say," he added. "So much for justice and welcome to Ferguson, Texas."
The Houston police chief has said his department will be launching its own investigation, while Baker's family is calling for a federal civil rights investigation, KTRK reported.
"We're just going to keep taking about faith and purpose and I'm sure this will define his character and he'll know as a family we stick together and we support one another," said Janet Baker.