​Anti-police brutality rally paralyzes Mall of America (PHOTOS, VIDEO)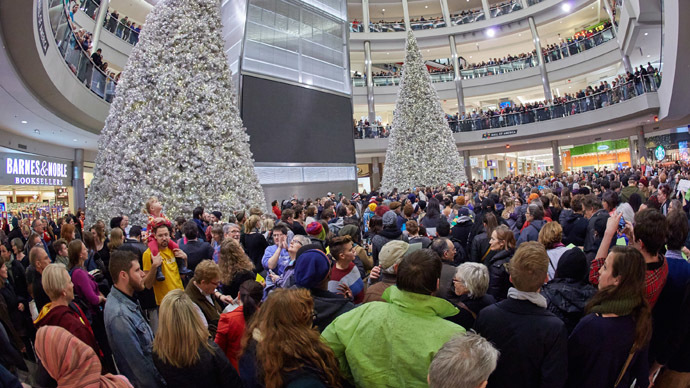 Riot-equipped police have made at least two dozen arrests after a massive rally in one of America's largest shopping malls, where activists were protesting against racially charged police violence and interrupting the last pre-Christmas shopping weekend.
Up to 3,000 demonstrators occupied two levels of the Mall of America, located in Bloomington, Minnesota on Saturday. They staged several "die-ins" in front of retail stores, holding up slogans such as "Black Lives Matter".
Some half hour into the rally, riot-equipped police started to clear the area the ground floor from further protests. As police moved to remove the activists, several of them raised their hands into the air, saying "Hands up, don't shoot," as a reference to the Michael Brown shooting in Missouri.
Most of the protesters migrated to other parts of the mall as police moved in.
Riot police at the Mall of America, how fitting. | EMPⒶTHY's post on Vine http://t.co/NI1Z57IEjN

— Joe Tall (@JoeTall) December 20, 2014
"@changeurticket: the #BlackLivesMatter protest shut down the Mall of America...this is so incredible pic.twitter.com/5Dd3lPjOzo" this >>

— SariahCharms (@theonlyhipster_) December 21, 2014
During the event which was organized via Facebook with 3,000 confirmed attendees, protesters in the rotunda area shouted "While you're on your shopping spree, black people cannot breathe", referring to the police chokehold that killed Eric Garner in New York.
Around an hour later, just before 3 pm, organizers send a group text message asking those still inside to exit the mall.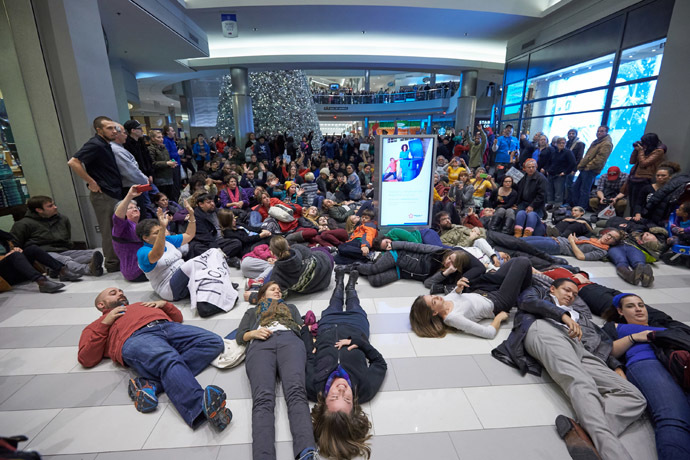 "We shut it down y'all. Let's move out the exit toward the east past the rotunda and Seaworld. Great work!" Star Tribune quotes. Mall officials said all the areas of the mall were reopened to the public before 5 pm.
Bloomington police said 25 people were arrested, Star Tribune reports. The mall meanwhile issued a statement saying 12 people were arrested by Bloomington police.
A woman is arrested at the Mall of America during the #BlackLivesMatter protest. Photo credit: @rileyrassmanpic.twitter.com/msEdXulHCU

— Janel Klein (@JanelKlein) December 20, 2014
"It's clear from their actions that these political activists were more concerned about making a political statement and creating a media event than they were about the safety of others, who came to Mall of America for an afternoon of shopping and family entertainment," the statement said.
The mall officials added that they are "extremely disappointed" that organizers of Black Lives Matter protest ignored "repeated reminders" that political rallies are not allowed on Mall of America property.
All areas of the mall were reopened to the public before 5 pm so that shoppers can resume purchasing their holiday gifts.
READ MORE: #ICantBreathe: Thousands march against police brutality across US (PHOTOS, VIDEO)
According to the shopping center website, the Mall of America serves some 40 million shoppers a year. The mall is so big that it would take 86 hours to see all the stores, if one spends only 10 minutes at each retailer.
You can share this story on social media: