#ICantBreathe: Thousands march against police brutality across US (PHOTOS, VIDEO)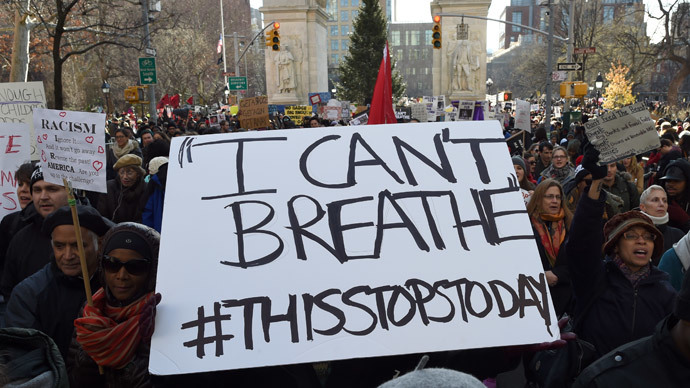 Tens of thousands of Americans across the country joined in a massive march against the killing of unarmed black men by police. Protesters staged rallies and 'die-ins' under the banners 'Black Lives Matter' and 'Justice for All.'
RT's LIVE UPDATES on protests against police brutality

Major cities where the rallies took place included New York, Washington, Boston, Chicago, Oakland, Los Angeles and San Francisco.
The demonstrators came together on Saturday to march and speak out against grand juries' decisions not to indict the white officers responsible for the deaths of two unarmed black men, Michael Brown and Eric Garner. They are demanding police accountability.
Thousands marching into 1 police plaza as families of victims speak out for justice #justice4all#MillionsMarchNYCpic.twitter.com/cDJu1o4vbW

— Millions March NYC (@MillionsMarch) December 13, 2014
The New York march attracted over 25,000 young and ethnically diverse people, who participated in what was largely a peaceful rally.
At 2 pm local time, protesters began pouring out of Washington Square Park, with the crowd stretching for more than 20 blocks.
Towards the evening, the demonstrators made their way to New York Police Headquarters in Lower Manhattan. A group of people shut down traffic on the Brooklyn Bridge, but were soon diverted by security forces.
About 10,000 people took to the streets in Washington, DC, in what was overall a peaceful march towards the Capitol building.
Protesters held banners reading "Black Lives Matter" and "Who do you protect? Who do you serve?"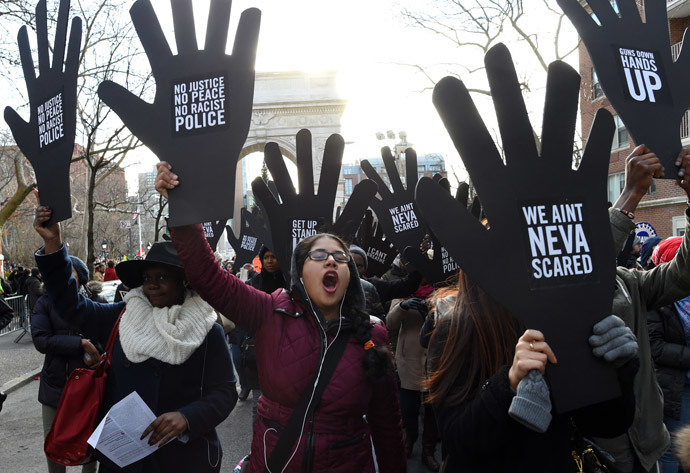 "It's not black against white; it's right against wrong," said Rev. Al Sharpton, the organizer of the march in Washington. "This is not a black march; this is a march for the rights of the American people."
At least one arrest on Brooklyn Bridge. #MillionsMarchNYCpic.twitter.com/POAki6uNsi

— thomas macmillan (@TRMacM) December 14, 2014
A hundreds-strong rally in Boston wasn't as peaceful, though: at least 23 people were arrested.
"Troopers arrested 15 male and eight female demonstrators who ignored repeated orders to comply [with] the law," according to David Procopio, a state police spokesman.
In California, several hundred demonstrators made their way from Berkeley to Oakland and rallied at the Alameda County Courthouse.
#ICantBreathe > @jamalhbryant: RT @Crewof42: New York today: Organizers of #MillionMarchNYCpic.twitter.com/ozZahwj3j0" @iamchriswms

— BaconBitsNews (@Baconbitsnews) December 14, 2014
San Francisco saw massive traffic congestion, as protesters temporarily shut down the Embarcadero while marching to City Hall.
Got ourselves a good vantage point to see the endless crowd at #MillionMarchNYC#EricGarner#ICantBreathepic.twitter.com/CjGc9WTr29

— Alexey Yaroshevsky (@Yaro_RT) December 13, 2014
The US has witnessed a wave of protests across the country following a grand jury decision that acquitted a white New York City police officer of any wrongdoing in the death of Eric Garner, a 43-year-old black Staten Island resident, on July 17.
The incident was videotaped by a passer-by and uploaded online, causing global outrage against police brutality.
The video shows the officer placing Garner in an illegal chokehold while a group of other law enforcers force Garner to the ground. Mr Garner, who reportedly suffered from asthma, died after repeatedly saying, "I can't breathe" – a phrase that has become a backbone of the protests.
The jury's decision in the Garner case follows a Missouri grand jury's ruling not to indict a white police officer in the death of Michael Brown, 18, who was shot several times following a confrontation with police in Ferguson, Missouri, despite being unarmed. Police suppressed the wave of protests in Missouri.
You can share this story on social media: