'Millions March' against police brutality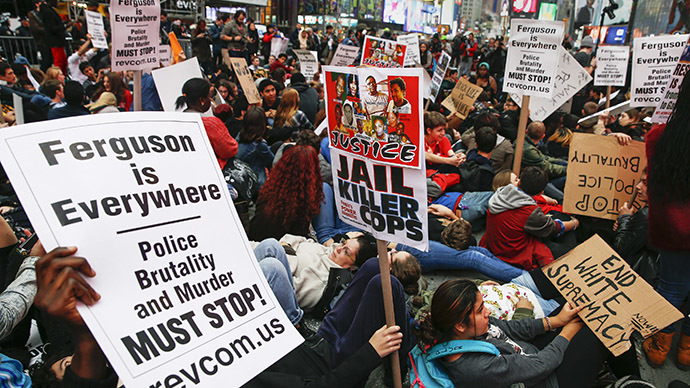 Protesters are taking to the streets by the thousands in cities across the US to protest grand juries' decisions not to indict the white officers responsible for the deaths of two unarmed black men, and demand police accountability.
14 December 2014

04:37 GMT

02:59 GMT

Meanwhile in Oakland, popular Ferguson streamer Bassem Masri was attacked and had his phone taken away. Masri was broadcasting the Oakland protest live on Ustream at the time of the attack. According to reports on Twitter, the streamer was not hurt, but his device was broken.

Looks like someone my have stolen Bassem's phone, guys appear to be attacking him(8:00 on livestream video http://t.co/nlt8Mb97il)

— Angela Williams (@angela_williams) December 14, 2014

Everyone asking: @bassem_masri is fine but his phone isn't. He's with @Rebelutionary_Z right now. http://t.co/jlgBrn59FL

— (re)becca ツ (@bexology_) December 14, 2014

01:53 GMT

Watch this amazing time-lapse video of today's Millions March passing 6th Ave in New York City.

.