Milwaukee protesters block interstate over police killings (PHOTOS)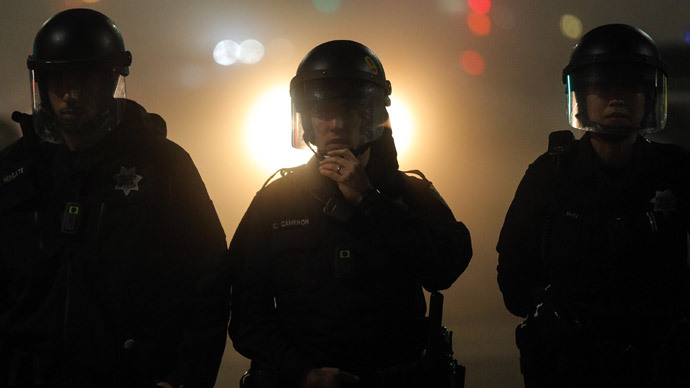 At least 73 adults and one minor have been taken into custody by Milwaukee police for blocking interstate highway 43 while protesting the killing of an unarmed and mentally infirm black man by police officer earlier this year.
The I-43 in downtown Milwaukee was completely halted in both directions by approximately 100 protesters at rush hour, about 5:00pm and remained inoperable for about 75 minutes.
"Disappointed our continued efforts to work w/ Hamilton family to ensure safe demonstrations went ignored requiring law enforcement action," tweeted Milwaukee police.
Protesters block road to I-43. Cars honking. pic.twitter.com/oHLkKW7JrY

— Ashley Sears (@AshleySears6) December 19, 2014
There have been a chain of peaceful protests in Milwaukee following the killing of Dontre Hamilton, a black man aged 31, who was shot 14 times by a police officer at Red Arrow Park in Milwaukee on April 30, but there have not been so many arrests made so far.
Intentional disruptions inflicted on this city impose a very real public safety cost on the community at large. (1/2, cont.)

— Milwaukee Police (@MilwaukeePolice) December 20, 2014
"We're still peaceful," Dontre's brother, Nathaniel Hamilton, told the Milwaukee Journal Sentinel. "Nothing is burning. Nothing is torn down. No one's hurt. I don't want them to think being disruptive is being violent."
Milwaukee Co. Sheriff's Office say more than 70 arrests after protesters block traffic on I-43 (FRID389 and FRID397) pic.twitter.com/1HQxYsn91x

— CBS Newspath Chicago (@NewspathMidwest) December 20, 2014
An attorney for the Hamilton family, Jonathan Safran, told the Milwaukee Journal Sentinel that the family does not approve of protesters blocking a freeway.
Several protesters arrested by Milwaukee Police. Video of the arrests @WISN12News at 6 pic.twitter.com/SdID4nbgnI

— Terry Sater (@noozdude1) December 19, 2014
"Intentional disruptions inflicted on this city impose a very real public safety cost on the community at large," police said in a statement. "Every officer protecting protesters from death/injury in traffic is one pulled from neighborhoods most at risk from violent crime."
This minor inconvenience is brought to you by a major injustice. #dontrehamilton#ShutItDown#BlackLivesMatterpic.twitter.com/fbCzoV5JlH

— OverpassLightBrigade (@OLBLightBrigade) December 20, 2014
Protesters in Milwaukee have been demanding charges be filed against white Milwaukee ex-police officer Christopher Manney, who shot unarmed and mentally ill Hamilton multiple times – one of them in the back, experts claim.
Ladies first. Police process female protesters first in police processing vehicle on I 43 on ramp. pic.twitter.com/oEXrZqVt1j

— Colleen Henry (@colleenmariehen) December 19, 2014
According to the media Manney was fired from the Milwaukee Police Department in October for not following proper procedures - without any charges brought against him, which is still a subject to final decision by the end of this year, District Attorney John Chisholm said this week.
You can share this story on social media: