Flames from Chevron refinery in California alarm locals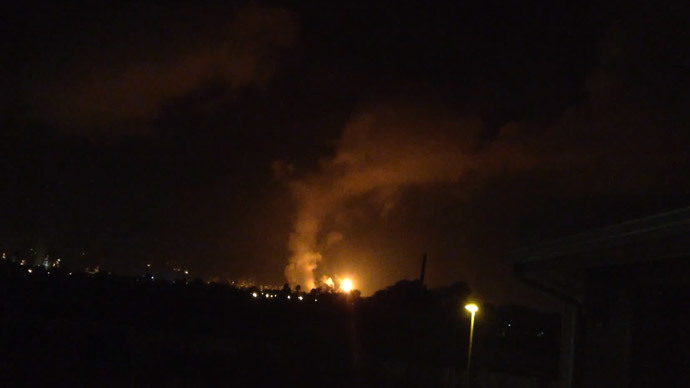 Flames coming from an oil refinery in the Bay Area caused alarm amongst local residents on Thursday evening. Chevron said everything was under control, but locals complained of an acrid odor in the air, which the oil company said was from flaring.
The blaze, which is visible for miles, has caused uncertainty within the local community. Many citizens took to social networks to try and find out more information about whether the refinery was on fire.
Local residents said the smell coming from the refinery was not pleasant.
Contra Costa County health officials said in a statement on Twitter that a hazardous materials team is on scene monitoring, but that residents were not being advised to shelter in place.
Pic from my back patio of @chevron Richmond refinery. I bet they'll call it "flaring." I call it #roguecorporationpic.twitter.com/d1o250F2jt

— Jeremy Miller (@JeremyJ_Miller) December 19, 2014
#Chevron says "flare" is "normal". Huh, air stinks in N. Bay. http://t.co/B7d3kd6qja#Breakingpic.twitter.com/3LbkkKLr4N

— Abrahm Lustgarten (@AbrahmL) December 19, 2014
Chevron, which owns the refinery, says the flames were caused by flaring and that the situation was under control. The oil company released a statement saying:
"We had a process unit that needed to be depressurized, creating a visible flare. The flare is part of our safety system which enables to safely shut down a unit," CBS reports.
Whoa! Looks like Chevron has a refinery fire in Richmond, CA pic.twitter.com/bCnZewgrfD

— Kin Jung (@mrkin) December 19, 2014
The flaring, which started in the early evening lasted for around an hour, with flames reaching high into the night's sky that were visible for miles.
"We have our chemical engeineers who will work with Chevron to find out what happened and the refinery itself will do the investigation and then they'll get back to us," said Steven Morioka, Assistant Director of Contra Costa County Health Services, which was reported by KTVU.
Chevron spokesman Braden Reddall told KTVU that flames and water vapor became visible when a process unit at the refinery needed to be depressurized and shut down.
"The process, produces a flare and water vapor that looks like smoke, and makes it possible to shut down the unit safely," Reddall said. The process will continue Thursday evening and additional intermittent flares could occur.
Reddall said he could not discuss why the unit needed to be depressurized due to the "commercial sensitivity" of refinery operations.
There was some visible flaring tonight to allow for equipment de-pressuring. Flaring is a part of refinery operations.

— Chevron Richmond (@ChevronRichmond) December 19, 2014
The refinery in the Bay Area has been the scene of multiple fires in the past. In 2012, local residents were told to stay indoors after hazardous material was released into the atmosphere following a blaze at the oil facility.
READ MORE: Global anti-Chevron day: Environmental activists stage protests worldwide (PHOTOS, VIDEOS)
One local resident, Julius Bailey, said his throat had started burning and his eyes began itching. After seeing a doctor, he said, "They told me I'm not going to die, but it sure feels pretty serious," according to CBS.
There were no fatalities following that fire in 2012, though one worker required medical treatment for burns to his wrist.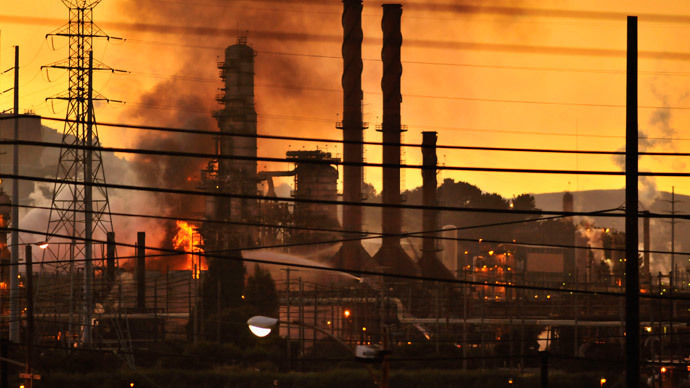 In August 2013, the City of Richmond filed a law suit against Chevron for alleged negligence as a result of the 2012 fire. They said the oil company was guilty of "willful and conscious disregard of public safety."
The local authority also said that the fire at the facility was the result of "years of neglect, lax oversight and corporate indifference to necessary safety inspection and repairs," as reported by CBS.
READ MORE: Massive fire engulfs Chevron California refinery (PHOTOS)
The fire burned for several hours before being brought under control, while more than 15,000 people were treated at hospitals for respiratory problems and other illnesses.
In the region of 24,000 local residents brought law suits against the oil giant, with the company agreeing to pay out over $12 million. Most of the money went to hospitals for medical exams and treatment immediately following the incident, according to AP.
The Chevron refinery, which was founded in 1902 is particularly big and important to the West Coast market, said Tom Kloza, chief oil analyst at Oil Price Information Service.
It produces about 150,000 barrels of gasoline a day – 16 percent of the region's daily gasoline consumption of 963,000 barrels, he said, AP reported.