Massive fire engulfs Chevron California refinery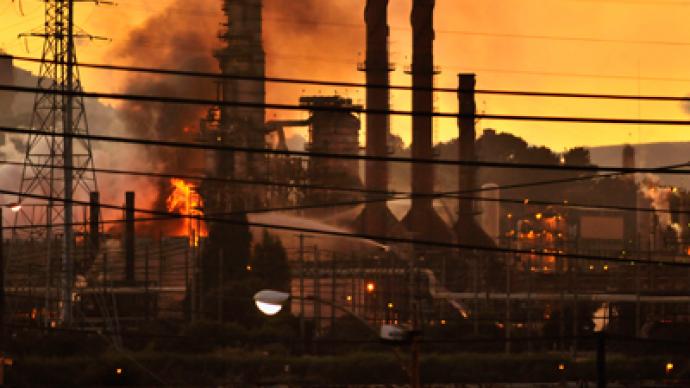 Firefighters are battling with a blaze that has torn through oil giant Chevron's Richmond refinery in California. Officials have warned residents to stay indoors as toxic fumes have been released during the fire.
The blaze has been brought under control by firefighters, but has not been put out.The fire reportedly started in the facility's main processing unit at 6:15pm local time Monday (01:15 GMT Tuesday). Large flames and towers of black smoke could be seen issuing from the blaze as fire fighters struggled to bring the inferno under control. Residents have been warned not to leave their homes as toxic sulfuric acid and nitrogen dioxide were release during the fire."The biggest concern is the smoke," Randy Sawyer, an environmental health officer at Contra Costa County Health Services told Al Jazeera.He advised residents to "go inside shut their doors and windows. Keep the outside air, the smoke, from going inside your home."Spokesperson for Chevron Walt Gill told the local press that it was unknown when the fire would be extinguished. Gill described the incident as a disappointment and he apologized for "inconveniencing our neighbors."Local sources say that all of the facility's workers have been accounted for and that there are no injured.An investigation is currently underway to ascertain the cause of the fire. Chevron spokeswoman Heather Kulp told local press that crews were looking into a fuel leak that occurred in the facility just before the blaze broke out.The fire struck the plant's main distillation unit which produces around one eighth of California's refined oil. Concerns have been raised of a knock-on effect on local oil prices if the facility remains out of action for an extended period."If the refinery is disrupted for an extended period of time, there would be an effect on gasoline prices on the West Coast," Pavel Molchanov, an analyst with investment firm Raymond James told the Marin Independent Journal. "The effect on California fuel prices is likely to be meaningful."The crude distillation unit (CDU) is of paramount importance to the oil refinery process. Significant damage could take months to repair.Chevron's Richmond refinery is the Bay Area's largest facility and is capable of processing up to 240,000 barrels of crude oil a day.