Law enforcement is most obese profession - study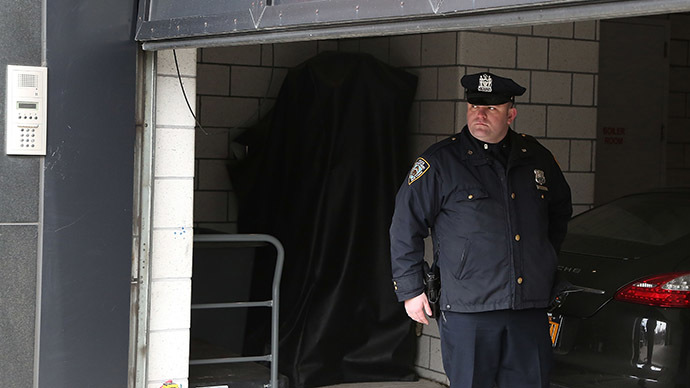 A study on the prevalence of obesity by occupation found nearly half the cops, firefighters and security guards in the United States are obese. Economists, scientists and psychologists scored the lowest rates of obesity.
Law enforcement personnel scored 40.7 percent on the American Journal of Preventive Medicine's report for highest obesity rates in professions. Other jobs with high obesity rates were social workers, home health aides, truckers and garbage collectors ranging between 32 to 35 percent.
The study said the average American worker scored 27.7 percent. On the other side of the obesity scale, professions with low obesity rates are athletes, actors, reporters, economists and scientists.
The report comes as American companies have started to rethink policies and consider what they can do to help reduce obesity rates for one third of US adults that make up many of their employees.
READ MORE:Fighting deadly flab: Half a million cancers a year caused by obesity – WHO
For employers, encouraging employees to lose weight is a delicate proposition that requires tact in approach, but the Rudd Center for Food Policy and Obesity at Yale University says doing so would save them nine percent of money spent on healthcare and lost in productivity due to sick time.
About 71 percent of employers representing 600,000 workers said that overcoming stigma and embarrassment represented the biggest hurdle to an effective corporate weight-loss program, according to an October survey from the Northeast Business Group on Health cited by the Wall Street Journal.
READ MORE:New anti-obesity pill to help curb appetite of 78mn Americans
To date, companies provide healthy snack vending machines and gym discounts, but they are increasingly looking towards mental-health counseling and fitness trackers. They're also considering covering weight-loss surgeries and drugs, and pilot nutrition and exercise programs.
An example of this type of innovation was carried out at the Bangor, Maine location of L.L. Bean Inc., where the company determined through biometric screenings that nearly 85 percent of employees at its call center were overweight or obese.

READ MORE:Battle of the bulge: US food corporations fueling obesity epidemic with addictive ingredients
The company enrolled 24 employees in a yearlong pilot program of nutrition, exercise and mental health counseling, provided during work hours. After a year, participants lost 15 pounds, on average. The success of the program was then replicated at other locations.
Susan Tufts, the manager of L.L. Bean's occupational health and wellness, told the Journal the numbers were too small to discern any effect on the company's overall health costs.
But she added, "People who are overweight are so judged, and you just don't know what they're dealing with or what other issues they have."