Cop caught with 4 pounds of marijuana at home won't be charged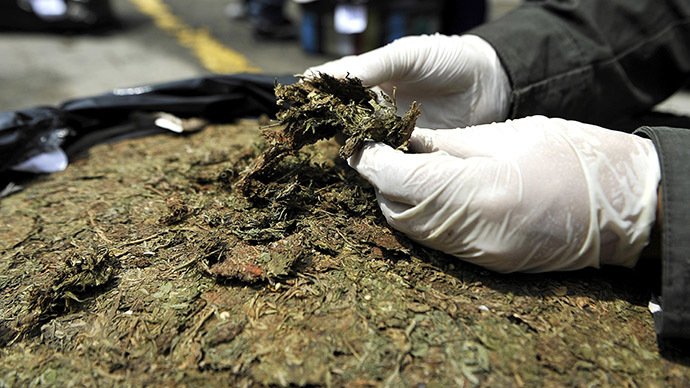 A California police officer already being investigated by the District Attorney's office was discovered with four pounds of marijuana in his home, but he won't be charged with possession. His future on the force, however, is uncertain.
K-9 police officer Joe Avila, a veteran with the Richmond Police Department, has been on administrative leave since September after an internal investigation found he failed to file more than three dozen police reports.
READ MORE: Legal marijuana is 'inevitable,' says California attorney general
One of those reports involved the seizure of four to five pounds of marijuana. Instead of storing the pot in the department's evidence locker, Avila stored it in the trunk of his car and home, and failed to file a police report about the seizure.
The Contra Costa County District Attorney's Office, which has been investigating the case, said it is not inclined to file charges. The county's chief public defender, Robin Lipetzky, told The Contra Costa Times the evidence is not strong enough to produce a conviction.
What a surprise, the cop who stole #Cannabis won't be punished. #AskACop, they know how to get away with anything! http://t.co/Ypdv6AI4ab

— #Cannabis #Weed #Bud (@MarijAWanna) December 17, 2014
The incident happened on November 25, 2013, when Avila picked up a box containing the marijuana from a UPS store. He radioed a dispatcher to say he would file an incident report, but that never happened and the marijuana never found its way into the department evidence locker, a violation of police policy.
READ MORE:Seattle cop responsible for 80 percent of marijuana citations reassigned
Instead, the marijuana ended up in his Oakley home. According to police sources, officers are required to follow strict guidelines about labeling, packaging and storing potential evidence. They must also file a police report before the end of their shift unless special circumstances dictate they don't.
When questioned about his missing incident reports, Avila told investigators that he used two pounds of the marijuana to train his police dog in February 2014. When pressed, he acknowledged there may be more in the trunk of his K-9 patrol car or at his house. During their search, police found marijuana in the home.

READ MORE:LA cops accused of cutting power to marijuana clinic, planting guns
Cop gets caught with 4 pounds of marijuana in Richmond wont b charged. How exactly is America's criminal justice system not totally corrupt?

— AspiringCultLeader (@newkingofmedia) December 17, 2014
In California, pot advocates are hoping to place a legalization initiative on the ballot in 2016, but the drug has yet to be legalized for recreational use. Medical marijuana has been legal in the state since 1996.
You can share this story on social media: