LA cops accused of cutting power to marijuana clinic, planting guns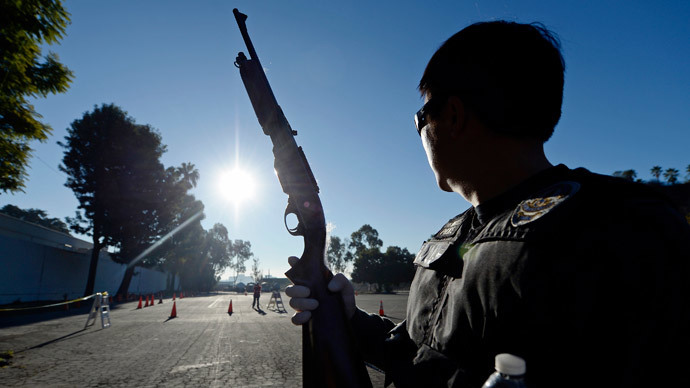 Two former Los Angeles County deputies were charged Wednesday in connection with allegations they switched off electricity at a medical marijuana dispensary, disabling a surveillance camera and possibly planting firearms there.
Julio Cesar Martinez, 39, and Anthony Manuel Paez, 32, were initially charged with conspiracy, perjury, and altering evidence although court documents obtained by the Los Angeles Times show that each was charged with two felony counts Wednesday, conspiring to obstruct justice and altering evidence. Martinez also faces additional felony counts of perjury and filing a false report, the paper noted.
Prosecutors said each ex-officer faces more than seven years in state prison if convicted in connection with the August 2011 incident.
The trouble began when Martinez and Paez filed a report claiming they were on patrol on West 84th Place in Los Angeles, California when they watched a drug deal take place. One of the suspects appeared to be carrying a gun, the report said, and when the officers gave chase the suspect allegedly fled into a medical marijuana dispensary.
Martinez asserted that, upon entering the dispensary, he discovered a gun in a garbage can and a second firearm on top of a desk near ecstasy pills. Each of the two would-be offenders were arrested, one charged with possession of an unregistered firearm and another for possession of a controlled substance while armed.
The Los Angeles District Attorney later announced that the charges against the two men were dropped when the police department's Internal Criminal Investigation Bureau opened an investigation into the event and found video footage from inside the dispensary that was "inconsistent" with the officers' report, prosecutors told the Times.
Court officials refused to go into any more detail, although Los Angeles police have in past incidents proven to be willing and able to fix surveillance devices when the footage, audio or video, may not suit their need.
An unrelated LA Times story from earlier this month reveals that an internal LAPD investigation discovered that an estimated 40 out of the 80 cars in a single patrol division in south Los Angeles were missing the antennas used to capture officers' field communications.
LAPD Chief Charles Beck and other department brass were informed of the issue nearly a year before it was discovered by Internal Affairs, choosing to not only keep quiet on the matter but also not investigate which officers were involved and issue a department-wide advisory against meddling.
Police commission President Steve Soboroff told journalist Joel Rubin that his oversight board only learned of the problem in recent weeks.
"On an issue like this, we need to be brought in right away," he said. "This equipment is for the protection of the public and of the officers. To have people who don't like the rules to take it upon themselves to do something like this is very troubling."
You can share this story on social media: