Seattle cop responsible for 80 percent of marijuana citations reassigned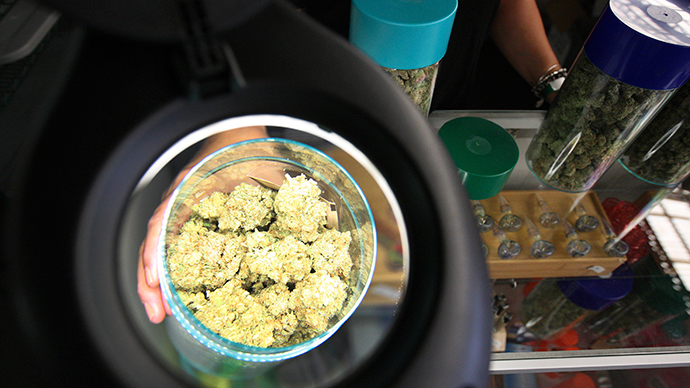 A Seattle police officer who issued about 80 percent of marijuana citations given in the city thus far in 2014 has been reassigned, officials said. Meanwhile, it was found that African Americans in the city were disproportionately ticketed for pot.
Seattle Police Department Chief Kathleen O'Toole said Wednesday that in the process of compiling the first biannual report on the city's enforcement of Washington state's new law allowing recreational marijuana use, her staff found that 66 of 83 citations for illegally using pot in public were given out by one SPD officer.
"In some instances, the officer added notes to the tickets," O'Toole said in a statement, adding that some notes called for the attention of City Attorney Peter Holmes, called "Petey Holmes" in citations given by the officer.
O'Toole said that in one case, "the officer indicated he flipped a coin when contemplating which subject to cite."
In another citation, the officer called the state's voter-approved modification of marijuana laws as "silly."
O'Toole said the officer's behavior was reported to SPD's Office of Professional Accountability, and that he has been removed from patrol duties while an investigation unfolds.
The biannual report, released last week, also showed that African Americans in the city were ticketed disproportionately for using marijuana in public. The report found that 36 percent of such tickets were issued to African Americans, who make up only eight percent of Seattle's entire population.
An SPD spokesman said the department understands that the number of tickets given to African Americans in the city was disproportionate, Reuters reported. O'Toole said Wednesday that the six-month reports are designed to provide oversight and to signal "anomalies or outliers" in SPD's enforcement of marijuana laws.
Earlier this month, Washington became the second state after Colorado to allow retail sales of recreational marijuana to adults over 21 years old. Colorado sales started on January 1.
Washington state's heavily regulated and taxed system that allows marijuana sales was approved by voters in November 2012.
You can share this story on social media: