Suspected Pennsylvania killer of 6 found dead as schools close, security tightens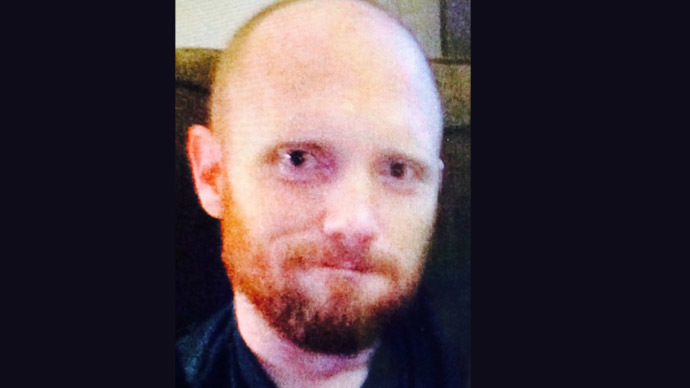 Bradley William Stone, the Iraq War veteran suspected of killing at least six people, was found dead near his home Tuesday, officials say. The victims were found at three separate locations in Pennsylvania's Montgomery County on Monday.
Stone killed his ex-wife and five of her family members before going on the run. The ex-Marine was found in the woods near his Pennsburg home around 1:30 p.m. on Tuesday, the Montgomery County District Attorney's Office.
Law enforcement officials say it appears that Stone killed himself. Police also found a video recorded by Stone on a cell phone on or near his person, sources told WCAU.
The manhunt began when the first shooting was reported at 3:55 a.m. Monday in Lower Salford Township, about 45 minutes northwest of Philadelphia. Police found a woman shot to death at the location, WPVI reported. Forensics investigators from Montgomery County could be seen investigating a unit there, and two bullet holes were visible, according to the NBC affiliate.
While the search was ongoing, some schools in Montgomery and Bucks Counties were closed, while hospitals and other public offices have increased security and are on high-alert. Officials lifted a shelter-in-place order for parts of Bucks County, according to AP, as a man with a knife wearing fatigues who resembled Stone tried to steal a car Monday night near Doylestown. Law enforcement combed the area with search dogs and helicopters, but to no avail.
According to The Philadelphia Inquirer, a "large tactical police presence" was in place in Stone's hometown of Pennsburg, Pa., as law enforcement asked residents to remain indoors while the fugitive hunt continued.
Stone - who the Marine Corps said served from 2002 to 2008, the Inquirer reported - is the prime suspect for the shooting death of his ex-wife, Nicole Stone, who was found dead at her home in Harleysville, Penn., after neighbors heard gunshots and broken glass coming from her apartment.
Neighbors reported seeing the at-times-troubled Marine veteran fleeing just before 5 a.m. ET on Monday with their two daughters, who were found safe with his neighbors, according to Montgomery County District Attorney Risa Vetri Ferman.
According to law enforcement, the gunman began the day just before dawn at the home of Nicole Stone's sister in Souderton, Penn., where Nicole's sister, brother-in-law, and niece - Patricia, Aaron, and Nina Flick - were found dead of gunshot wounds. Nicole's 17-year-old nephew, Anthony Flick, was rushed to a Philadelphia hospital with a critical wound to the head.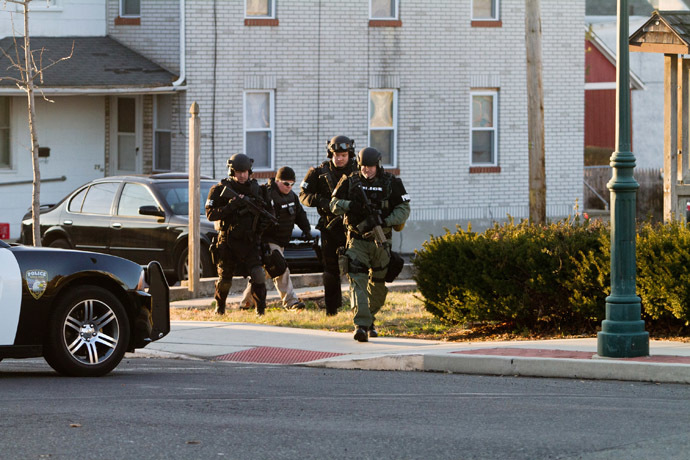 The gunman then traveled to nearby Lansdale, Penn., where Nicole's mother and grandmother, Joanne and Patricia Hill, were found fatally shot at their home. Investigators were alerted to the location by a hang-up call to emergency dispatchers, Ferman said.
The attacks altogether occurred within about 90 minutes, Ferman said.
Authorities surrounded Bradley Stone's Pennsburg home for hours on Monday, pleading with him via a bullhorn to surrender in the event he was in the home.
Stone, a white man, around 5-foot-10 and 195 pounds, was thought to be wearing military fatigues and may have shaved off his facial hair, Ferman said. She refused to discuss the weapon used during the rampage.
Bradley and Nicole Stone were married in 2004. Nicole filed for divorce in 2009, according to court records. Nicole became engaged this year, neighbors said.
The Stones were involved in a court fight over custody of their two daughters, believed to be teens, according to the Inquirer. Bradley filed an emergency custody motion in early December, but the resulting Dec. 9 ruling remains sealed.
"She would tell anybody who would listen that he was going to kill her and that she was really afraid for her life," said Evan Weron, Nicole's neighbor in Harleysville, according to AP.
Weron said Nicole, 33, was often distraught about the custody dispute.
"(Nicole) came into the house a few times, a few separate occasions, crying about how it was very upsetting to her," Weron said.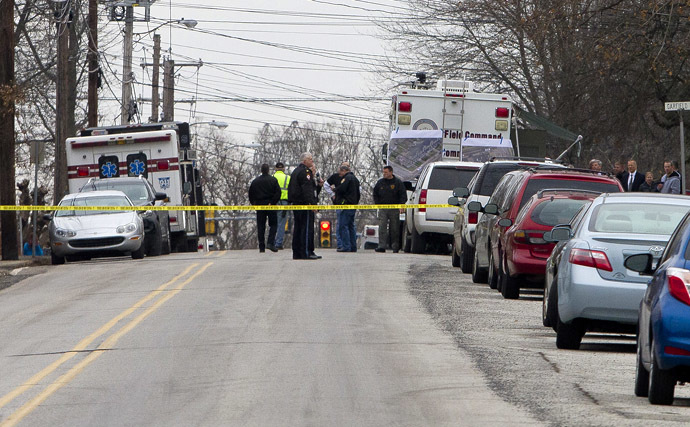 Bradley Stone served in Iraq, but a friend said he was not aware of any injuries incurred from fighting.
"He was pumped to go into the military," said Matthew Schafte, who added that Bradley was a regular at the local American Legion post before and after his time in Iraq.
"I'm (angry) because he could have come to my door and I could have taken him to a treatment center, and we could have worked this out," Schafte told AP.
Bradley had faced three driving-under-the-influence arrests, according to AP. One led to a three- to 23-month sentence.
His four military service medals included the Global War on Terrorism Service Medal and the Iraq Campaign Medal.
Lisa Andrey, a longtime neighbor of Nicole's mother, said Nicole and Bradley had "a very volatile relationship" that went south after he returned from Iraq.
"He was a great guy and an excellent father" when they first came together, Andrey told the Inquirer. "And then he went away to Iraq and came back and was a completely different man."
Bradley remarried last year, according to his Facebook page and court records cited by AP. He has an infant son with his wife, whose own Facebook page shows the couple's son getting his picture taken on Saturday with Stone's daughters and Santa.
You can share this story on social media: