Pennsylvania shootings: Suspected gunman found dead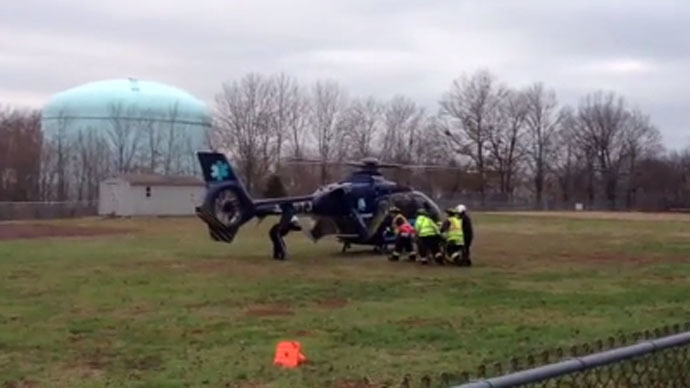 Bradley William Stone, the Iraq War veteran suspected of killing at least six people, was found dead near his home Tuesday, officials say. The victims were found at three separate locations in Pennsylvania's Montgomery County on Monday.
Stone killed his ex-wife and five of her family members before going on the run. The ex-Marine was found in the woods near his Pennsburg home around 1:30 p.m. on Tuesday, the Montgomery County District Attorney's Office.
Law enforcement officials say it appears that Stone killed himself. Police also found a video recorded by Stone on a cell phone on or near his person, sources told WCAU.
The manhunt began when the first shooting was reported at 3:55 a.m. Monday in Lower Salford Township, about 45 minutes northwest of Philadelphia. Police found a woman shot to death at the location, WPVI reported. Forensics investigators from Montgomery County could be seen investigating a unit there, and two bullet holes were visible, according to the NBC affiliate.
Souderton neighborhood under siege it seems.Heavily armed officers&armored vehicle looking for gunman @fox29phillypic.twitter.com/NV1UTOMAkk

— Steve Keeley (@KeeleyFox29) December 15, 2014
Half an hour later, at 4:25 a.m., police were called to a shooting in Lansdale, where they discovered two more people who had been shot and killed. A SWAT team responded to the scene, but drew back after nearly three hours. Police did not release any information about the gunman at that time, the NBC affiliate said.
Two more people were discovered shot to death in Souderton on Monday morning. Shortly after 2 p.m. local time, the Morning Call reported that the death toll was at six.
Sources told the ABC affiliate that all the victims had been shot at close range.
Road blocked off Broad Street in Souderton pic.twitter.com/dZiBp9Jyhq

— Ann Cornell (@ann_cornell) December 15, 2014
A fourth scene was discovered in Pennsburg, but late Monday morning, law enforcement officials said details about that scene were scant, WPVI reported.
Souderton School District facilities were momentarily under a "shelter in place" order, with schools operating on standby with limited visitors allowed in and out, officials told KYW.
Police said that two children were taken from Lower Salford during their response, and both were found safe, according to WPVI.
PHOTO: SWAT negotiator standing at perimeter of scene in Souderton pic.twitter.com/Z70wfUuV7e

— MichaelAlanGoldberg (@mg_thereporter) December 15, 2014
The SWAT team entered the Souderton home where the suspect was believed to be barricaded at 9:45 a.m. Airspace was subsequently closed above the area for the next two hours, WPVI's Mike Neilon tweeted.
Law enforcement provided few details in the immediate hours after breaching the house, but a loud explosion was heard at the site just before 12 noon local time, a local ABC News affiliate reported. According to that network, law enforcement officials believe the death toll may rise.
Victim about to be flown by Jeffstat medical helicopter, unknown if it is the shooter #montcoshooting#Soudertonpic.twitter.com/oKsqE8DGAH

— Bucks Co News Feed (@bucksconews) December 15, 2014
At least one person was taken from the house on a stretcher, an eyewitness reported, and ABC30 said a teenager was among those injured at the Souderton home. Within an hour of the loud noise being heard, however, Chief Tim Dickinson of the Towamencin police department told reporters that the suspected shooter had not been inside that residence.
"Souderton house cleared, suspect not on location. No details on any victims at this location," reporter Michael Alan Goldberg tweeted from the scene, citing police officials. Chief Dickinson, Goldberg added, "said police saw movement inside [the]house that led them to believe shooting suspect MIGHT be inside." Such wasn't the case, however, and authorities were reportedly investigating a "dynamic" scene in Pennsburg, PA ‒ and three crime scenes elsewhere in the region ‒ as of 12:30 pm local time.
Local residents told the Morning Call website on Monday morning that Stone, the suspected gunman, was a local Marine veteran diagnosed with post traumatic stress disorder, and that one of the victim's was his ex-wife.
"They've been fighting for years, real bad," a neighbor told the Call of the couple. "He's been tormenting her. She's gone to the police and she has told everybody 'he's going to kill me.'
In the early afternoon, police were still looking for the 35-year-old Stone.
#BREAKING: Suspect ID'd in Montco killings as Bradley Stone - 6 dead http://t.co/EuzZdCAeRkpic.twitter.com/rJZuZJfSRD

— Action News on 6abc (@6abc) December 15, 2014
"Stone should be considered armed and dangerous. Anyone with information about Stone's whereabouts is asked to call 9-1-1 immediately. Do not approach him," the Montgomery County DA said. "Police are conducting an extensive search in and around Pennsburg, at both known and outdoor locations where Stone may be located. People in that area should remain in-doors, keep their doors locked and call 9-1-1 if they think they have seen the suspect."
You can share this story on social media: