Chinese national charged for allegedly stealing US military documents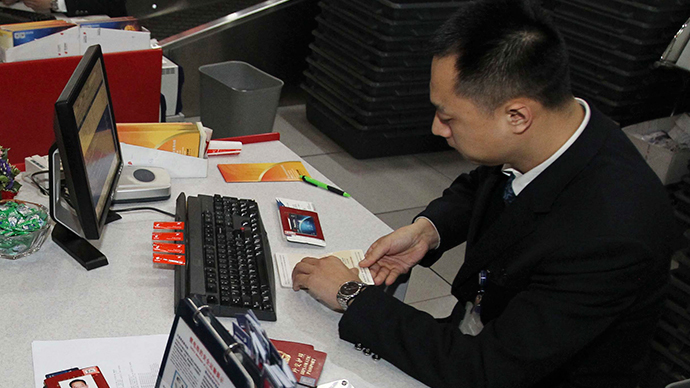 A Chinese national has been arrested and charged with allegedly stealing military documents when he tried to fly to China last month. The stolen documents concerned new material developments for military aircraft from major defense contractors.
Yu Long, a 36-year-old senior engineer who worked for a Connecticut defense contractor, was flying to China last month from New Jersey's Newark Liberty International Airport when customs officials discovered sensitive documents in his luggage – including equations and test results used to develop titanium for US military aircraft.
READ MORE:Spy Files: WikiLeaks to publish fourth series of leaks – Assange
He was interviewed by authorities and didn't take his flight. Two days later, he was arrested by federal officials in Ithaca, New York, where he lived with his girlfriend.
READ MORE:Soviet spy ring mastermind John Walker dies in prison
Long – who worked for United Technologies Research Center – attempted to take defense documents from 2010 and 2011 to China. These documents featured warnings indicating that they were "export-controlled, proprietary and/or subject to consortium restrictions," according to the criminal complaint unsealed in a US District Court in Connecticut on Tuesday.
The complaint further explained that the consortium involved a project known as the US Air Force Metals Affordability Initiative, where "the United States Air Force had convened a consortium of major defense contractors to work together to see whether they could collectively lower the costs of certain metals used." The project involved the sharing of information, date, and material for the manufacturing of F119 and F135 engines with stringent restrictions.
FBI charge Chinese national for trying to smuggle secret docs out of US http://t.co/LcjNOHcBW2

— BenjaminRobertson李博岳 (@BRobertsonSCMP) December 10, 2014
During his interview at Newark airport, Long claimed he had downloaded the materials from a publicly available website. Long provided the FBI with a list of websites, but none of the documents could be found on them, and some were inactive.
READ MORE:'We don't need US military secrets': Beijing slams White House theft claim
Long claimed he worked for United Technologies Corp. as a senior engineer from 2008 to 2014 on F119 and F135 engines, but left the company earlier this year.
Three months earlier, in August, authorities stopped Long as he returned from China when flying into John F. Kennedy International Airport. He was discovered with documents detailing his former work for the defense contractor, along with $10,000 in cash which he had not declared, and paperwork to apply for work with a state-controlled aerospace research center in China, according to the complaint.
READ MORE:US military secrets leaked to Chinese hackers for three years
This is the second employee arrested by federal authorities from United Technologies Corp., according the Hartford Courant.
US defense officials have sounded the alarm in recent years about increased efforts by China, Russia, and other countries to gain access to US military technologies. The Federal Bureau of Investigation and US Homeland Security led the investigation into Long's activities.