Hagel defends raid that ended with death of two hostages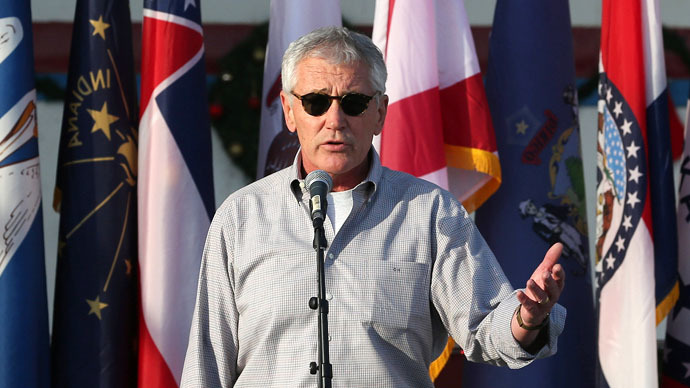 ​A botched rescue attempt led by American special forces over the weekend ended with the deaths of two hostages. Nevertheless, the United States secretary of defense is standing by the Pentagon's protocols.
Chuck Hagel, the outgoing secretary of defense, told reporters in Afghanistan that rescue attempts like the one botched in Yemen on Saturday comes with risks.
Even with this weekend's effort to rescue an American prisoner and a second hostage, since identified as a South African teacher, having ended poorly, Hagel told reporters that the Pentagon has no plans to reassess how the US military goes about conducting such operations.
"I don't think it's a matter of going back and having a review of our process. Our process is about as thorough as there can be. Is it imperfect? Yes. Is there risk? Yes," Hagel told Reuters during a visit to Tactical Base Gamberi in eastern Afghanistan.
"But we start with the fact that we have an American that's being held hostage and that American's life is in danger and that's where we start. And then we proceed from there," Hagel added in an article published Monday by the newswire.
The latest remarks from the secretary of defense — who last month announced he'd be soon resigning as head of the Pentagon — surfaced less than two days after an elite US squad, Navy Seal Team Six, launched an unsuccessful mission in Yemen that was intended to save the life of UK-born American photojournalist Luke Somers.
When the Seals came within 100 meters of the compound where Al-Qaeda members were holding Somers and one other, though, their captors reportedly shot and killed both hostages. The second individual was later identified as Pierre Korkie, a South African teacher who was kidnapped in May 2013.
Patrick Gaspard, America's ambassador to South Africa, told the Associated Press on Monday that American authorities did not know Korkie was being held alongside Somers, and were also "unaware of ongoing negotiations that had any resolution" between Al-Qaeda militants and a South African NGO that had been reportedly acting on behalf of Korkie's family recently in an attempt to broker the man's release.
"We were just completely unaware of those developments and had to act hastily," Gaspard told AP.
Meanwhile, Somers' family has spoken out publically since Saturday morning to condemn the American forces' flawed rescue mission. Penny Bearman, Somers' step-mother, told the Times newspaper she was "quite angry, because if there had not been a rescue attempt, he would still be alive." According to her, the man's family was unaware of any attempt to save Somers.