LA inferno: Apocalyptic scenes as enormous fire engulfs Los Angeles center (IMAGES)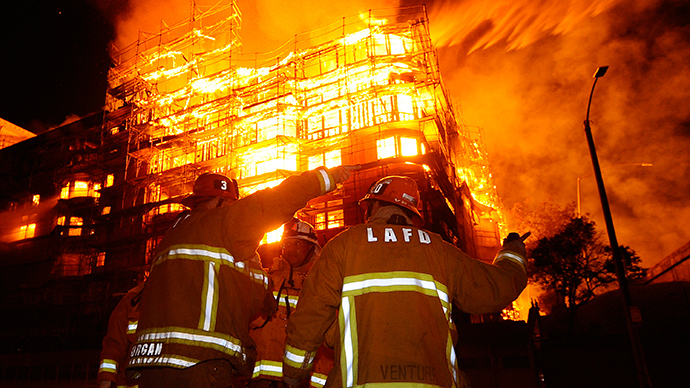 The remnants of a smoldering building the size of a football field emerged as dawn broke in LA on Monday morning after 250 firefighters spent hours battling a blaze on the upscale-residential-building-to-be.
Two adjacent buildings have been damaged in the blaze as the heat being emitted burst their windows and two major freeways in the vicinity of the fire were forced to shut down.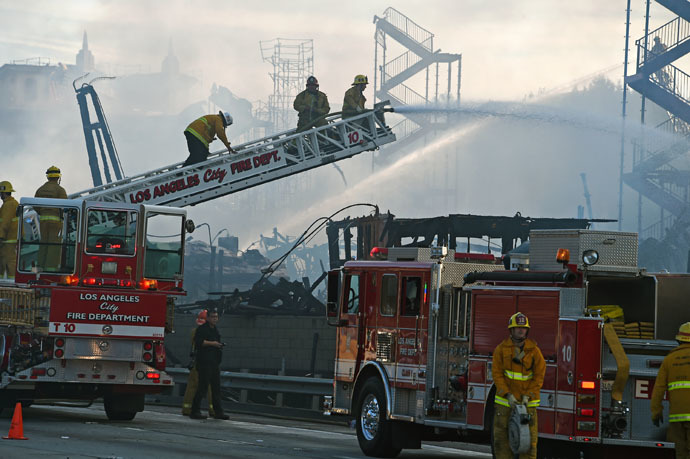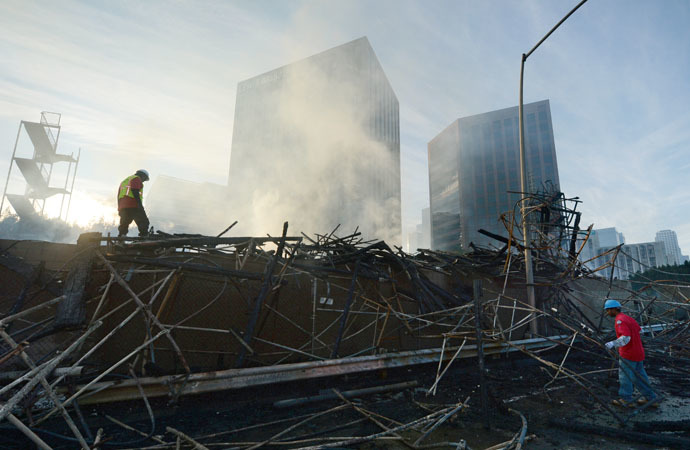 What's left of the Da Vinci Apts-- was under construction and set to be open in 2015. pic.twitter.com/BZzTU5X2nI

— Jennifer Thang (@jenniferthang) December 8, 2014
Incredible photo by @epolitzerphoto of fire that is burning apartments under contruction in downtown LA: pic.twitter.com/gbalWZn8VB

— Shelby Grad (@shelbygrad) December 8, 2014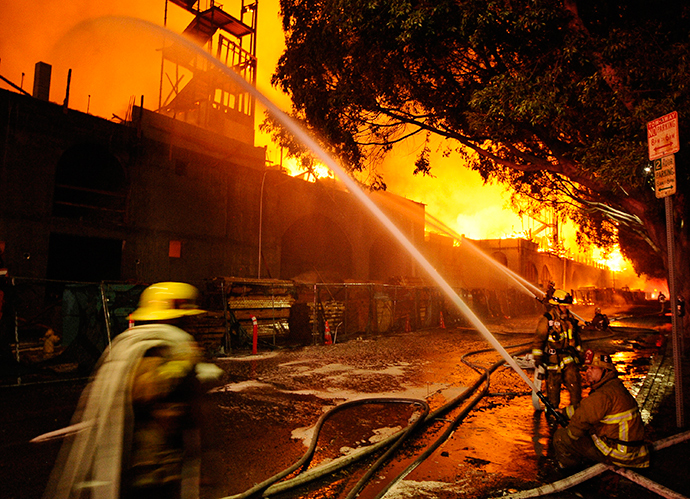 "It looked like a bomb had just exploded," LA fire captain Rick Godinez told the LA Times.

An active fire broke out on three floors in an adjacent 16-story high-rise building at 221 North Figueroa nearby, while another on the same street was also exposed, reported ABC7.
Your @LAFD working a major emergency apartment bldg under construction downtown. pic.twitter.com/bDkL9s82Ut

— Chief Terrazas (@LAFDChief) December 8, 2014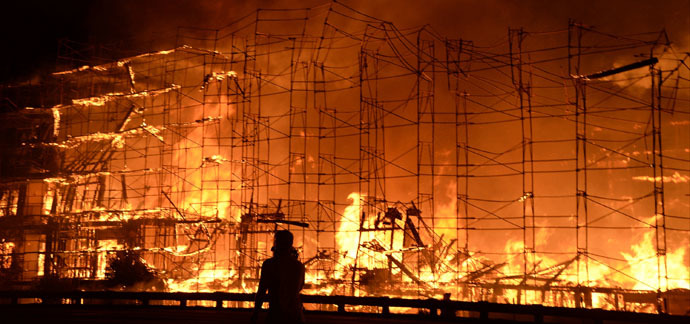 "When they came out of the quarters they could see it was fully engulfed," fire department spokeswoman Katherine Main told the paper. "It was a building under construction in the framing phase. Almost 1 million square feet and a city block."
RT @London_McCall: RP of a huge fire that broke out in Downtown LA... praying no one got hurt. pic.twitter.com/6lCAyZp8hd

— Lajouetreine (@lajouetreine) December 8, 2014
BREAKING: A huge fire has engulfed an apartment complex in Downtown LA. Please steer clear of area. #LAfirepic.twitter.com/JOGQLZpVAF

— Anonymous (@YourAnonGlobal) December 8, 2014
The building was intended to be a seven-story upscale residential building with commercial space on the lower level.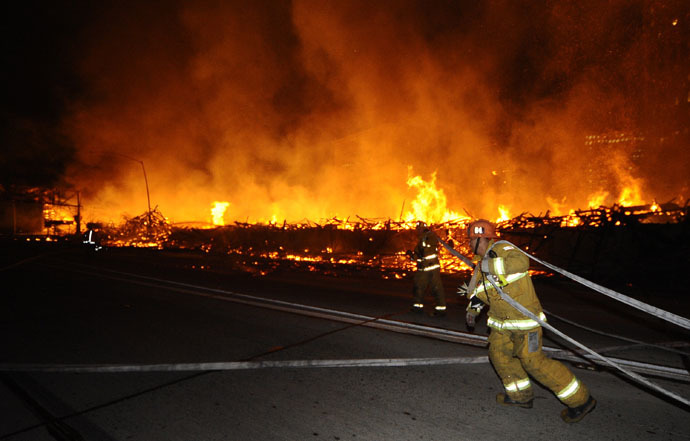 LA Fire Department spokesman David Ortiz told the paper as the fire was still blazing that some 250 firefighters had been dispatched to extinguish the blaze, which he characterized as 'huge.'
"It was the perfect storm, if you will, for fire spread," Ortiz said in a phone interview with Washington Post "There were no dividing firewalls between the different components of it."
Seeing a major fire raging in downtown LA from Silver Lake pic.twitter.com/MguaN2IrFJ

— Jon Passantino (@passantino) December 8, 2014


"This is a historic fire, what we as firefighters would call 'a career fire…. I really can't remember a building fire this big, and I have been with the department for 13 years," he told NBC news in a separate interview.
The precise cause of the blaze currently remains unknown.