Suspected arson attack paralyzes Chicago airports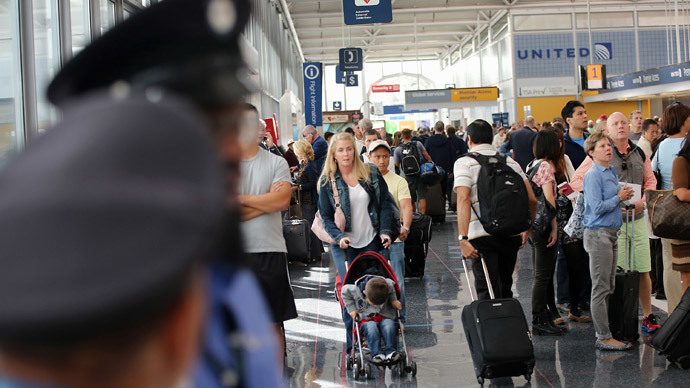 A fire at Chicago's O'Hare International Airport has halted all flights. Up to 20 people have been evacuated from the air traffic control facility where the blaze broke out. A man with "self-inflicted" wounds was found at the scene of the incident.
The fire, which broke out in the basement of a Federal Aviation Administration (FAA) radar facility in Aurora, Illinois, is now reportedly under control. All inbound and outbound flights at both O'Hare and Midway International Airport were suspended.
More than 700 flights were canceled at O'Hare as a result of the fire, and more than 150 were canceled at Midway International Airport, according to the Chicago Department of Aviation.
TRAVEL TIP: Currently no flights going in/out of O'Hare or Midway airports in #Chicago. FAA facility fire. http://t.co/4s1J7m5xbJ.

— Kelsey Soby (@KelseySobyFOX9) September 26, 2014
Aurora spokesman Dan Ferrelli said firefighters and police officers first responded to reports of a fire in the basement of the facility at 5:45 a.m local time. Ferrelli told CBS Chicago a man suffering from burns and self-inflicted knife wounds was found in the basement. The person, a contract employee, is believed to have set the fire intentionally. The nature of his wounds suggest the employee was attempting to commit suicide. The individual was taken to a local hospital for treatment. Another person is also being treated for smoke inhalation.
Authorities have ruled out terrorism as a motive.
"This is just a local issue with a contract employee," CBS 2 cites Aurora Police Chief Greg Thomas as saying.
Flights at O'Hare Airport are grounded following a fire at an FAA facility in Aurora. Every terminal is full. pic.twitter.com/PVYESSupXS

— ChicagoDrives (@ChicagoDrives) September 26, 2014
No flights in or out of O'Hare or Midway after apparent fire at FAA radar facility in Aurora. http://t.co/mnFwvKOTWwpic.twitter.com/hFOPJ51cPE

— CBS Chicago (@cbschicago) September 26, 2014
BREAKING: Flights at Chicago's O'Hare and Midway airports halted due to fire - http://t.co/SKDnUWEzz2pic.twitter.com/AbMjaQWAbC

— Stacey Readout (@StaceyReadout) September 26, 2014
Half a dozen fire trucks and at least 3 ambulances were dispatched to the scene, along with several police vehicles. Despite the urgent response, no flames or smoke were seen from outside the building. Fire crews have been seen entering and exiting the building, though no fire hoses have been deployed on the buildings exterior.
Flight Delays ! A fire at Aurora FAA facility has caused a halt to departures at Ohare &... http://t.co/fb1GZyrmNTpic.twitter.com/c2ern7FShA

— Mike Lorber (@NBCSky5) September 26, 2014
The Federal Aviation Administration is investigating the cause of the incident.
Friday's blaze is the second time since May that a fire at one of the Chicago area's major control facilities forced a ground stop at O'Hare and Midway international airports.
Earlier this week, O-Hare regained its title as the world's busiest airport. According to the FAA, more than 580,000 flights departed or landed at O'Hare from January to August.
"O'Hare isn't just the busiest airport in the world, it's an asset for the City of Chicago," Mayor Rahm Emanuel said on Wednesday. "These new gains will help us attract new businesses and solidify our place as the best connected city in the U.S. and around the world."
The facility in Aurora is said to house some of the most sophisticated radar equipment in the United States. Controllers at the facility handle nearly 3 million flight operations a year over a span of 5 states, including Illinois, Indiana, Iowa, Michigan, and Wisconsin.
The incident has sparked a stream of passengers to live tweet about their experiences being stuck at the airport.
"I had taken the red eye back to O'Hare when the gate agent announced that all flights were delayed 'one hour due to a fire in the tower'", Christoph Trappe wrote.
"Then the cancellations started. One flight and another and another. People started to line up trying to rebook. All that weren't cancelled were now delayed at least 90 minutes."
Full ground stop over O'Hare because of a fire in ATC (Air Traffic Control). They returned to gate & re de-planing. Wth! Just my luck.

— Micah Berkley (@MicahBerkley) September 26, 2014
Stuck in O'Hare #great

— Mallori Bachleda (@MaluhreeBee) September 26, 2014
Ahhhhh I'm supposed to be on a flight to NYC for a wedding.... hold time on the phone with American Airlines is... http://t.co/y8J82A3IrZ

— Darren Roberts (@Darren5000bpm) September 26, 2014
Videos posted online have also shown long lines of passengers of waiting for information.
One flight, however, managed to take off just before the airport's activities were suspended.
One lucky flight managed to depart from O'Hare but have to keep below 10000 feet within Chicago ATC. 160+ Canceled pic.twitter.com/i9gRfdQDjs

— Flightradar24 (@flightradar24) September 26, 2014
I'm on the only flight that made it out of Chicago O'hare post incident!!!

— HK (@hilaryalexis06) September 26, 2014
Others found a way to see the bright side of an otherwise inconvenient situation.
Cancelled flight due to fire at O'Hare. Rerouted to my final destination. It would be a bad day, but I got put in first class! Thx @Delta!

— Kelly Nellis (@Nellis_K) September 26, 2014
According to reports in social media, activity at O'Hare is beginning to return to normal.
At least one @united flight at the F gates is now actively boarding. One, but not mine. #ohare#OHareFire

— Christoph Trappe (@CTrappe) September 26, 2014
It remains unclear when the airports will become fully operational. The incident has affected air travel for thousands across the country.
You can share this story on social media: