​US racial profiling 'to remain at airports, border checks'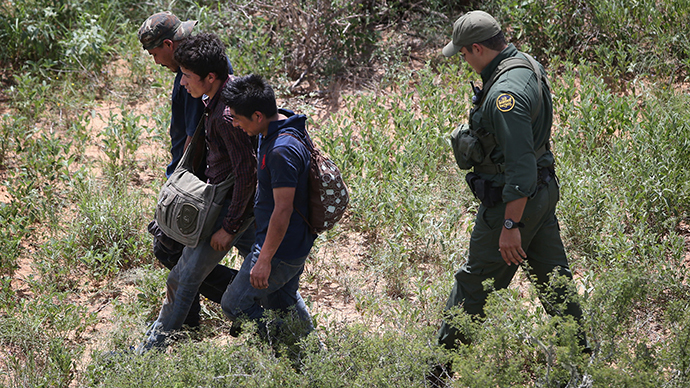 The Obama administration will continue to allow the Department of Homeland Security to conduct racial profiling at airports and borders, a decision that comes amid high-profile cases of excessive use of police force against minorities.
The White House will permit a large section of the Department of Homeland Security, specifically the Transportation Security Administration and the US Customs and Border Protection, to continue with the controversial practice of racial profiling while selecting who should receive special consideration at border checkpoints and at airports, law enforcement officials told The Washington Post.
READ MORE:Grand jury doesn't indict NYPD officer accused in chokehold death
At the same time, the new guidelines prohibit federal agencies from basing their investigations on the religious beliefs, national origin or sexual orientation of individuals, tightening up a 2003 Bush administration measure that only mentioned a ban on racial profiling.

In addition to racial profiling at the nation's borders, the administration will continue to allow the Federal Bureau of Investigation (FBI) to perform "mapping," which allows the agency to collect a wide range of demographic information on entire neighborhoods.
Hey Holder, so racial profiling is still ok at borders and airports? Is there a gradation of skin tone that's the test?

— Stanley Cohen (@StanleyCohenLaw) December 6, 2014
Despite criticism of the new measures, outgoing US Attorney General Eric Holder defended the policy, saying it would enhance police work.

"This new guidance will codify our commitment to the very highest standards of fair and effective policing," Holder said last week.

DHS press secretary Marsha Catron said in a statement Friday that the government agency "continues to work with its federal law enforcement partners to develop guidance that protects the nation and civil rights." The Justice Department, meanwhile, declined to comment.
NYC Mayor, Bill deBlasio, speaking about how he's had to school his black son on how to deal with police officers and racial profiling

— marina portnaya (@portnayanyc) December 3, 2014
The introduction of the updated guidelines comes amid a series of high-profile court cases, specifically the August shooting death of an 18-year-old black teen by a white police officer in Ferguson, Missouri, and the death of a New York black man who suffered a heart after being placed in a chokehold by a white officer.

The police officers in both cases were acquitted of any wrongdoing in the deaths of the victims, sparking protests against excessive police force in cities across the country.
READ MORE:'Govt created a monster': 1000s protest police violence across US for 3rd night (PHOTOS)
However, it is doubtful that the new racial profiling measures would have played a part in the incidences since they do not involve local law enforcement agencies.

"Based on what we know about the changes that are coming out, I'm not sure how it ties into the Eric Garner/Ferguson issue," Faiza Patel, co-director of the Liberty and National Security program at the Brennan Center, told AP. "In both of those cases, you had local law enforcement that was involved in the incidents, and the guidelines don't regulate state and local police."
You can share this story on social media: