Orion spacecraft splashes down after historic double-orbit mission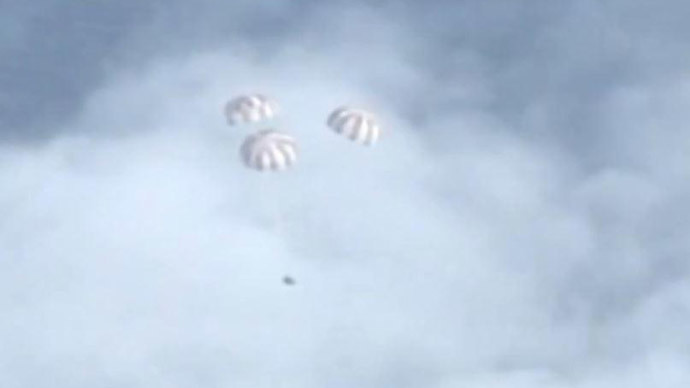 The Orion deep-space capsule successfully splashed down in the Pacific Ocean near Mexico on Friday morning following a four-and-a-half-hour-long mission that sent the rocket-powered vessel 3,600 miles above the Earth and around the planet twice.
A day after a first attempt to launch the spacecraft was delayed due to weather and valve problems, Orion landed, as planned, 200 miles west of San Diego, California at around 8:29 am local time.
YES! Splashdown! #Orion completes a critical step on our #JourneytoMars.

— Orion Spacecraft (@NASA_Orion) December 5, 2014
"America has driven a golden spike as it crosses a bridge into the future," a commentator for NASA said at splashdown.
READ MORE: NASA test-launches Orion spaceship set to take humans to Mars
Friday's mission marks the first time that any US vessel built for humans has traveled beyond low orbit since 1972's Apollo 17 moon mission, with the spacecraft going 3,604 miles from Earth three hours into an operation that also involved two orbits around the planet. If and when another Orion mission will have astronauts onboard, the 11-foot-tall vehicle is designed to accommodate upwards of six people – twice that of the Apollo missions.
.@USNavy will now help us recover #Orion & bring it back to the USS Anchorage or USNS Salvor. pic.twitter.com/RmedqAiLoD

— NASA (@NASA) December 5, 2014
Ideally, NASA scientists hope the spaceship well take astronauts to near-Earth asteroids during the next decade and to Mars in the 2030s. As RT reported previously, around 1,200 sensors onboard the aircraft during this week's mission will provide scientists with details about every aspect of the flight for them to gauge the potential for future missions.
Here's Earth as seen from #Orion during its flight out to a peak altitude of 3,600 miles away from the planet. pic.twitter.com/cBN0jpT2LV

— NASA (@NASA) December 5, 2014
"I would describe it as the beginning of the Mars era," Charles Bolden, an administrator for NASA, previously told the space agency's television network.

"We're approaching this as pioneers," William Hill, of NASA's exploration systems development office, told the Associated Press this week. "We're going out to stay eventually. ... It's many, many decades away, but that's our intent."
Dramatic view of the limb of the Earth as #Orion orbits. Splashdown at 11:30am ET. Watch: http://t.co/ESXAb8kpeMpic.twitter.com/w72jLx8WCH

— Johnson Space Center (@NASA_Johnson) December 5, 2014
Earlier Friday, a massive Delta IV heavy rocket blasted Orion into space from NASA's launch pad in Cape Canaveral, Florida; when it reentered Earth's atmosphere some four-and-a-half-hours later, scientists expected the spacecraft to be traveling at a speed of around 20,000 miles per hour.
The second Orion flight is not expected until late 2017 or 2018, when another unmanned capsule is set to ascend atop NASA's new megarocket, still under development, called the Space Launch System (SLS).
If both tests are successful, NASA plans to put astronauts aboard Orion in 2021 for deep-space exploration. But the primary plan is to use Orion for getting humans to asteroids and Mars by the 2030s.
You can share this story on social media: