NASA test-launches Orion spaceship set to take humans to Mars
Orion has finally blasted off into space from Cape Canaveral on one of NASA's most important missions for decades - after Thursday's botched attempt, defying Friday weather forecasts that meant there was only a 40 percent chance of take-off.
Some three hours into the flight, Orion reached its peak altitude of 3,604 miles from earth and is now on its way home and is expected to splash down in the Pacific Ocean soon.
Orion lifted off aboard a huge Delta IV heavy rocket at 07:05 ET (12:05 GMT) and will orbit the Earth twice before splashing down in the Pacific Ocean off Mexico some four hours later.
The Delta IV has 2 million pounds of thrust at liftoff and will propel Orion into orbit at a height of 3,609 miles above the Earth. Orion will then separate from the rocket for its reentry back into the atmosphere.
Today's #Orion's launch weather forecast is 40% "go." Liftoff is set for 7:05a ET/12:05 UTC https://t.co/YKLRtyeBu7pic.twitter.com/WEtffGLCXW

— NASA (@NASA) December 5, 2014
"I think it's a big day for the world, for people who know and like space," NASA Administrator Charles Bolden said during a NASA Television interview shortly before launch.
The spacecraft will reenter the atmosphere at 20,000 mph, which will heat up its thermal protection system to 2,200 degrees Celsius. Once inside the Earth's atmosphere, it will slow to a sedate 17 mph, supported by large parachutes.
One of the principal purposes of the unmanned test flight is to make sure all this technology works. Orion will be loaded with 1,000 sensors to record and monitor all aspects of the flight.
Thursday's test flight was aborted at the last minute because of high winds and sluggish fuel valves on Delta's huge boosters. There was also a rogue boat which had found its way into the waters close to the Cape Canaveral launch site which was deemed to pose a hazard.
Launch Abort System and Spacecraft Adapter Jetisson panels have separated. First 2 test objectives successful!

— Orion Spacecraft (@NASA_Orion) December 5, 2014
Orion was built by a joint venture between Lockheed Martin and Boeing known as the United Launch Alliance and was designed to take astronauts into deep space, including to Mars.
The mission is one of the most important project for NASA in decades. The space agency's last manned expedition beyond earth was the final Apollo flight in 1972.
What's next in our space exploration #JourneytoMars? Watch: http://t.co/KMPNVbA9tY#Orionpic.twitter.com/nsuPWruoki

— NASA (@NASA) December 4, 2014
"Part of me hopes that everything is perfect," Mark Geyer, NASA Orion Program manager said during the news conference about the $370 million Exploration Flight Test 1 (EFT-1) mission.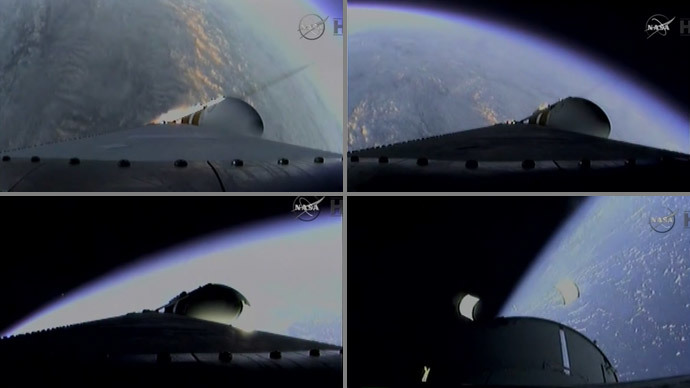 "We land, high fives, everybody has a great time, but really, in a flight test like this, if there are subtleties in how the vehicle behaves with the environments, or subtleties with how systems actually behave with one another during flight, my hope it that we find that on this test flight."
For #Orion's Flight Test, the physics haven't changed since the 60s, but the tech sure has. Here's what's different: pic.twitter.com/qsfgo69hvJ

— NASA (@NASA) December 4, 2014
The second Orion flight is not expected until late 2017 or 2018, when another unmanned capsule is set to ascend atop NASA's new megarocket, still under development, called the Space Launch System (SLS).
If both tests are successful, NASA plans to put astronauts aboard Orion in 2021 for deep-space exploration. But the primary plan is to use Orion for getting humans to asteroids and Mars by the 2030s.
What will tomorrow's #Orion flight test entail? Here's an infographic of things to look for: http://t.co/N5BNAf0Udxpic.twitter.com/cUYdmcBOi0

— NASA (@NASA) December 4, 2014
The mission is also an example of the increasing role of private companies in space exploration and will in part be an evaluation of the future of private firm's involvement in space.