NYC chokehold: Crowds swarm streets, Brooklyn Br in 2nd day of Garner protests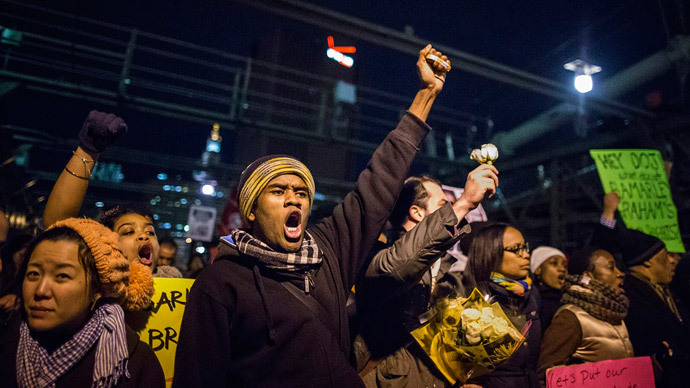 For the second night in a row, thousands of protesters overran the streets of New York, shutting down several major arteries of the city as they expressed outrage over a grand jury decision not to indict an officer for the death of an unarmed black man.
LIVE UPDATES:Protesters decry Eric Garner grand jury vote
More than 200 people were arrested at several sites throughout the city Thursday night. Despite a heavy police presence in most areas, demonstrations were largely peaceful and nonviolent. Protesters were, however, cited for disorderly conduct or refusal to clear the streets.
The night of civil disobedience began after up to 10,000 people rallied in Foley Square to blast the grand jury decision in the case of Eric Garner – a Staten Island man who was killed via chokehold as several New York Police Department officers helped take him to the ground. Garner died with Officer Daniel Pantaleo's arms wrapped around his neck as he yelled, "I can't breathe." Although a bystander filmed the entire incident, Pantaleo was not indicted on criminal charges.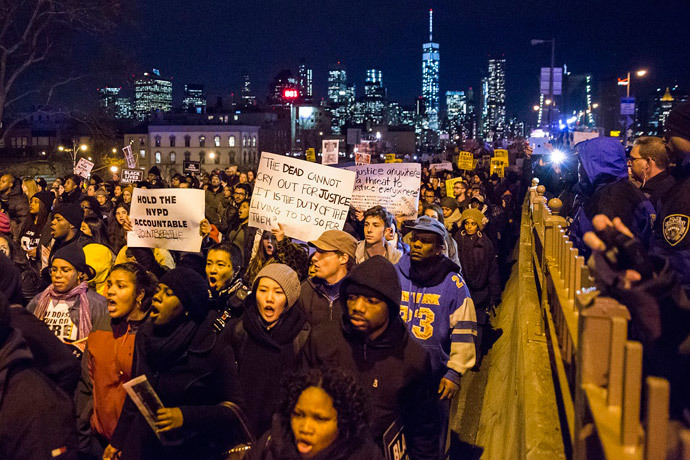 Following the Foley Square gathering, thousands moved to disrupt traffic on the Brooklyn Bridge, shutting it down temporarily as other groups splintered off and headed to the other points in the city. The Staten Island Ferry was shut down in both directions, as was the West Side Highway. Demonstrators also blocked the Holland Tunnel and staged rallies in Union Square, Times Square, and Herald Square.
In Times Square, people staged a "die-in" by spreading themselves across the ground. In Herald Square, a sit-in was conducted which halted traffic temporarily.
"We worked all day, but we're out here to show solidarity with the rest of the people of this city that agree this is a miscarriage of justice," said protester DeeDee Stroman. "We don't want law enforcement held to a different standard than we are."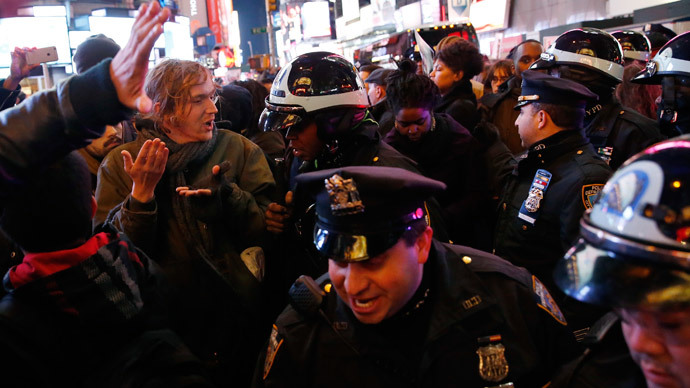 In one of the more dramatic confrontations of the evening, the NYPD used pepper spray on the first wave of protesters that tried to overrun the West Side Highway before detaining multiple people, according to witnesses on the ground. Police warned that those in the area were subject to arrest, to which the crowd responded with chants of, "You serve us!"
Despite arrest warnings, the huge crowd pushed forward into the police line, and was large enough to break through law enforcement and make its way onto the highway.
die-in at times square #ICantBreathe#EricGarnerpic.twitter.com/hKqQRywkqZ

— Paul Ambas (@paulambas) December 5, 2014
As people marched through the streets, weaving through traffic and occupying major intersections, they chanted slogans like, "Eric Garner, Michael Brown: Shut the whole system down," and "I can't breathe," referring to Garner's last words.
"We just can't be silent. Enough is enough," said demonstrator Wendy Morgan.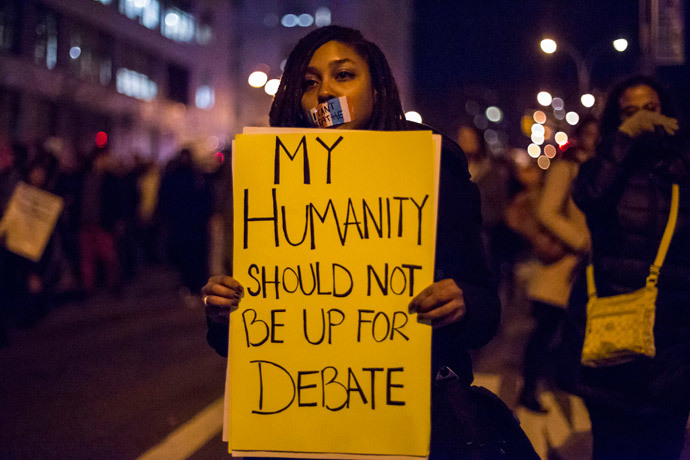 "We want not just Pantaleo to be brought to justice," Morgan added. She said she also wants to see those officers who did not administer aid to Garner as he lay on the sidewalk for several minutes to face charges.
READ MORE:NYC Mayor announces police retraining amid nation-wide protests
The lack of an indictment sparked strong criticism throughout the United States, prompting calls for police reform. A federal civil rights investigation has been initiated by the Justice Department, and New York Mayor Bill de Blasio announced Thursday that the NYPD will undergo a thorough three-day retraining course.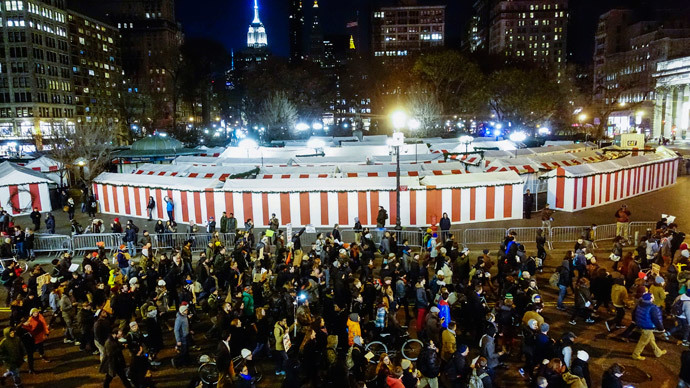 "The relationship between police and community has to change. The way we go about policing has to change," de Blasio said at a news conference. "People need to know that black lives and brown lives matter as much as white lives."
NYPD Commissioner William Bratton said that around 22,000 officers will take part in the training course, which will focus on de-escalating potentially tense situations.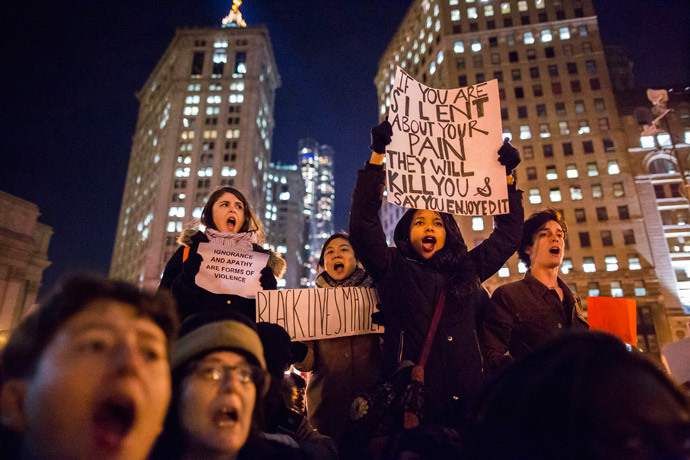 "It's a fulfillment of a commitment that I made coming in as commissioner and that the mayor embraced wholeheartedly — the need to refocus the department," he said. "And to refocus it requires training and the enhancement of skills that are so necessary to reach the commitment that we made to the community to police fairly, impartially and safely."
"You've crossed the line." #NYC#EricGarnerpic.twitter.com/HBvIdSqZI7

— Jordan Mammo (@jordanmammo) December 5, 2014
Protesters #ShutItDown on 14th, chanting, "I can't breathe." Now marching to Union Square. #EricGarnerpic.twitter.com/irx4Pu0Gtd

— Tina Essmaker (@tinaessmaker) December 5, 2014
You can share this story on social media: