US panel stops short of recommending end to ban on gay blood donors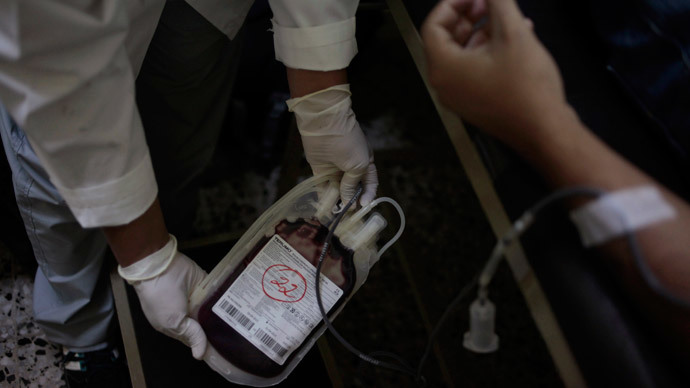 An expert advisory committee convened by the US Food and Drug Administration failed Wednesday to ultimately recommend whether or not a lifetime ban should be lifted on gay men donating blood. Panel decisions inform action later taken by health regulators.
The FDA did not indicate how the 17-member committee's deliberations will affect its decisions on the ban, or when a final ruling will occur.
The FDA's advisory committees offer policy recommendations to the federal agency; although the FDA does not necessarily have to follow a panel's suggestions, it often does.
"The meeting provided valuable information and perspectives that will help inform the FDA's deliberations," FDA spokeswoman Jennifer Rodriguez told AFP.
"The FDA's primary concern as we continue to review our blood donation policies will be assuring the continued safety of blood and blood products for the patients who receive these products."
The ban dates back to 1983, amid the burgeoning HIV/AIDS epidemic, and has been the subject of debate ever since. Opponents of the ban say it is an outdated practice than can be combated by advances in HIV testing, and that it has unfairly stigmatized gay men.
Some on the panel urged an overhaul of the policy, while others were reluctant to advise a change.
"The blood bank community has looked at the data and feels they can scientifically and medically support the change," said panel member Toby Simon, a CSL Behring senior medical director, according to AFP.
Those who are apprehensive about reform worry that a new policy could increase risk of HIV transmission via blood transfusions.
"Even if this leads to one or two cases of HIV infection, that's not acceptable," said Kenrad Nelson, professor of epidemiology, international health and medicine at the Johns Hopkins Medical Institutions.
The committee heard pleas from both sides of the issue during two days of deliberations.
A representative from the gay-rights advocacy group Human Rights Campaign told the panel on Tuesday that bans on blood donation by all people, regardless of sexual orientation, should be lifted.
Others voiced concerns over possible risks.
"I urge you to oppose any change," said Peter Sprigg, senior fellow for policy studies at the Family Research Council, an anti-gay-rights organization.
"Unless it can be scientifically proven that a revised policy would result in no increase in risk to the blood supply. Even a small increase in risk is unacceptable," he said before the panel.
An advisory committee assembled by the US Department of Health and Human Services recently recommended the ban be replaced with a 12-month deferral period for men who have had sex with men in that time. Thus, sexually active gay men would still be barred from donating blood, but those who have not engaged in sex with other men in the past year would be allowed to donate.
Similar policies are in effect in Australia, Britain and Japan.