Robot doctor: Handheld device diagnoses 100s of conditions from single blood drop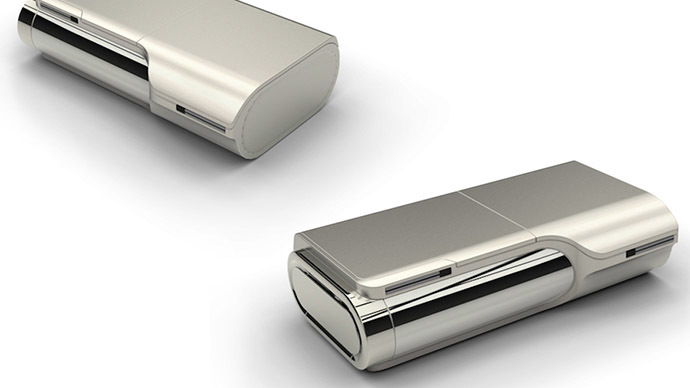 US scientists have created a home device that replicates hundreds of complex and expensive lab tests by analyzing just one drop of blood. The constant monitoring offered by the device – which needs little training to use – could save millions of lives.
"There are two billion people on Earth who have no access to ready medical care. We set out to fix that – by developing a device that allows you to diagnose yourself no matter where you are," said Eugene Chan, who leads the team at DNA Medical Institute, which has received grants from NASA and the Bill and Melinda Gates Foundation.
The rHEALTH (Reusable Handheld Electrolyte and Lab Technology for Humans) device operates using nano sensors that can measure everything from the presence of HIV or other viruses in the bloodstream, to the level of vitamins or calcium or cholesterol, with the results arriving within minutes.
It also comes with a small patch that monitors heart rate, body temperature, and other indicators, with the information all being pooled in a central unit, which comes in three sizes – one resembling a flask, to be used on the move, a walkie-talkie-sized unit for home testers, and a home-blender-like contraption for labs.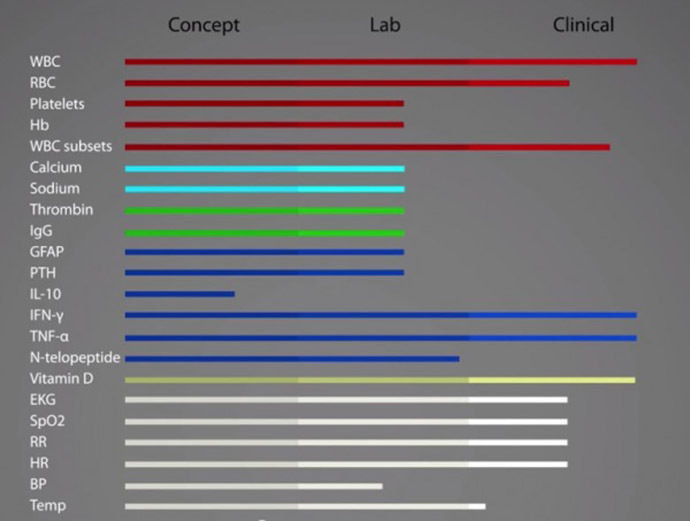 "It's a symphony of innovations, but we've pushed all of them individually to create the device," Chan told Wired.
"The rHEALTH technology is highly sensitive, quantitative, and capable of meeting the FDA's bar for sophistication, while still being geared for consumers."
Not only are the tests cumbersome and expensive to do separately, but having so much data in the same place means that rHEALTH is a diagnostic device.
After submitting the data – at any time, within the comfort of a person's own house – the screen simply flashes up with suggestions for what is potentially wrong with the patient, which means they immediately know whether they need to call a doctor.
While the makers say their product will help most in developing countries – where laboratories are few and inaccessible – they could also become accepted, and even standard, in the West.
For example, according to Cancer Research, 50,000 people in the UK die needlessly from cancer each year, due to late diagnosis. An early abnormal blood test could prompt a visit to a doctor – not to mention the benefits of blood pressure, sugar, and cholesterol tests for diagnosing the cardiovascular diseases that remain the biggest killers.
READ MORE: 1 drop of blood & 60 minutes: Breakthrough device heralds future of cancer detection
If the devices become ubiquitous, Chan believes they could create a huge pool of health data, allowing health providers to allocate resources more efficiently, and giving researchers a giant, real-time, detailed health database for study.
Chan's team has just been awarded the top $525,000 prize for the annual Nokia Sensing X challenge, which is pushing inventors to harvest the power of portable devices – including phones, bracelets, and cameras – to do more than the basic heart rate and distance monitoring that they are capable of now.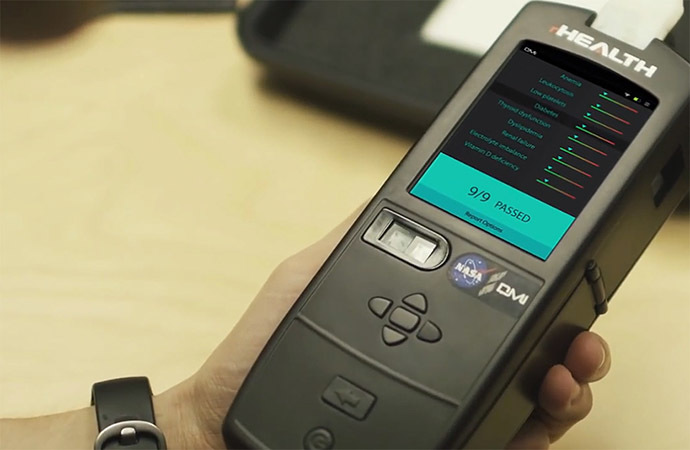 The prizes are building up to a $10 million Tricorder Prize in 2016, which will be awarded to the makers of a single device – modeled after the Star Trek gadget – that will be able to simultaneously diagnose 15 key conditions. DNA Medical Institute believes that it is almost there with rHEALTH, which is constantly adding new diagnostic capabilities.
But the Holy Grail remains the commercialization of the project.
Chan says his team can already ship any researchers their own device within weeks, but before being on the shelves, it must receive FDA approval, after a battery of expensive lab trials – though as part of its original proposed role as the NASA onboard diagnostic device, rHEALTH has already been tested in reduced gravity. Chan is confident the tester will gain approval, and says his team is currently looking for manufacturers to scale-up production.
You can share this story on social media: