Nuclear missile launch officer to be court-martialed on drug, obstruction charges
Published time: 3 Dec, 2014 18:01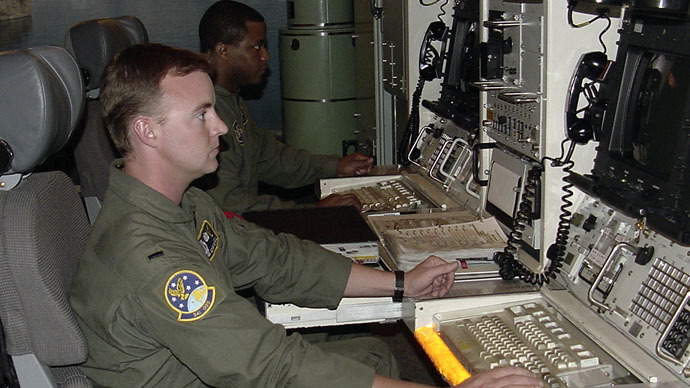 The US Air Force will begin a court-martial in January in the case of a nuclear missile launch officer charged with drug use and obstructing justice following a criminal probe that exposed an exam-cheating scandal involving nearly 100 nuke officers.
According to the Associated Press, Second Lt. Nicole Dalmazzi of the 341st Missile Wing at Malmstrom Air Force Base in Montana is believed to be the first nuclear launch officer, or missileer, charged amid the drug investigation that was made public last January on the same day US Department of Defense Secretary Chuck Hagel visited Malmstrom, one of three nuclear-missile land bases in the country.
Dalmazzi was charged with illegal drug use and obstructing a probe by the Air Force Office of Special Investigations for dyeing her hair to "alter the results of potential hair-follicle drug tests," said Josh Aycock, a spokesman at Malmstrom, according to AP. Her court-martial will begin on Jan. 21.
Missileers operate Minuteman 3 missiles, which are armed with nuclear warheads controlled by two missileers on duty during rotating shifts in an underground launch center. AP was unable to reach her for comment.
Dalmazzi's fellow missileers at Malmstrom oversee 150 of the Air Force's 450 Minuteman 3 ICBMs. Minot Air Force Base in North Dakota and F.E. Warren Air Force Base in Wyoming each operate 150 ICBMs as well.
Findings of illegal drug use among missileers and allegations of a widespread exam-cheating scandal involving several Air Force missile crew members began a cascade of discouraging revelations regarding the nuclear missile force in the US.
The Navy's nuclear force, which maintains nuclear-armed submarines, has also faced an exam-cheating scandal among its nuclear reactor training instructors. And in the past two years, Air Force units charged with keeping up nuclear arsenals have also failed safety and security inspections and twice left open blast doors that protect underground launch control centers at two different bases - once while crew members slept.
In late 2013, a RAND Corp. review found signs of "burnout" and high levels of stress and misconduct, including domestic violence, among missile launch crews and missile security forces, service members in charge of America's intercontinental ballistic missiles (ICBMs).
The myriad embarrassments among nuclear force crews led Sec. Hagel to announce plans last month that would reform nuclear management and operations. Though Hagel said he would resign from his position just ten days later, Air Force officials say the protocol overhaul will continue apace, AP reported.
The Air Force's investigation into missileer drug use regards three officers at Malmstrom and one at F.E. Warren. Results of the Air Force findings have not been released publicly.
Air Force investigators' probe of illegal drug use began in August 2013, when the cellphones of two airmen at Edwards Air Force Base in California were found to contain text messages to or from 11 other Air Force officers at other air bases. The messages mentioned "specific illegal drug use that included synthetic drugs, ecstasy and amphetamines," according to an investigation report released in March.
The report originally began over exam-cheating allegations, but eventually found evidence of missileer drug use, which spawned a separate probe by the Air Force Office of Special Investigations.
Two of the 11 officers were stationed at Malmstrom. Both were found to have used personal cellphones to share answers of a frequently-taken missileer proficiency test as well as to discuss illegal drug activity.
The Air Force found that exam cheating occurred only at Malmstrom. Three officers there suspected of illegal drug activity were also involved in the exam scandal.
"We've made a big point about accountability," Air Force Secretary Deborah Lee James told AP on Tuesday of the completed OSI criminal probe. "Standards are standards, and when people fail in integrity, service and excellence there are appropriate accountability measures. We've made a big point of that and that's true across the Air Force and it has been, of course, particularly true this past year in the ICBM community."