US loses bid to re-jail Kim Dotcom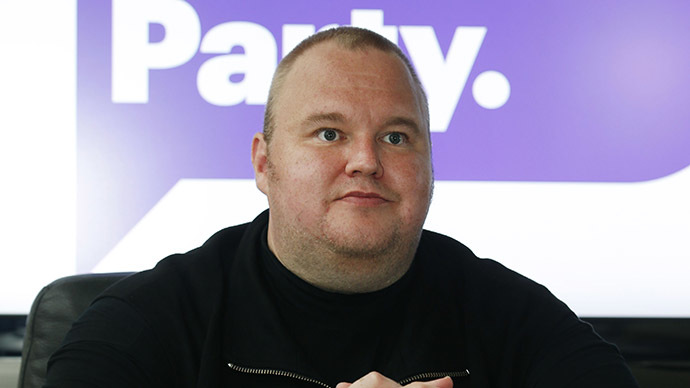 ​Attorneys for the United States government have lost their attempt to revoke internet mogul Kim Dotcom's bail as he awaits an extradition trial in New Zealand, scheduled for next June.
Dotcom – a German hacker-turned-entrepreneur who founded the file-storage website Megaupload – has been free on bail since shortly after New Zealand authorities raided his home in Coatesville, near Auckland, in January 2012 in connection with an FBI-led investigation. The probe left he and his colleagues facing charges of infringement and conspiracy in the US. As legal issues surrounding that matter linger on, Dotcom, 40, can forego worrying for now whether he'll have to go back to jail anytime soon.
American authorities argued in Auckland last week that Dotcom should be sent back behind bars since he poses a flight risk ahead of next year's extradition trial as a result of his immense wealth; by his own admission, Dotcom says he's earned roughly $40 million since posting bail in early 2012, of which one-fourth has been spent on legal fees. Judge Nevin Dawson disagreed with US officials, however, and said Monday that Dotcom can remain free pending next year's trial.
"Mr. Dotcom cannot prove he has salted away money, and nor should he be required to do so," Judge Dawson decided. "He has made a substantial investment in money and time in his efforts to stay here. The court is not satisfied Mr. Dotcom has hidden money for the purposes of escaping New Zealand."
Outside the court, Dotcom – born Kim Schmitz – said, "The Crown and the US government have used this opportunity in a weak moment to make up the bogus case for me having breached my bail conditions."
"I think this is another example of harassment and bullying by the US government in concert with the NZ government," added Dotcom, who has previously accused officials in both countries of acting egregiously in the shutting down of Megaupload nearly three years ago and the subsequent raid at his Coatesville home. In June 2012, New Zealand High Court Judge Justice Helen Winkelmann said the seizure of property during the raid was illegal.
"The court has found I have no breached any of my bail conditions. I have been probably the most compliant, exemplary candidate of bail in NZ and I am surprised, even though I am going home right now, that my bail conditions have been tightened given my excellent bail compliance," Dotcom told reporters.
"The Crown and US government have used this opportunity at a weak moment to make up the bogus case for me having breached my bail conditions," he said. "I think this whole application was only made because my lawyers decided to resign because of a lack of funds on my part because Hollywood has seized the new family assets that have been made after the raid."
BREAKING NEWS: Court rules that I'm free to go home. Justice is alive in Auckland. Not so sure about Wellington.

— Kim Dotcom (@KimDotcom) December 1, 2014
"Justice is alive in Auckland. Not so sure about Wellington," Dotcom tweeted to his 375,000-plus followers after the Monday hearing.
Last month, federal prosecutors for the Department of Justice's Eastern District of Virginia division argued that Dotcom and his former Megaupload colleagues lacked standing to challenge the government's attempt to seize assets forfeited to the US, because the defendants' unwillingness to voluntarily come to America and stand trial makes them "fugitive[s] of justice."