'Green Friday' brings big marijuana sales to Colorado for the first time ever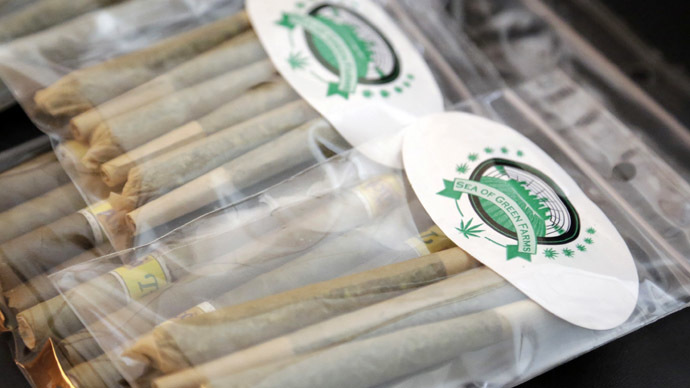 ​Marijuana dispensaries in the state of Colorado are taking advantage of the first holiday shopping season since recreational weed became legal there by offering customers "Green Friday" specials this week.
Never mind the "Black Friday" discounts that traditionally keep retailers across the United States open for extended hours after Thanksgiving as shoppers show up in droves to reap big discounts. Stores in Colorado, where recreational weed became legal for adults for the first time ever this past January, have been advertising a "green" alternative this year in which shoppers can take advantage of deals they're unlikely to find at Walmarts, shopping malls and other major retailers on Black Friday.
"There's no question that there are going to be people here excited," Ryan Fox, the owner of Denver, Colorado's Grass Station, told NBC News. "It's a great opportunity for us to have a big weekend."
The Grass Station, along with other dispensaries across the Rocky Mountain State, are offering customers doorbuster deals on par with the discounts you'd expect to find at big box stores where eager shoppers have spent days camping out in front of. Instead of letting customers purchase televisions and computers at a fraction of the regular price, however, Colorado shops like Fox's are offering impressive deals on pot. At the Grass Station, for example, early birds were receiving 80 percent off their marijuana purchases early Friday. Another, Evergreen Apothecary, told NBC they were offering 15 percent off for anyone who mentions "Green Friday" once inside the dispensary's doors.
"It's regular old retail," Ryan Pratt, a manager at Boulder, CO's Helping Hands Herbals, told USA Today. "It's just that this happened to all be illegal a year ago."
Originally, Pratt told the paper, his shop didn't have big plans for "Green Friday." As competitors began advertising sales, however, he soon realized that, indeed, the rules of basic retail apply to even the types of places you'll be hard pressed to find elsewhere in America.
"We were expecting a very quiet day, but when everyone else jumped on it, we definitely didn't want to be left behind," Pratt told the paper on Wednesday this week. "We're going to be prepared."
Maka Kala'i, the director of sales and marketing at Organic Alternatives in Fort Collins, added to the paper that providing big discounts on pot during the hectic holiday season is about more than just jumping on the day-after-Thanksgiving bandwagon. "It's a pretty stressful event, and some people might need a little relaxation afterward," she joked to the paper.
Meanwhile, bargain-hunters at regular retail stores flocked to shopping centers on Black Friday as expected this year. According to Reuters, however, malls saw fewer customers than usual this year, likely on account of many retailers having opened one day early this year on Thanksgiving to make the post-holiday shopping season start even sooner than usual.