California students stage massive state-wide walkout to protest huge tuition hikes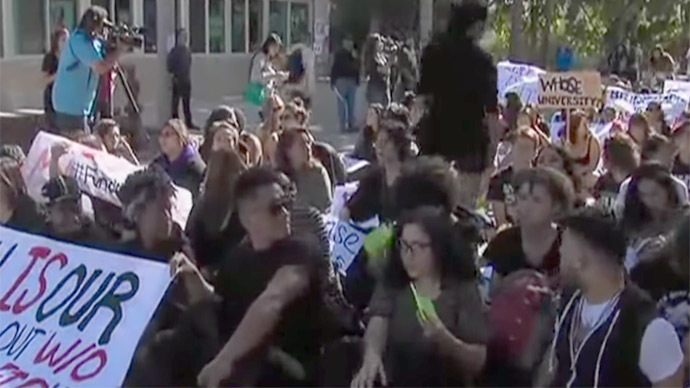 Hundreds of University of California students took part in a statewide walkout on Monday as part of ongoing protests against a large tuition hike that will soon hit the multi-campus school system.
Protest leaders estimated that upwards of hundreds of students took part in protests at the flagship school of the UC system, UC Berkeley, also the epicenter for discontent over tuition hikes approved last week.
According to The Huffington Post, student protesters following the statewide actions estimated that about 1,000 participants overall were involved.
Crowd is swelling at @UCBerkeley to #fightthehikepic.twitter.com/iRG5oh1A2S

— Jonathan M Smucker (@jonathansmucker) November 24, 2014
UC student walkout continues to draw protestors. Has grown past 1000. March is now in Downtown Berk. #fightthehikepic.twitter.com/4U3t88Z8A0

— Sara Grossman (@SaraGrossman) November 24, 2014
Last Thursday, the UC Board of Regents voted to raise tuition 5 percent per year for five years, taking next year's in-state tuition base costs from $12,192 to $12,804, according to the Daily Cal. By 2019, that cost will rise to $15,564, not including added fees, book costs and room and board.
Student demonstrators at Veterans' Memorial Park to protest tuition hikes. #fightthehike#OpenUCpic.twitter.com/7kPWaaWeCc

— CalTV News (@CalTVNews) November 24, 2014
At UC Berkeley, many students have occupied Wheeler Hall since the Regents' decision.
The tuition hike was justified by regents based on a lack of funding from the state. The plan will allow UC President Janet Napolitano, the former governor of Arizona and secretary of the US Department of Homeland Security, to lower or abolish the tuition increases annually based on state adjustments for education funding.
"In many respects, this meeting is the end of the beginning of a process," Napolitano said in an interview with the Los Angeles Times after last week's vote.
ENORMOUS march and rally happening now at UC Berkeley to protest tuition hikes. #OpenUC#OpenUniversity#FightTheHikepic.twitter.com/gtarL24UEg

— Not Frantz Fanon (@violentfanon) November 24, 2014
California Gov. Jerry Brown, who has criticized high executive-faculty salaries, has said the 238,400-student UC system would receive a 4 percent increase in state revenue over the next two years, but only if a 2012 tuition freeze remains in place.
Napolitano, however, says the 4 percent is needed along with the 5 percent tuition jump each of the next five years - or its equivalent from the state - to afford payroll and retirement costs, hire additional faculty and enroll 5,000 more California undergraduates in that time period. One-third of the additional tuition money would go toward financial aid, the Times reported.
UC took in $2.64 billion in state general revenue funding this year, $460 million less than seven years ago.
"Essentially it's a debate between Governor Brown and UC president Janet Napolitano over how the UC is going to be funded, and students are really pushing back against it," UC Berkeley senior Sofie Karasek told The Huffington Post. "We're not going to be the bargaining chip."
The #fightthehike protest has grown. "Education should be free," they are chanting. pic.twitter.com/1zrcccuu8z

— Katy Murphy (@katymurphy) November 24, 2014