Cleveland boy shot by cop didn't point replica gun at officer - police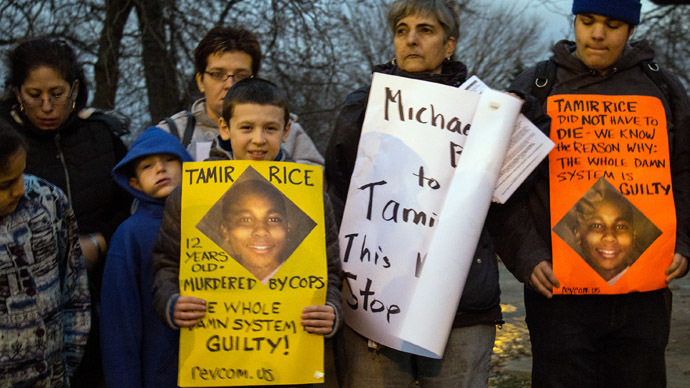 The 12-year-old boy fatally shot Saturday by Cleveland police did not point a pellet gun at officers who approached him at a playground, police said. The shooting officer, police added, was only ten feet away from Tamir Rice when he fired at the boy.
Police officers were responding to a 911 call about a "man" with a gun that was "probably fake." The caller added, "I don't know if it's real or not." Cleveland Deputy Chief Edward Tomba said Monday he did not know if the dispatcher passed this information to the officers. The president of the Cleveland Police Patrolmen's Association said the officers were not informed that the gun was likely fake, AP reported.
The pair of officers approached Rice, who was told to raise his hands. He was shot twice by one of the officers when he reached for the pellet gun in his waistband. He did not, according to official accounts, point the "airsoft" gun at police or verbally threaten the officers.
"Airsoft" pellet guns are designed to resemble actual firearms, but they shoot round plastic pellets. The fake guns are usually distinguished from real weapons by a strip or spot of orange paint, but police said Rice's toy did not have a safety indicator. An Ohio state lawmaker has already proposed legislation that would require all such airsoft guns to come with bright or obvious fluorescent stripes.
"Our officers at times are required to make critical decisions in a split second," Chief Calvin Williams said. "Unfortunately this is one of those times."
The Cleveland police officer who shot Rice has yet to be named, though a police spokesman said the officer will be identified late Tuesday or early Wednesday, the Northeast Ohio Media Group reported.
The shooting officer was relatively new to the force, according to the Northeast Ohio Media Group. Police union officials said the officer had been patrolling city streets for less than one year. The officer was placed on three days of administrative leave following the shooting.
Deputy Chief Tomba said surveillance video of the incident was "very clear" about what happened at Cudell Recreation Center. The video was shown Monday to representatives of Rice's family but, considered evidence, was not released publicly, according to officials.
An investigation into the incident, and whether the officer used excessive force unjustifiably, has begun. The officer will be interviewed upon returning to work in a limited capacity.
Following completion of the investigation, the case will go to a grand jury to decide whether criminal charges against the officer are warranted, according to Cuyahoga County Prosecutor Timothy McGinty.
The Cuyahoga County Medical Examiner's Office refused to share details about the killing, according to the Northeast Ohio Media Group, including information about Rice's size, an issue central to the manner of police response.
Rice's killing echoes the August shooting of black, unarmed 18-year-old Michael Brown in Ferguson, Missouri. A grand jury decided Monday to withhold an indictment of white police officer Darren Wilson for Brown's death.
"Whether there was Ferguson down there or not doesn't matter to me," said Cleveland Mayor Frank Jackson at a Monday news conference. "What matters to me is that it happened in Cleveland, and it happened to a child."
Jackson added that the city is trying to maintain transparency so citizens will have faith in the investigation's eventual findings.
Timothy Kucharski, attorney for Rice's family, did not respond to AP's request for comment. He has said previously that Rice went to the park with friends on Saturday, but that he wanted to talk to witnesses and gather more information.
According to AP, about 100 people gathered Monday near the spot where Rice, who died Sunday, was shot. Demonstrators carried placards denouncing police brutality and calling for "Justice for Tamir!"
"We will not accept any excuse why this young man was shot down unjustly," said Art McKoy, a local community activist at the gathering.
A similar incident occurred in Santa Rosa, California last year, as 13-year-old Andy Lopez was fatally shot by police for carrying a plastic replica of an assault rifle which the officer mistook for an actual firearm. Prosecutors did not bring charges against the officer, as RT previously reported. The Sonoma County District Attorney's Office concluded that Deputy Erick Gelhaus "honestly and reasonably" acted out of belief that he faced an imminent threat of death or serious injury to himself.

Meanwhile, back in Cleveland, members of the hacktivist collective Anonymous launched Monday an attack on the official website for the City of Cleveland.
"This rookie officer apparently was not trained," Anons said in a statement. "The police department he works for is to blame for this lack of appropriate training. Officers are equipped with many non-lethal options such as Taser guns. Why did he not use a Taser on this child? Shooting him in cold blood was not necessary with these non-lethal options available."