Graphic content: CNN's top 10 embarrassing blunders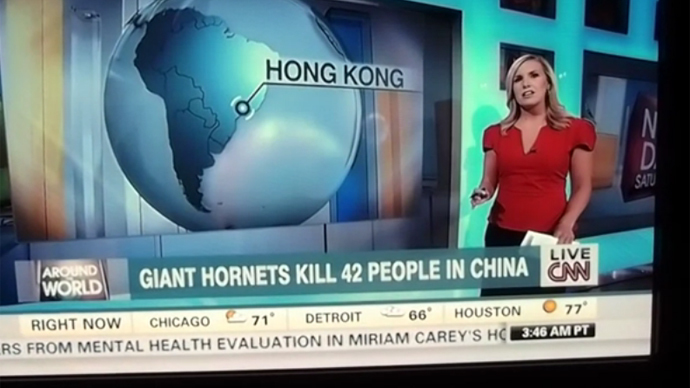 Once a market leader among Western 24-hour news channels, CNN has now become infamous for its slipshod mislabeling of maps across the world. This week the network hit a new low, transforming a synagogue into a mosque.
1.
CNN's coverage of the Jerusalem terror attack on November 18 raised eyebrows in Israel and overseas. Reporting live on the horrific attack at a Jerusalem synagogue, which left three Israeli-American citizens and one British-Israeli citizen dead, the American network ran the questionable headline: "4 Israelis, 2 Palestinians killed in synagogue attack," misleadingly failing to note that the two Palestinians were actually the attackers.
What's worse, CNN ran a graphic that said that the attack happened at a "Jerusalem mosque," provoking a wave of social media outrage.
Unbelievable! Was this horrible J'lem terror attck CNN graphic a gaffe or foul bias? | Calls attack on a J'lem MOSQUE http://t.co/Ji8aNcShnW

— Bill Balderama (@WJGBalderama) November 20, 2014
@CNN manages to get breaking report of #Jerusalem#synagogue#massacre as wrong as humanly possible, if briefly. http://t.co/SiLmE2B0uZ

— Mayer Fertig (@MayerFertig) November 18, 2014
UNREAL! @CNN just called the the massacre of Jews in a synagogue an attack on a mosque! http://t.co/CamGLZ37Fmpic.twitter.com/VKikEWs5pm

— Standing Together (@24_7IDF) November 18, 2014
2.
CNN's often geographically-challenged news coverage in November has occasionally slipped from the merely slipshod to the realm of total disaster. The apotheosis came when the news channel accidentally "killed" none other than President Barack Obama - instead of Al-Qaeda leader Osama bin Laden - in one of its shows.
The channel's Erin Burnett OutFront show was dedicated to Robert O'Neill, a Navy SEAL, claiming to be the one to have shot and killed Osama bin Laden in the 2011 raid on a Pakistani compound.
For nearly a minute, a graphic super on show mistakenly read "SEAL who claims he killed Obama under attack".
READ MORE: Oops, Mr President! CNN typo 'Navy SEAL killed Obama' has Twitter in stitches (VIDEO)
3.
In mid-September CNN embarrassed itself while covering the independence referendum in Scotland. The news channel featured a graphic which showed that 110 percent of the Scottish had been polled. Many viewers said CNN journalists need some math and geography lessons.
Scottish voters have given it 110% according to CNN pic.twitter.com/0Z2WfYsiDx

— Stig Abell (@StigAbell) September 18, 2014
Math may not be CNN's weakest subject, but geography probably is.
4.
Having recently rolled out its new slogan "Go There," it's clear that whatever direction CNN is headed, someone left the map at home. The US channel recently outdid itself when it relocated the capital of Great Britain all the way to Norfolk, much to the surprise of the local residents.
@MustardTV Good luck! Seen this? CNN moves London to Norfolk and makes England independent: US TV knowledge of GB. pic.twitter.com/nakMDl1bYp"

— Edward Vanderpump (@BoswellAffleck) March 24, 2014
5.
Previous gaffes included relocating France's Cannes, famous for its international film festival, to Spain and Hong Kong, just off the coast of China, to South America.
"@XopheRobin: Yes, we Cannes!! Thanks to @CNN#CNN_Failspic.twitter.com/Yh9tdDhyOC" CNN don't know Europe :)

— Daniele Keshk (@DanieleKeshk) August 10, 2014
6.
Covering the New Year's celebrations around the globe, CNN flashed a caption suggesting that Auckland, in New Zealand, was a city in Australia.
Geography is not the strong suit of @cnn - happy new year from Auckland Australia? #cnnfailpic.twitter.com/FjrIwgKj6P

— Richard David Jordan (@richarddjordan) January 1, 2014
7.
Then in March, CNN said that the Malaysian capital, Kuala Lumpur, was in Indonesia.
Oh great RT @izreloaded: CNN thinks Kuala Lumpur is in Indonesia!!! Even the news presenter looks confused. #MH370pic.twitter.com/RJ50WmotmE

— Selena (@SelSaysIt) March 21, 2014
8.
This summer CNN relocated the Eastern Ukrainian city of Slavyansk in an infographic – all the way to the Crimea peninsula.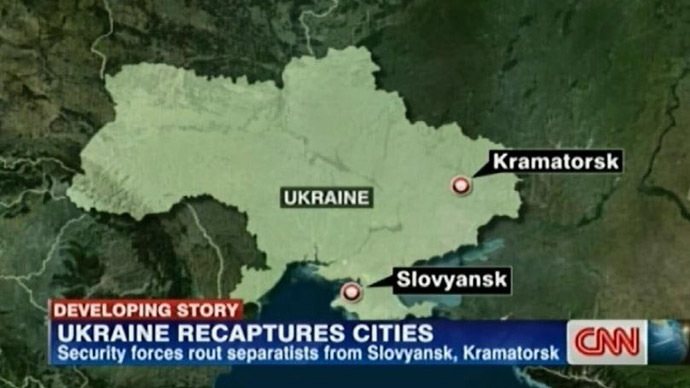 9.
And if that wasn't bad enough, earlier this year the channel reshaped the world entirely, suggesting on its map that Eastern Ukraine was somewhere in Pakistan.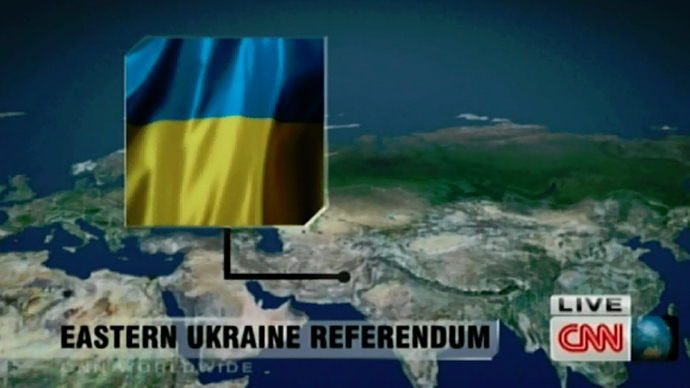 10.
In August, CNN identified Niger as Nigeria when reporting on the world's worst Ebola outbreak. The mistake did not go unnoticed by multiple sharp-eyed viewers.
Dear @CNN, the area you marked "Nigeria" is actually "Niger"; Nigeria is the area below it. Get a map-reader, please! pic.twitter.com/e03Fv1pcC2

— Gimba Kakanda (@gimbakakanda) August 6, 2014
You can share this story on social media: