Oops, Mr President! CNN typo 'Navy SEAL killed Obama' has Twitter in stitches (VIDEO)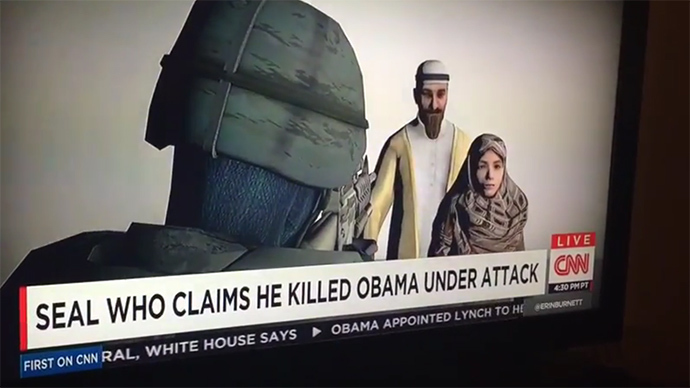 CNN has accidently "killed" President barack Obama instead of Al-Qaeda leader Osama bin Laden in one of its shows. For nearly a minute, CNN displayed a headline with a typo that viewers just could not miss.
The channel's Erin Burnett OutFront show was dedicated to Robert O'Neill, a Navy SEAL, who is claiming to be the one to have shot and killed Osama bin Laden in the 2011 raid on a Pakistani compound.
CNN eventually replaced "Obama" with "Bin Laden" in the headline, but it was little too late – its viewers had enough time to take pictures of their TV screens and record video to share them online.
Oops @cnn. Killed Obama??? pic.twitter.com/mQIVImrpAv

— Mike Gleeson (@thegeneralisin) November 8, 2014
Wow the SEALs are out of control pic.twitter.com/g0F9Dvidbh

— Jon Passantino (@passantino) November 8, 2014
Hey @CNN, that's one name you can't misspell. Osama Bin Laden and President Obama aren't interchangeable. pic.twitter.com/2yGb86MfJ3

— KB (@Kayla__Brandon) November 8, 2014
Boy oh boy is someone going to get flak for this Osama-Obama slip at @CNN. Happens to the best of them. pic.twitter.com/9q12K8BxMU

— Tammy Mendoza (@mycolorisyellow) November 8, 2014
Hey @CNN shouldn't it be "Osama" rather than "Obama"? LOL #SEALWhoKilledThePresident#fbpic.twitter.com/sAOcE4evzV

— Johan Alkerstedt (@johanalkerstedt) November 8, 2014
Obama? Osama? Same diff? #CNNpic.twitter.com/P4oVMEmiYS

— Victoria Pace (@vlpace) November 8, 2014
You can share this story on social media: