FBI arrests 2 New Black Panther members over alleged bombing plot in Ferguson - reports
Published time: 22 Nov, 2014 03:31
Edited time: 7 Aug, 2015 05:13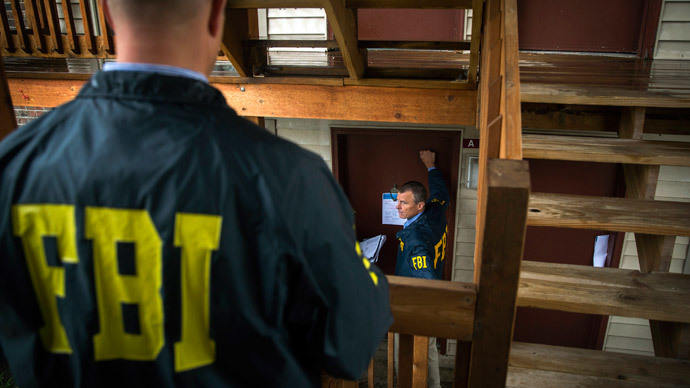 Two men have been arrested by FBI and indicted on weapons charges near St.Louis, Missouri. According to CBS news source the suspects were allegedly plotting to set off pipe bombs amid the ongoing Ferguson protests.
Another law enforcement official confirmed to Reuters that two men were suspected of buying explosives which they planned to detonate during protests in Ferguson.
The suspects were arrested by the federal agents on Thursdayas part of an undercover operation in St. Louis after they attempted to buyfirearms under false pretenses, according to theunsealed federal indictment.The official source told Reuters on condition of anonymity that the suspects were trying to acquire explosives for pipe bombs.
A law enforcement source tells @CBSNews the men arrested in undercover operation near Ferguson intended to use the explosives in pipe bombs

— CBS News (@CBSNews) November 22, 2014
On Friday the suspects identified as Brandon Orlando Baldwin and Olajuwon Daviswere indicted on weapons charges for making purchases of two handguns at the Cabela's sporting goods store in Hazelwood.
According to the indictment, between November 1 and 13 the men acquired two Hi-Point .45 ACP pistols but the weapons were intended to be handed over to someone else.
A police source also said the investigation leading to the arrest spanned several months. Local and federal authorities executed search warrants at two residences in north St. Louis County. The source told St. Louis Todaythat the raids produced information that the detained had planned to obtain illegal weapons to do harm to law enforcement and the public.
READ MORE: KKK members may have infiltrated Ferguson cop support group - Anonymous
After the arrest, one of the leaders of the New Black Panther Party, Chawn Kweli, posted a message on his blog blaming the operation on Counter Intelligence Program (COINTELPRO).
"The wicked enemies of black people use lies and deceit to confuse the masses and misdirect the legitimate aspirations of the black power movement," Kweli wrote. "As seen, in St. Louis, Mo, with the arrest of Chairman Olajawon Ali, and other activist ahead of the decision on whether to indict Officer Darren Wilson for killing Mike Brown – or not!"
The FBI has been concerned about the presence of New Black Panther members since the August shooting of Michael Brown which sparked the months-long protests. In August, St. Louis Division of the FBI issued a warning that the New Black Panther Party along with its leader Chawn Kweli were in Ferguson to incite violence.
READ MORE: Ferguson police officer who killed Michael Brown reportedly set to resign
As residents continue to wait on a decision of the grand jury currently deliberating whether to indict Ferguson Police Officer Darren Wilson for the killing of Brown, the FBI has sent approximately 100 agents to the St. Louis area. Missouri Governor Jay Nixon has also declared a state of emergency and called in 400 National Guard troops to back up police in case of public outrage over the decision.