Police violated constitutional rights of Ferguson protesters – federal judge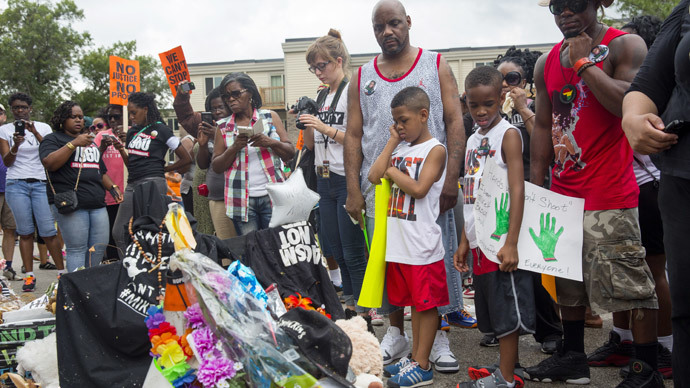 A Missouri federal judge has agreed with an American Civil Liberties Union lawsuit claiming the First Amendment rights of Ferguson residents and their supporters were violated when law enforcement made arbitrary rules about them.
Chief US District Judge Catherine D. Perry ruled on Monday that when law enforcement officers insisted that protesters and journalists keep moving during protests over the death of unarmed teenager Michael Brown in August, they violated the people's constitutional rights.
READ MORE: Ferguson cop who shot Michael Brown testifies before grand jury
"The rule of law is essential to our constitutional system of government, and it applies equally to law enforcement officers and to other citizens," wrote Judge Perry in her ruling, according to the Huffington Post.
During those protests, authorities began enforcing a new rule in the area where demonstrators had gathered to protest the fatal shooting by police of African-American teen Michael Brown. The ACLU of Missouri argued in their lawsuit – Mustafa Abdullah v. County of St. Louis – that the "five-second rule," which police told protestors was the length of time they could stand in a certain spot before moving on, had no statutory or regulatory reference.
As a consequence of her ruling in the case, Judge Perry issued a preliminary injunction banning St. Louis County Police and Missouri State Highway Patrol officers from using the tactic.
"The evidence from plaintiff witnesses shows that the police, including those from St. Louis County, told many people who were either peacefully assembling or simply standing on their own that they would be arrested if they did not keep moving," Perry wrote.
READ MORE: Possible leak from Ferguson grand juror being probed
Perry ruled that people had a constitutional right to assemble "in the wake of Michael Brown's death."
According to witness testimony, law enforcement had a bewildering assortment of rules for protesters and journalists that lacked consistency. They were told they could stand still for no more than five seconds, or were accused of walking too slowly. In some cases, they could not walk back and forth in a small area. Some officers did not make people keep moving, while others did.
#Freespeech VICTORY! Judge rules officers must stop forcing peaceful #Ferguson protestors to abide by 5-second rule http://t.co/oYZKlUgUUK

— ACLU of Missouri (@aclu_mo) October 6, 2014
"Judge Perry's injunction is a huge win for peaceful protesters and those who believe in the rule of law," said Tony Rothert, legal director for the ACLU of Missouri.
READ MORE: DOJ to open investigation of Ferguson Police Department
You can share this story on social media: