Glenn Beck: Associated Press 'raped' Bill Cosby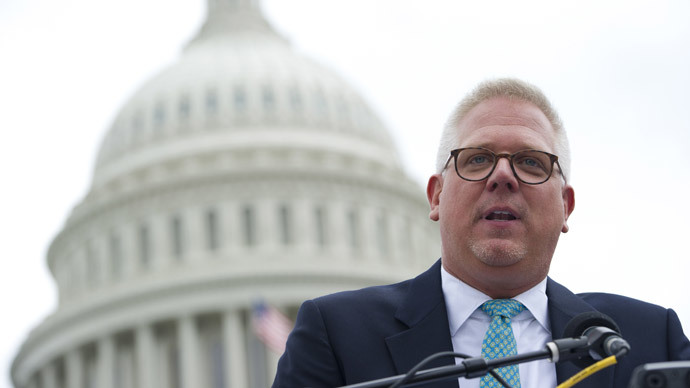 Bill Cosby continues to fall from grace, and his comeback attempt is in a tailspin as eight women have now come forward to accuse him of sexual assault or rape. However, radio host Glenn Beck defended the comedian and actor, saying Cosby is the victim.
"You want to talk about rape? That's media rape right there," Beck said, referring to the Associated Press' decision to publish Cosby's full reaction to questions its reporter, Brett Zongker, about the allegations in a November 6 interview.
"You said you would not do that. Since when does your 'no' mean 'yes'? Do you know the definition of 'no,' sir? You've just raped Bill Cosby," Beck ranted. "You said you wouldn't do it. You just did it and then you blamed it on him. My gosh, maybe we should have a lesson on rape."
The conservative radio host devoted 15 minutes of Thursday's episode of 'The Glenn Beck Radio Program' to the growing Cosby scandal.
AP defended its actions, saying the interview was on the record and that it had made no agreement to avoid questions about the allegations or to withhold publishing any of his comments at any time.
"The interview was on record. The AP made no agreement to avoid questions about the allegations or to withhold publishing any of his comments at any time," the wire service stated at the end of the released video.
Also on Thursday, mere hours after Therese Serignese told WPTV that Cosby had drugged and raped her in Las Vegas in 1976 (when she was 19), an eighth woman came forward to accuse the comedian of sexual assault.
Model-actress Angela Leslie told the New York Daily News that she met Cosby in Vegas as well. In 1992, he summoned her to his place, where she spoke to him of her career aspirations. 'The Cosby Show' star asked her for an impromptu audition.
"If you want to act, show me what you've got. Pretend you're intoxicated," she recalled .
Cosby then poured her a stiff drink, and told her to act drunk.
"I couldn't drink it," she recounted. "I tasted it and put it down. Then he asked me to go into the bathroom and wet my hair... I walked back out, and he had removed his clothing and gotten into bed."
Leslie said Cosby began rubbing against her. Then he poured lotion into her palm, and pulled her hand under the blankets.
EXCLUSIVE: Another actress accuses Bill Cosby of sexual assault in Las Vegas hotel: http://t.co/5zaf0LKmXJpic.twitter.com/7aAJoFs7R4

— New York Daily News (@NYDailyNews) November 21, 2014
"With his hand on top of mine, he had me massage his penis," the actress said. "He masturbated with my hand. I wasn't pulling back. I was in shock."
Leslie now believes that Cosby had spiked her drink with something to knock her out. When she didn't, he quickly tired of her.
"I didn't drink the alcohol, and maybe since I didn't pass out, he decided to get rid of me," Leslie said.
"I felt so used," she explained. "I felt that he didn't get what he wanted, and he threw me out... He didn't make me feel special in any way. He said, 'Come here, put your hand here, do this'."
Leslie said Cosby never called her again after Vegas.
"Whenever I looked at Cosby, I thought he was a father figure," she told the Daily News. "I was in shock that he was that kind of (sick) person. I couldn't believe it."
"The main thing I want is for people to know him for who he really is," she added. "He's not this dad of America."
Carla Ferrigno, Angela ... - - http://t.co/wUZYC93H43 - #CelebrityNews#Comedians#Funny#FunnyNews#Jokespic.twitter.com/3snMnDnKCv

— JoAnn Roselli (@JoRoNoMo) November 21, 2014
As the allegations against "America's Dad" continue to grow, his stock has plummeted. Cosby was scheduled to perform stand-up shows in Nevada and in Tucson, Arizona, but both were canceled. Officials at the Treasure Island hotel-casino on the Las Vegas strip told AP they've mutually agreed with the comedian to cancel his November 28 performance. No reason was given by the Diamond Desert casino in Tucson, Arizona, for canceling his February 15 show.
On Friday, Comedy Central confirmed that the channel will no longer air a rerun of Cosby's year-old stand-up special, 'Far From Finished,' which was set to run next Friday as well, the Washington Post reported. Comedy Central is owned by Viacom, which is also the parent company of TV Land, which has stopped airing reruns of 'The Cosby Show.'
NBC pulled the plug on a planned sitcom featuring the comedian, while Netflix postponed Cosby's upcoming stand-up program, 'Bill Cosby 77,' which was due to premiere on Thursday. The disgraced actor will perform his comedy routine to a sold-out theater in Melbourne, Florida, Friday night, and at least 34 other shows remain on his schedule through May 2015.