Netflix postpones Cosby's show after supermodel Janice Dickinson says he raped her
Published time: 19 Nov, 2014 17:46
Edited time: 19 Nov, 2014 21:17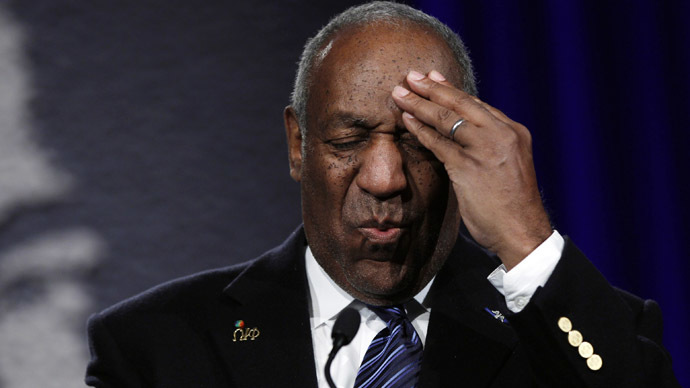 Model and television personality Janice Dickinson has come out as the third woman in just over a week to accuse comedian Bill Cosby of sexual assault. Responding to the allegations, Netflix announced it was postponing Cosby's new stand-up special.
In an interview that aired on Tuesday, Dickinson told 'Entertainment Tonight' that the rape occurred in 1982, at Lake Tahoe, California. She said the pair had been introduced previously by her agent, and that she was seeking a part on 'The Cosby Show.' Cosby had offered to help Dickinson with her singing career, and had invited her to his hotel room after dinner.
Dickinson said once in the hotel room, she asked Cosby for a pill to ease her stomach pains. He gave her a pill, along with red wine.
"The next morning I woke up and I wasn't wearing my pajamas and I remembered before I passed out I had been sexually assaulted by this man," she told 'Entertainment Tonight,' adding that she remembered Cosby dropping the robe he was wearing and getting on top of her.
Dickinson said she originally wrote about the assault in her 2002 autobiography, "No Lifeguard on Duty: The Accidental Life of the World's First Supermodel," but that Cosby and his attorneys pressured her and the book's publisher to remove the allegations.
She wrote in the book that that night in Lake Tahoe ended differently.
"After all I've done for you, that's what I get?" Dickinson quoted Cosby as saying after she refused to enter his hotel room.
He then "gave me the dirtiest, meanest look in the world, stepped into his suite, and slammed the door in my face," she wrote.
Dickinson told 'Entertainment Tonight' that she never personally confronted Cosby about the incident.
"I'm doing this because it's the right thing to do and this happened to me and this is a true story," she said.
Following the interview's airing, Netflix announced the postponement of Cosby's upcoming stand-up program, 'Bill Cosby 77,' which was due to premiere on Nov. 27.
"At this time we are postponing the launch of the new stand up comedy special 'Bill Cosby 77'," a Netflix spokeswoman said in a statement.
The company did not offer any more details on the show's debut.
David Brokaw, Cosby's publicist, told AP the 77-year-old comic agreed with the decision.
Cosby's team did not comment on Dickinson's accusations.
Meanwhile, though, matters have worsened for Cosby. By Wednesday afternoon, The Huffington Post reported that NBC confirmed they had pulled the plug on a planned sitcom featuring the comedian, and a CNN interview from the evening prior in which host Don Lemon remarked on the rape allegations had within hours went viral. Speaking to one of Cosby's accusers, Joan Tarshis, Lemon said "there are ways not to perform oral sex if you didn't want to do it," suggesting soon after that sex assault victims should consider biting the penises of attackers.
In the past several days, two women have come forward with similar allegations against Cosby. Barbara Bowman, writing in the Washington Post, and Joan Tarshis, in a Hollywood Elsewhere essay, described incidents in which they were drugged then raped by Cosby.
Cosby has weathered several assault accusations in the past, though he has never been charged for any of the alleged crimes. The longstanding allegations came to the fore once again in late October when, bemoaning Cosby's "smuggest old black man public persona," stand-up comedian Hannibal Buress called Cosby a rapist during a routine in Philadelphia.
Cosby refused to address the new allegations when pressed by NPR's 'Weekend Edition,' aired on Saturday. His attorney, John P. Schmitt, released a statement on Sunday saying Cosby would not comment on the claims made against him.
"Over the last several weeks, decade-old, discredited allegations against Mr. Cosby have resurfaced. The fact that they are being repeated does not make them true. Mr. Cosby does not intend to dignify these allegations with any comment. He would like to thank all his fans for the outpouring of support and assure them that, at age 77, he is doing his best work. There will be no further statement from Mr. Cosby or any of his representatives."
In late 2006, he settled a civil suit with one woman, Andrea Constand, who claimed Cosby drugged, then sexually molested her in early 2004. Authorities never charged Cosby, citing lack of evidence. The settlement came after Constand's lawyers said they found 13 Jane Doe witnesses with similar claims.