Florida SU campus shooting: Gunman injures 3 before police kill him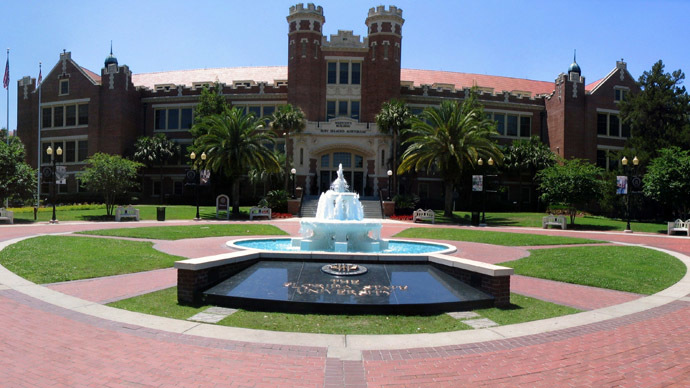 Police say three people were injured, with two suffering gunshot wounds at the Florida State University campus in Tallahassee. They also confirmed that a single gunman has been shot dead by officers after he refused to put his gun down.
Three people were injured during the incident, with two suffering gunshot wounds. One is in a critical condition in a hospital in Tallahassee, while the other is stable.
"We have two victims from a shooting that happened on the Florida State Universitycampus," said a nursing supervisor, who declined to provide additional detail on the condition of the victims, which was reported by Reuters.
Police say that the gunman was shot dead by law enforcement officers on campus, according to AP. He was confronted outside the Florida State University's Strozier Library soon after midnight and was ordered to drop his weapon.
BREAKING: Police say Florida State University gunman shot dead by campus officers; 3 wounded

— The Associated Press (@AP) November 20, 2014
Working with officials to confirm details. AREA HAS BEEN SECURED. Please continue to stay safe and heed Law Enforcement instructions.

— Florida State Univ. (@floridastate) November 20, 2014
After being fired upon by the gunman, Tallahassee police opened fire, killing the attacker.Police then secured the library, making a sweep of the area, while forensic teams were also on the scene.
Hours after the shooting, detectives were still inspecting the body of the suspected gunman, who was lying face down at the top of an access ramp just outside the library. A gray baseball cap lay near his head, AP reported.
Student Alexandra Lauren told CNN that she was in the library at the time of the shooting.
"We heard the gunshots, and then it was in a matter of seconds the entire first floor just seemed to go into chaos," Lauren said, her voice wavering.
"It was very scary. I'm just more heartbroken than anything else. FSU means a lot to me," she added, which was reported by Reuters.
Police with assault rifles inside Strozier Library #fsupic.twitter.com/2VziVQ6Nbj

— Guillermo Page (@Guillermo10Page) November 20, 2014
Freshman Nikolai Hernandez said he was in his dorm room across from the library when he heard five or six rapid gunshots.
"It was a consecutive bop, bop, bop, bop, bop," Hernandez said, which was reported by AP. "It makes me definitely a little bit nervous. I was supposed to be in the library. I had a paper to do and I got a little bit lazy and decided not to do it."
He said he has friends had been locked inside the library for two hours after the shooting.
The university had acknowledged that they were involved in a "dangerous situation," after it published an alert on its website upon learning of reports of a shooting. It warned people to stay away from doors and windows, while a number of students on campus reported hearing gunshots.
Flordia State University has a student body of around 40,000 students according to its website.
In May a 22 year-oldkilled six peoplenear the University of California campus before taking his own life. Elliot Rodger, who was the son of a Hollywood director, stabbed three people to death, before shooting another three.
Rodger opened fire on bystanders from his car and then on foot, which eventually ended when he killed himself after a shootout with police. The incident happened in the town of Isla Vista, near Santa Barbara. Aside from the six people he killed, 13 people were also injured in the attack, including eight who were shot.
In December 2012, Adam Lanza shot his mother and then murdered 26 people at Sandy Hook elementary school, including 20 children in Connecticut.