Anonymous: Campaign against 'terrorist group' KKK will continue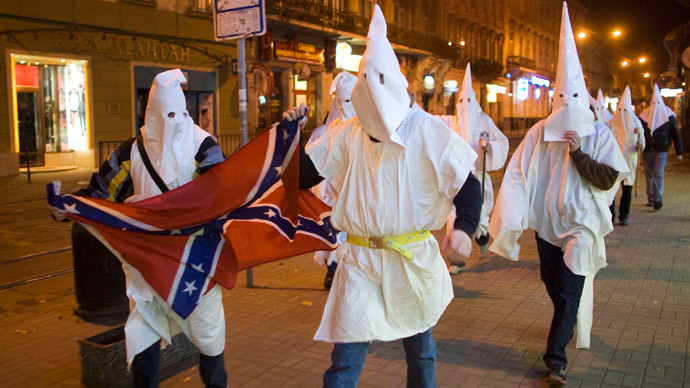 ​Individuals associated with the hacktivist group Anonymous are moving forward with their cyber campaign against the Ku Klux Klan and say the actions they've undertaken so far should be considered "just the beginning" of what's to come.
On the heels of an operation launched by the amorphous, international hacking movement last week, #OpKKK, people aligned with Anonymous say they will continue to set their sights on the Klan after the infamous hate group threatened to use "lethal force" against protesters in Ferguson, Missouri, where mass demonstrations are expected to occur in the coming days.
RT reported previously that self-proscribed members of Anonymous, or Anons, responded to the KKK's stated intentions to harm activists in Ferguson by compromising a Twitter account related to the Klan while at the same time rendering affiliated websites unavailable through a campaign of distributed denial-of-service (DDoS) attacks. On Monday, Anons published a statement by way of the affected Twitter account, @KuKluxKlanUSA, explaining the status of the headline-grabbing operation launched over the weekend on November 16.
"Before going any further, we'd like to address our idea of freedom. After exposing Klan members and seizing the Klan's websites and Twitter accounts, Anonymous members faced much criticism regarding freedom. Anonymous stands for freedom, so why would we strip someone of his or her freedom of speech? The Ku Klux Klan is a terrorist group. The blood of thousands of human beings are on the hands of Klansmen. In most of Anonymous' member's eyes, the KKK no longer has the right to express their racist, bigoted opinions," the message reads in part.
A message from Anonymous. #OpKKKpic.twitter.com/nIonyhFMrh

— Ku Klux Klan (@KuKluxKlanUSA) November 18, 2014
Later, the statement suggests that the compromised KKK account contained evidence that could potentially unmask some Klansmen and is currently being disseminated by hacktivists. Anons say they want to ensure they identify those individuals with utmost accuracy, though, adding "It would be against everything Anonymous does if we publically released information of the innocent."
According to the statement, which has since been retweeted more than 4,000 times, Anons plan to erase the compromised Twitter account once the information it contains is analyzed thoroughly.
"What was accomplished on 16 Nov 24," the message continues, "is just the beginning of #OpKKK. Anonymous has plenty more work to do. To the men and women representing Anonymous in Ferguson, make us proud. Show the world why Anonymous is the most united legion on this planet."
Meanwhile, Anons from around the world are continuing to participate in the anti-Klan campaign by tweeting new details about purported Klansmen and collaborating elsewhere on the web as KKK-related websites are harvested as targets to be hit with DDoS assaults and other methods of attack.
According to at least one influential Klansmen, however, Anonymous' efforts have so far been anything but effective. "Sounds to me like a bunch of kids in their mom's basement whacking off," Imperial Wizard Frank Ancona of the Traditionalist American Knights of the KKK told the Daily News on Monday.
Protests are expected to erupt in and around Ferguson, MO pending the forthcoming outcome there concerning the federal grand jury tasked with deciding if Darren Wilson, a white police officer, should be charged for killing Michael Brown, an unarmed black teenager, in August.
You can share this story on social media: