Times Square gets North America's biggest, most expensive billboard (PHOTOS)
Published time: 18 Nov, 2014 04:28
Edited time: 18 Nov, 2014 04:45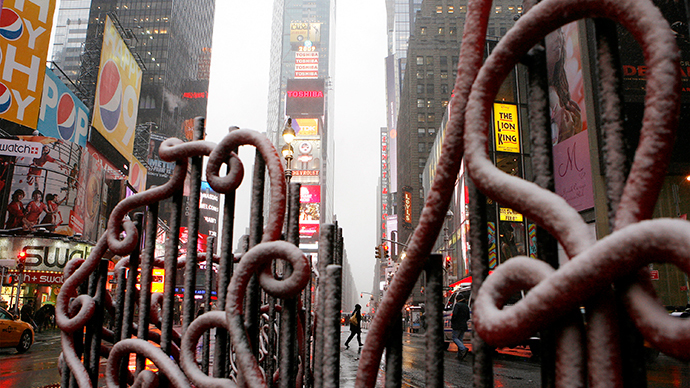 A digital billboard the length of a football field is coming to Times Square in New York City, making it the biggest, brightest, and most expensive advertising space anywhere in North America.
Arriving just in time for four weeks of the busiest shopping season of year, visitors to Times Square will get to witness the massive advertisement. Occupying an entire city block at eight stories high, the digital outdoor billboard will first show off an art exhibition by Universal Everything, which will dazzle the area's 300,000 daily visitors. The billboard's 24-million-pixel-strong LED display will be bright, but at $2.5 million for four weeks of display time it is not cheap.
A billboard as long as a football field debuts tomorrow in Times Square http://t.co/dXoPBWv9NZpic.twitter.com/bWDliGyHjE

— NBC New York (@NBCNewYork) November 17, 2014
"Size matters in Times Square," Harry Coghlan, president of Clear Channel Outdoor New York, which is selling the ad space, told The New York Times. "Sometimes it just comes down to wanting to stand out, and it comes down to ego."
Eight-story digital billboard will be unveiled in New York City's Times Square on Nov. 18. https://t.co/lkBgegaOeSpic.twitter.com/v2GC4gYtS1

— Inside (@inside) November 17, 2014
The only other billboard able to compete is the world's tallest billboard at One Times Square, where the ball drops on New Year's Eve.
After November 24, Google will take over the space through to January, but the company won't reveal how much the technology company is paying, or what it's advertising.
Times Square's new digital billboard is almost the length of a football field http://t.co/GWlEKDHjZ9

— Amazon Gizmo AU (@AmazonGizmoAU) November 17, 2014
Vornado Realty Trust built the screen on the front of the Marriott Marquis Hotel as a redevelopment project for new signs and retail space.
"The signs really are part of the culture, part of the fabric of the excitement of this city," Steve Roth, chief executive of Vornado, said to the Times. "And, by the way, we are in it for the money, and they are an interesting part of our business."
N. America's Largest, Most Expensive (625k/week) Billboard Set To Go Live In Times Square - http://t.co/bVxZ8sjowwpic.twitter.com/MNfxo8jl0J

— Breaking911 (@Breaking911) November 17, 2014
Roth said the new pixel display will soon be superseded by the latest advances in digital displays, but the size of the billboard and its location will be two lasting advantages.
Remember that time I saw 5SOS on a billboard in Times Square in New York City? #vote5sospic.twitter.com/b57aYo9WOS

— Becca // pls Luke? (@ForMyHazza) November 4, 2014
Digital billboards have long left static signs behind, and advertisers are increasingly using social media and mobile components to engage viewers – such as by broadcasting their faces or providing downloadable coupons.
At http://t.co/AirVV1r0QC -- Missing my billboard fame in Times Sq New York #timessquare#billboard#coke#coke... pic.twitter.com/MJVDc5eCuO

— scenesfromnyc (@) November 11, 2014
Despite its impressive stature, it's not quite the largest ad space in the world. LG Electronics recently created a campaign on a record-breaking billboard near King Khaled International Airport in Saudi Arabia. At 820.2 feet long and 39.3 feet tall, that sign is the largest in the world, according to the Guinness Book of World Records.