Leave DC alone: Republican joins Democrats, residents in support of marijuana law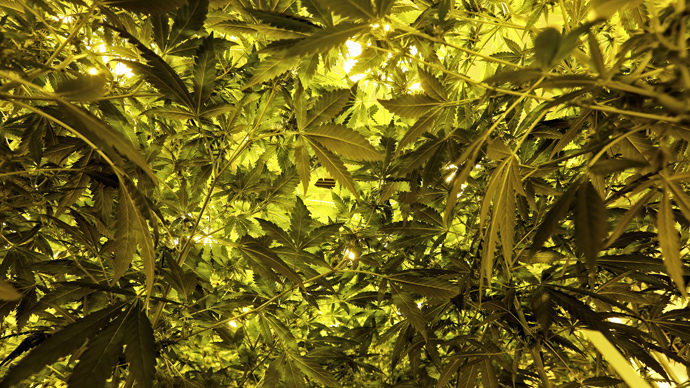 Despite an overwhelming vote in favor of legalizing marijuana in Washington, DC, many worry that Congress will weigh in and rule against it. But in a rare sea change, one of the staunchest conservatives has joined Democrats in support of the measure.
During the midterm elections, 69.5 percent of DC voters – about 95, 880 votes total – chose to legalize the possession of two ounces of marijuana for adults over 21, as well as the cultivation of plants at home.
READ MORE:Cannabis shrinks brain? Study says pot abuse damages IQ
Since Congress claims control over laws in the nation's capital and has 60 days to consider the measure, pot advocates worry that lawmakers will stop it from passing.
Thank you @repblumenauer, @RepJaredPolis, & @DanaRohrabacher for standing with DC on our #marijuana initiative. pic.twitter.com/Lb0R28yRHU

— Eleanor H. Norton (@EleanorNorton) November 13, 2014
Rep. Andy Harris (R-Md) threatened to try to sabotage the initiative by attaching a rider to another piece of legislation, and DC Mayor-elect Muriel Bowser previously suggested that legislation should be passed to regulate and tax marijuana before Congress reviews the legalization measure.
READ MORE:Aim High: Marijuana legalization puts US military in a pickle
Democratic Reps. Earl Blumenauer (Ore.), Jared Polis (Colo.), and Del. Eleanor Holmes Norton (District of Columbia) held a press conference on Thursday to call on Congress to stand back and allow legalization to move forward in D.C., as it has in Colorado and Washington state.
Washington Post: Congress Should Allow DC To Legalize Marijuana http://t.co/abQJ3XaRj6 via @TheWeedBlogpic.twitter.com/hbkw7Lc9Wk

— IG: thestonedsociety (@stonedsociety) November 11, 2014
In a surprise move, they were joined by a Republican, Rep. Dana Rohrabacher of California.
"My message to my fellow Republicans is: Wake up and see where the American people are, but also see what the fundamental principles are in this debate," said Rohrbacher, according to the Huffington Post.
"The fundamental principles are individual liberty, which Republicans have always talked about, limited government, which Republicans have always talked about, the doctor-patient relationship, which of course we've been stressing a lot about lately, and of course states' rights and the 10th Amendment."
Rohrabacher appealed to 50 of his Republican colleagues to rethink their approach to recreational marijuana laws as well, noting that "things have really changed in Washington" on cannabis issues.
"It is counterproductive to the welfare of the people of this country to have our limited resources...going to put in jail someone who's smoking a weed in their backyard or something like that," he added. "Just in the practical politics, let's understand that there's been a big change – a sea change – in public attitude towards this, because people realize what a total waste of money it is compared to other priorities."
RT @voxdotcom: Marijuana legalization sweeps the 2014 midterm elections http://t.co/zmMdLMJUc7pic.twitter.com/tMcQ0qGhad

— Sanho Tree (@SanhoTree) November 5, 2014
While the legalization measure did pass, sales of the drug are still banned, and federal laws still classify the drug as Schedule 1, along with heroin and cocaine.
READ MORE:Alaska, Oregon and Washington, DC vote to legalize recreational marijuana
As for Congress rejecting a measure passed by voters, it has asserted that power on occasion. In 2003, DC residents voted to have an autonomous budget separate from the congressional appropriations process. Congress, however, said the measure exceeded the power of the city charter and declared it illegal.
Some changes are already in affect following DC's vote to legalize Marijuana pic.twitter.com/P36ZqGxkWy

— Ben Wells (@Benjamin_Wells_) November 11, 2014
You can share this story on social media: