Colorado fracking accident kills Halliburton employee, injures 2 others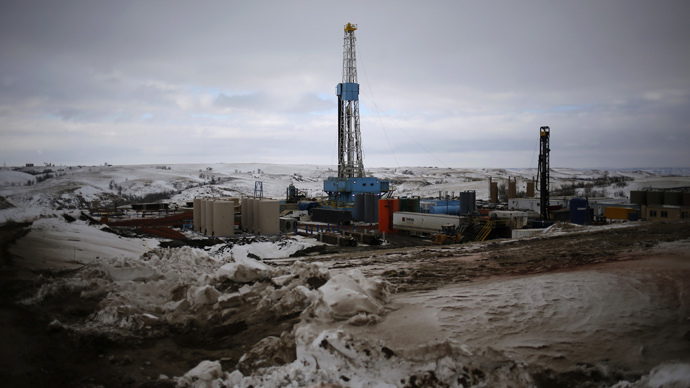 Halliburton workers trying to thaw a frozen high-pressure water line at a Colorado fracking site found themselves in an extremely dangerous situation when it ruptured, killing one of them and injuring two others.
Colorado has been experiencing record-breaking cold conditions, with temperatures dropping to well below zero degrees Fahrenheit (-18 degrees Celsius) at night. When temperatures hit zero on Wednesday evening, a high-pressure water line froze.
READ MORE:Shale gas: boom or bubble?
The delivery of high-pressure water is a crucial component of the fracking process – which requires blasting water, along with sand and other chemicals, into layers of rock to free up oil and natural gas.
Deadly #Colorado#Fracking Accident Today _not too far from me! http://t.co/lkXWRxK0x7#Ban#noFracking#anadarkopic.twitter.com/ub7SVc51t5

— Laurie Jess (@LaurieJess00) November 14, 2014
Halliburton employees at Anadarko Petroleum Corp were trying to thaw the line when it split, killing one and injuring two others.
"Something went wrong, causing the line to rupture," Sean Standridge, spokesman for the Weld County Sheriff's Office, told The Greeley Tribune. "[Matthew] Smith, 36, was struck by a stream of fresh water with an estimated pressure of 3,500 to 4,500 psi."
"For comparison, the typical working pressure of a fire hose is 50 to 100 psi," said Greeley Fire Department Chief Duane McDonald. "There was no fracking fluid in the pipe; it was a pre-fracking operation."
Our fatal #fracking story ran on the front page of 3 #Colorado newspapers today http://t.co/tcmQg992ZN@TimesCallpic.twitter.com/NuY4ffBd2C

— Jesse Aaron Paul (@JesseAPaul) November 14, 2014
The two men injured in the accident were taken to local hospitals. Thomas Sedlmayr, 48, who was flown to Denver Health, and Grant Casey, 28, who was taken by ambulance to the Medical Center of the Rockies in Loveland.
READ MORE:'Fracking loophole' allows drilling companies to use unregulated toxins – report
The employees had been contracted by Halliburton, but fracking operations had not yet begun.
"We want to make sure all oil and gas sites have comprehensive safety and health programs in place to address all potential health hazards," said Herb Gibson, Denver area director of the Occupational Safety and Health Administration (OSHA), to The Tribune. "The most common at a well site are struck-by hazards, fires, explosions and exposure to chemicals, such as hydrocarbons."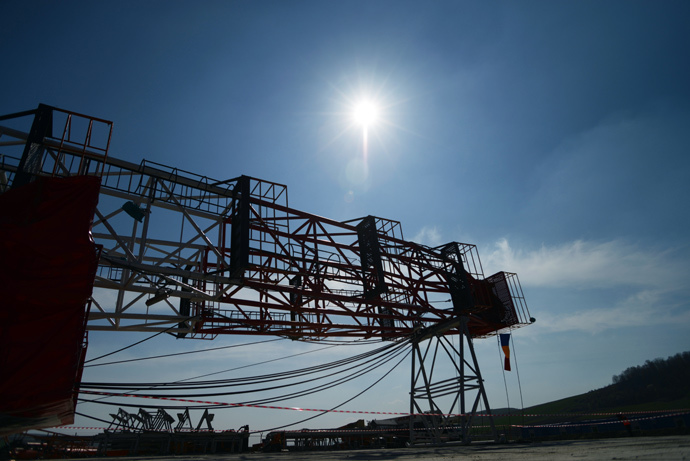 Two OSHA investigators are at the Mead area site looking into the accident, Gibson said.
"It's a dangerous industry," Gibson said. "This is a tragic situation."
The oil and gas industry in 2012 had a fatality rate of about 25 per 100,000 workers — higher than construction, manufacturing, and agriculture, according to the US Department of Labor.
The Mountain View Fire Rescue Department said the cause of the ruptured line is being investigated, as well as the cause of Smith's death, although the impact of the water has been a suggested cause. The Sheriff and Coroner's office are also conducting investigations.
"This is a very difficult time for all of us at Halliburton, and we are working with local authorities as they look into the details of this incident," the company said in a statement. "Our thoughts and prayers are with our employees' loved ones."
READ MORE:Fracking triggered 400 earthquakes in Ohio, study finds
Anadarko said in a statement that its employees were "shaken and heartbroken," by Thursday's tragic events, and that it has suspended activities in the area. The company has sunk at least nine horizontal wells at the site.
Mark Udall, Fracking Accident, School Protests: Big news day for Colorado via @DenverPostpic.twitter.com/6cSeI4jpIk

— Barry Osborne (@barry_osborne) November 13, 2014