Suspected Pennsylvania cop killer hoped to ignite revolution, now faces terrorism charges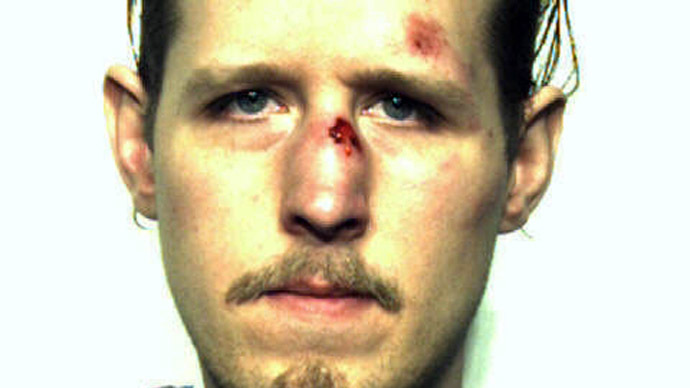 ​The 31-year-old survivalist caught by police in Pennsylvania last month amidst a weeks-long manhunt now faces two counts of terrorism in addition to previously filed charges that include killing a police officer.
Prosecutors on Thursday this week said they're now charging Eric Frein, a New Jersey-born murder suspect, with trying to affect the conduct of a government and trying to influence the policy of a government by intimidation or coercion; each are counts of terrorism that carry maximum sentences of 40 years in prison.
Frein declined to enter a plea to the new charges, which were read to him via video link at an unexpected arraignment on Thursday and now amends an earlier list of criminal counts filed two weeks earlier.
The original laundry list of allegations against Frein stem from a September 21, 2014 ambush outside of a Pennsylvania State Police barracks and the events that followed. Prosecutors say Frein fatally shot Cpl. Bryon Dickson and wounded Trooper Alex Douglass during that attack, then eluded authorities for 48 days and put much of the mid-Atlantic state at high alert. Authorities arrested Frein on October 30 and he was arraigned the next day for murder and attempted murder, among other charges.
According to the new charges introduced this week, Frein, a skilled marksman, wrote a letter addressed to his parents in which he advocated for an overthrow of the government.
"Our nation is far from what it was and what it should be," begins the letter that investigator say was recovered from a computer drive taken from Frein. "I have seen so many depressing changes made in my time that I cannot imagine what it must be like for you. There is so much wrong and on so many levels only passing through the crucible of another revolution can get us back the liberties we once had. I do not pretend to know what that revolution will look like or even if it would be successful."
"Tension is high at the moment and the time seems right for a spark to ignite a fire in the hearts of men," he adds. "What I have done has not been done before and it felt like it was worth a try."
According to the latest criminal complaint filed in Pike County, Pa., that letter leads prosecutors to believe Frein shot the two troopers with purpose of influencing the policy and conduct of the United States government. He now faces 11 charges in all: one count of murder in the first degree; one count of criminal attempt of murder in the first degree; one count of criminal homicide of a law enforcement officer; one count of criminal attempt to commit homicide of a law enforcement officer; one count of assault of a law enforcement officer; one count of discharge of a firearm into an occupied structure; one count of possessing instruments of crime; one count of recklessly endangering another person; two counts of terrorism; and one count weapon of mass destruction for two bombs he allegedly possessed.
One count of attempted homicide was dropped in the amended complaint, according to WBRE.
The new complaint says the digital file was addressed to "Mom and Dad" and created last December, but most recently accessed on Oct 6 while Frein was on the run.
Previously, prosecutors say they would seek the death penalty if Frein is convicted of murdering Cpl. Dickson. Frein's alleged letter to his parents says "I do not have a death wish, but I know the odds. I tried my best to do this thing without getting identified, but if you are reading this then I was not successful."

"If I am dead, I would like to be buried in a wood coffin (no lead lined casket!) so that my remains can return to where they came from," he wrote. "I understand this this might not be possible though, laws and what not, so don't sweat it. Also, light a candle for me at the Russian or Greek Orthodox church in Stroudsburg from time to time. It doesn't need to be during a liturgy, just whenever they are open. I am sure you can figure it out."
A multi-week manhunt was launched earlier this year for Frein, who momentarily held a spot on the FBI's Ten Most Wanted List before being apprehended last month in the Poconos. Police had previously described him as a "weapons enthusiast" and a "survivalist" with the know-how to navigate through the wooded areas where investigators eventually found him.