NYC 'cannibal cop' sentenced to time served, released from jail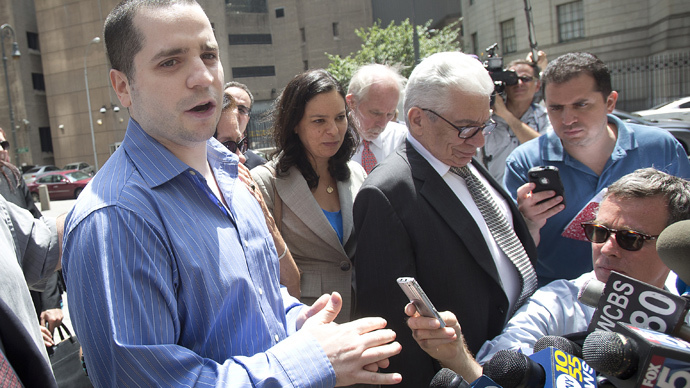 A former New York City police officer convicted of planning to kidnap and rape women before killing and eating them was sentenced to time served on Wednesday, as he insisted in court that the women were "never in danger."
Gilberto Valle, now known as the 'cannibal cop,' was convicted in 2013 for kidnapping conspiracy. Though he faced a possible life term, a federal judge threw out a jury's guilty verdict earlier this year given Valle's steps were "not sufficient – standing alone – to make out the elements of conspiracy to commit kidnapping."
On Wednesday, Valle, 30, was sentenced to one year time served, the maximum for a misdemeanor, and one year probation. He also was ordered to continue mental health treatment. Valle had already served 20 months in jail as he awaited trial.
During his sentencing in a Manhattan federal court, Valle apologized to the women who had to testify in the trial. He said his conversations in online fetish chat rooms were only role-playing fantasies and not about taking concrete steps to kidnap or harm anyone.
"I just hope they know they were never in danger," Valle said, according to AP. "I would never do the things I talked about on the Internet - never."
Valle said later outside the court that he wanted to move on with is life.
"My legacy is not going to be the story of the 'cannibal cop,'" he said.
The then-New York Police Department patrolman was arrested in 2012 when his wife alerted the FBI to disturbing material she found on his computer. Valle had used the NYPD's federal database to collect information on various women he intended to target.
The findings included a series of unsettling documents and statements, including one file titled, "Abducting and Cooking (Victim-1): A Blueprint." Inside were details regarding the birthdate and bra size of a woman and a list of materials needed to carry out a kidnapping plot.
"I was thinking of tying her body onto some kind of apparatus… cook her over low heat, keep her alive as long as possible," the document read, according to court papers.
The FBI's complaint also alleged that Valle discussed kidnapping a woman for a third party.
"I will really get off on knocking her out, tying up her hands and bare feet and gagging her," he wrote. "Then she will be stuffed into a large piece of luggage and wheeled out to my van."
In another chat exchange, Valle indicated that he knew a woman who could be an easy target, as she lived alone. The men discussed cooking her, basted in olive oil, over an open fire and using her severed head as a centerpiece for a sit-down meal.
Although prosecutors originally argued that Valle's access of the NYPD database signaled that the former officer was taking steps to carry out his lurid plan – they also claimed he had searched the internet in order to learn about using chloroform to knock someone unconscious – defense attorneys said his involvement with a dark fetish website was simply fantasy.
When Valle appealed his conviction, his lawyers claimed the jury could not differentiate between the details of his fantasy and real steps toward making it a reality.
In June, US District Judge Paul Gardephe overturned the earlier conviction, setting conditions for Wednesday's sentencing on misdemeanor charges.
Valle's "depraved, misogynistic sexual fantasies about his wife, former college classmates and acquaintances undoubtedly reflected a mind diseased," Gardephe wrote in his decision to drop the kidnapping conviction. He added the prosecutors could not prove Valle was taking steps to actually carry out the plots.
"Dates for `planned' kidnappings pass without comment, without discussion, without explanation, and with no follow-up. The only plausible explanation for the lack of comment on inquiry about allegedly agreed-upon and scheduled kidnappings is that Valle and the others engaged in these chats understood that no kidnapping would actually take place."
You can share this story on social media: