Window washers dangle from One World Trade Center before being rescued (VIDEO)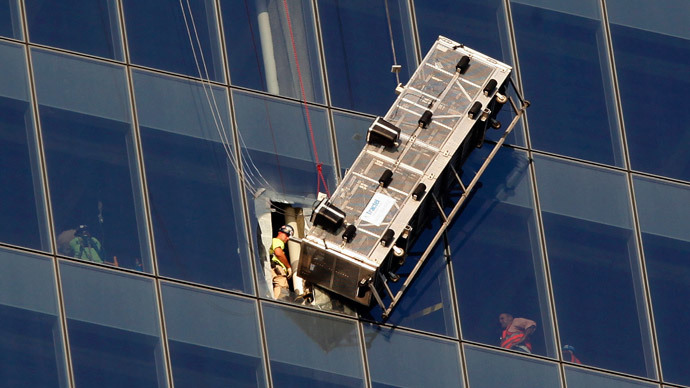 New York City firefighters had to conduct a surprise rescue mission at One World Trade Center on Wednesday, as two window washers were left dangling nearly 70 stories above ground after a scaffolding cable became loose.
The whole episode started around 12:45 p.m., when the window washers – identified by NY1 as Juan Lopez and Juan Lizama – had completed their jobs and were ready to head back up to the top of the 104-story tower. At this point, though, something went wrong with the motor operating the scaffolding, a cable came loose, and the entire platform started to tilt towards its side.
The result was that Lopez and Lizama were left hanging near the 68th floor of One World Trade Center until 2:15 p.m., when firefighters were eventually able to saw through a three-layered glass window and rescue them.
After the New York Fire Department (FDNY) first made contact with the workers and confirmed they were okay, the plan for their rescue began and included two possible options,CBS New Yorkreported.
"We were either going to go with scaffolding and lower it down to the guys, and they would transfer over to another scaffolding safely. And the other option we were going with, which we were involved with, was there's three panes of glass and basically cutting the glass away," said Lt. Billy Ryan with FDNY Rescue One.
Rescue underway for stranded window washers hanging from One World Trade Center. http://t.co/wvtCXqwAG2@Reuterspic.twitter.com/BtkshifyqD

— Jonathan Betz (@jebetz) November 12, 2014
Once safely onto the ground, the two window washers were hospitalized with minor injuries before being released.
"The workers were safely brought in and were transported to the hospital with only mild hypothermia, and that was the extent of the injuries," said fire commissioner Dan Nigro, as quoted by CBS.
Now: #FDNY rescuing workers trapped on scaffolding outside 1 World Trade Center. View from the 68th floor. pic.twitter.com/3c7Oi8EZPD

— FDNY (@FDNY) November 12, 2014
While the company that built the scaffolding, Tractel, has not commented on the incident, the workers' employer, Upgrade Services, blamed it on an "equipment failure of the traction hoist brake mechanism that supports one side of the rig."
The company went on to say its safety procedures worked as intended while firefighters planned their rescue.
"Our dedication to safety and rigorous training paid off today as the men had all of their safety equipment in place and were continuously secured to the rig along with all of their tools and buckets," the statement continued. "Our men remained calm and awaited rescue in an extremely tense and precarious situation."
Wow came to see the One #WorldTradeCenter & window washer is dangling. Supposedly 2 washers are trapped #nycpic.twitter.com/Rhouh6uwuG

— Paige Marie (@PaigeMarieYall) November 12, 2014
FDNY broke window to rescue 2 trapped window washers at 1 World Trade Center @connortryanhttp://t.co/k9NH6e4EUwpic.twitter.com/vktxfiPf7Y"

— J.R. McGrail (@JRMcGrail) November 12, 2014