Rising from the ashes: Amazing time-lapses of One World Trade Center construction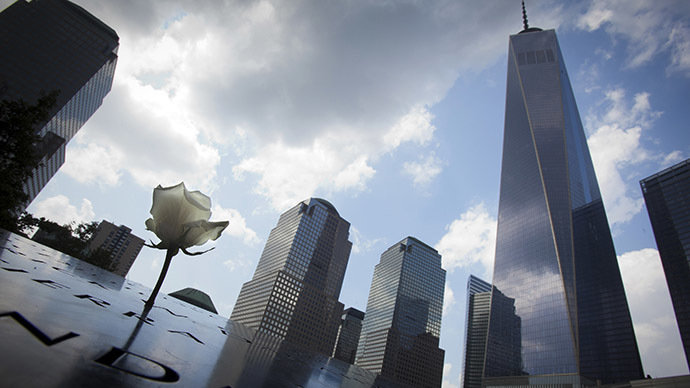 The centerpiece of New York's World Trade Center finally opened for business on Monday, 13 years after the 9/11 terrorist attacks which destroyed the twin towers. RT takes a look at the different stages of reconstructing the world famous landmark.
The 104-story One World Trade Center was the final part of the complex to be completed. The $3.9 billion skyscraper stands out in the Manhattan skyline and is the tallest building in the western hemisphere.
Construction started eight years ago to build the 541-meter structure, despite political and legal wranglings, which threatened to derail the project.
The final piece of the building to be added was the spire. This brought the skyscraper to a height of 1,776 feet (541 meters), which has its own symbolic meaning, as this was the year of the US Declaration of Independence - which was signed in 1776.
"The New York City skyline is whole again, as One World Trade Center takes its place in Lower Manhattan," said Patrick Foye, executive director of the Port Authority of New York and New Jersey, which owns both the building and the World Trade Center site, as quoted by AP.
Given the poignancy of the construction project, US President Barack Obama signed one of the beams that was used to put together One World Trade Center.
One of the architects who helped produce the final design, T.J. Gottesdiener, told AP that the skyscraper was built with steel-reinforced concrete to make the new building as terror attack-proof as possible.
From the northeast corner of the site, the tower overlooks the National September 11 Memorial & Museum, built in the footprints of the twin towers. Its stated aim is to honor those who perished on that sunny September morning. More than 2,700 people died on September 11, 2001, when two hijacked planes crashed into the North and South towers.
Early on during the construction, workers made numerous grisly discoveries of body parts at the site, which was known as 'Ground Zero.'
Sixty percent of the building has already been leased to a variety of different companies, while an observation deck will eventually be opened to the public, which will provide spectacular views of the city.
One World Trade Center "sets new standards of design, construction, prestige and sustainability; the opening of this iconic building is a major milestone in the transformation of Lower Manhattan into a thriving 24/7 neighborhood," Foye said.