Mexican meth replacing American supplies as US labs disappear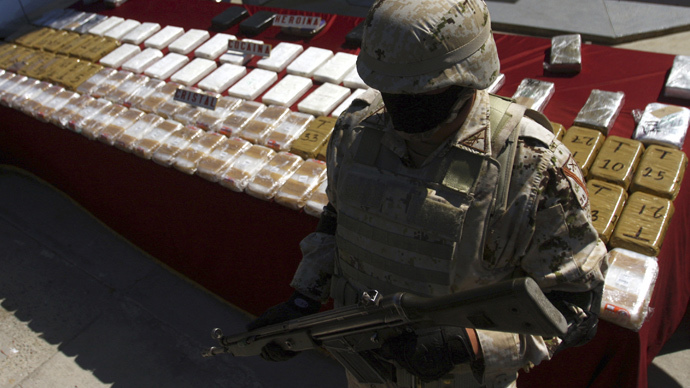 Lab busts of domestic methamphetamine manufacturing have dropped by 40 percent, but use remains high - and Narcotics experts say that is because users are increasingly relying on cheaper, meth from Mexico.
Domestic manufacturing of methamphetamine peaked 2004, when 24,000 labs were seized by the Drug Enforcement Administration. In 2011, the seizures were just under half of that at 11,573. Through stricter laws and enforcements, less meth is being made in America.
However, usage remains high, and it is because meth is increasingly being made in Mexico where it is cheaper and purer.
"The great news is that meth from Mexico doesn't explode, doesn't burn down your house and your neighbor's home, doesn't contaminate your property, doesn't kill your children the way meth labs have done here in the US for decades," Joseph Grellner, chief narcotics officer in Franklin County, Missouri told The Associated Press.
READ MORE:Meth labs move from rural areas to US cities
Federal and state lawmakers began limiting the sale of pseudoephedrine, the main ingredient for meth, in the mid-2000s, thus making it hard to make large batches of the drug. As a result, meth-making operations became more localized – and more dangerous.
Mexican meth supplants at-home labs: Drug cartels turn to old recipe that's cheaper, purer than local version http://t.co/HCWE3gLd8L

— Gangsters Inc. (@GangstersIncWeb) November 10, 2014
Two years ago, portable labs were in high use, making it easier for meth producers to move to US cities and suburbs, with labs disrupting the order that originally forced drug makers to the countryside. This was called the "shake-and-bake" method, which produces the drug in smaller quantities but can be made in someone's car using a bottle of soda. The production is still dangerous and can lead to explosions. Recipes also changed because of the drug restrictions, with cold pills, battery acid and drain cleaner becoming some of the substances used to make the drug.
"Bad guys have it figured out," Rusty Payne of the federal Drug Enforcement Agency said to AP. "You don't have to be as clandestine – you don't have to be in rural country to lay low."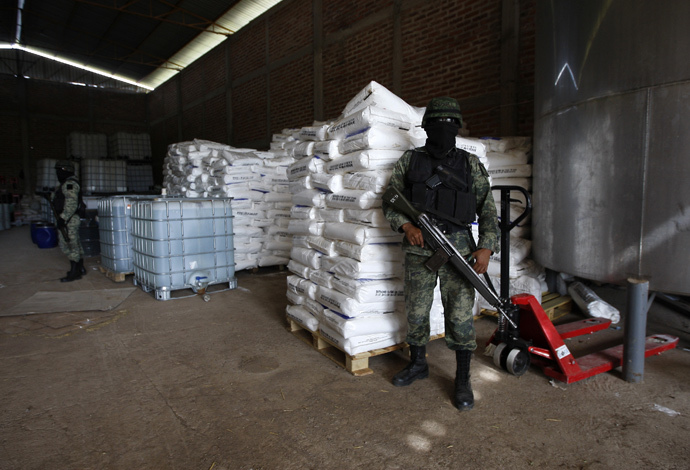 The DEA website lists thousands of national clandestine lab homes contaminated by meth. In New York State alone, the list is four pages long. The same holds true in a state like Arizona.
According to the DEA, Mexican cartels are producing a higher-end product that it is also cheaper. They have refined the process to the point where the meth is both more potent, and its purity increased from 39 percent in 2007 to 100 percent in 2014.
READ MORE:America's $7.6 billion war on Afghan drugs fails, opium production peaks
The Mexican meth cookers are relying on an old recipe known as P2P – which first appeared in the 1960s and 1970s – and uses the organic compound phenylacetone, which is banned in the US but obtainable in Mexico.
Prices, meanwhile, have fallen from $290 per pure gram to around $100 per pure gram, said Jim Shrobe, a special agent for the DEA's office in St. Louis.
"If they're smoking weed or doing heroin in small-town America, there's going to be a market for methamphetamine, too," he added.
READ MORE:Heroin deaths doubled in US in two years
Mark Woodward from the Oklahoma Bureau of Narcotics said the reduction in meth labs has a collateral benefit because they can turn their attention to stopping trafficking.
"We all know that if we get a handle on meth labs, we will still have meth addicts who will work very hard to get their drug," Niki Crawford, Indiana's meth suppression commander, told AP. "This is where the Mexican cartel meth will fill the void."
The "Mexico is taking our jobs" trope is apparently true — at least, when it comes to meth production http://t.co/jrOcSoFKty

— Scott Bixby (@scottbix) November 10, 2014
You can share this story on social media: