President Obama picks first black woman to head Justice Department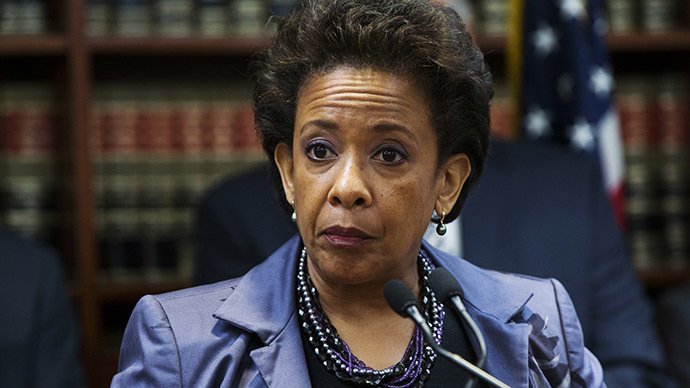 President Barack Obama has announced his nomination of Loretta Lynch to be the next Attorney General of the United States, succeeding Eric Holder. If confirmed by the Senate, Lynch would be the first black woman to hold the position.
Obama has expressed hopes that the Senate would approve Lynch, 55, without delay, stressing that Lynch distinguished herself as "tough and fair."
"It's pretty hard to be more qualified for this job than Loretta," the president said. "Throughout her 30 year career, she has distinguished herself as tough, as fair, [as] an independent lawyer who has twice headed one of the most prominent U.S. attorney's offices in the country."
In nominating Lynch, a 55-year-old US attorney, to be the nation's top prosecutor, Obama is selecting an attorney experienced in cases involving police brutality, terrorism plots, mortgage securities fraud, and money laundering.
"Ms. Lynch is a strong, independent prosecutor who has twice led one of the most important U.S. Attorney's Offices in the country. She will succeed Eric Holder, whose tenure has been marked by historic gains in the areas of criminal justice reform and civil rights enforcement," said the White House Press Secretary in a statement announcing Lynch's nomination.
READ MORE:US Attorney General Eric Holder to resign
A spokesman for Lynch later said she would not discuss her prospects, but her supporters were vocal.
"She has everything that we would want in an attorney general," said Brooklyn District Attorney Kenneth Thompson to the New York Daily News. "She has intelligence, dignity and the ability to be fair, but also tough. I have the utmost respect for her."
Lynch, who grew up in Greensboro, North Carolina, began her career as a federal prosecutor in 1990. While a chief assistant US attorney, she was on the trial team in one of the biggest police brutality cases in New York's history: the broomstick torture of Haitian immigrant Abner Louima in a Brooklyn precinct bathroom.
READ MORE:NYPD officers indicted for assault on teenager, knocking teeth out with gun
Loretta Lynch: "Arresting more people or building more jails is not the ultimate solution to crime in our society." http://t.co/BCAHwDaNbL

— Liliana Segura (@LilianaSegura) November 7, 2014
She originally served as US attorney in Brooklyn from 1999 to 2001 before entering private practice. She returned to the position in 2010 and was appointed to the Attorney General's Advisory Committee, causing her to spend more time in Washington, DC.
READ MORE:Protest against police brutality invades NYC's Times Square
During her second tenure as US attorney, Lynch's office has won convictions in a thwarted Al-Qaida-sanctioned plot to attack New York City subways, and charged the head of a Mexican drug cartel with 12 murders. She also helped investigate Citigroup over mortgage securities sold by the bank – which resulted in the bank agreeing to a $7 billion settlement –and was also involved in the $1.2 billion settlement with HSBC over lapses in the bank's anti-money-laundering controls. More recently, her office brought tax evasion charges against Republican Congressman Michael Grimm, which is scheduled to go to trial next year.
READ MORE:RBS fined $610 mln for Libor-fixing manipulation
Lynch's selection comes as the US Justice Department is investigating the practices and policies of police departments in Baltimore, Philadelphia and Spokane, Washington. The agency has recently completed multi-year investigations into police departments in Albuquerque, Newark and Las Vegas. The Department is also investigating whether the civil rights of African-American Michael Brown (Ferguson, Missouri) and John Crawford, III (Ohio) were violated in their shooting deaths by police.
If confirmed by the Senate, she would become the nation's first black female to hold the job – and the second woman after Janet Reno.
Grassley, incoming Judiciary Committee chair, takes shot at Loretta Lynch: "U.S. attorneys are rarely elevated directly to this position"

— Joel Siegel (@joelmsiegel) November 8, 2014
You can share this story on social media: