US Attorney General Eric Holder to resign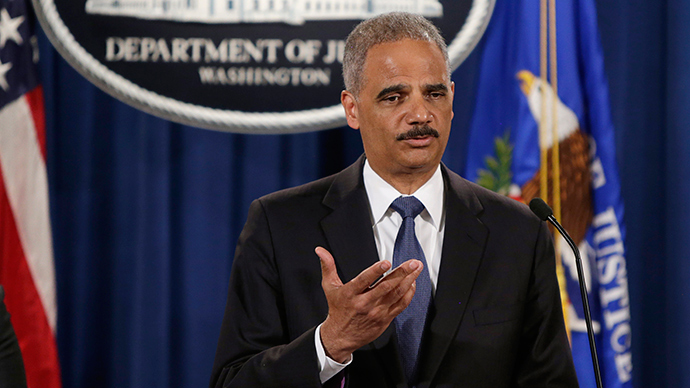 Eric Holder, the attorney general of the United States, plans to resign after five years in office, he said Thursday.
Holder, the first African-American to serve in the Department of Justice's top post, officially announced his resignation plans later Thursday. He has served as attorney general since 2009 after being appointed by President Barack Obama.
According to ABC News, a Justice Dept. official said ahead of Holder's remarks:
"At a formal announcement later today, the attorney general plans to express his personal gratitude to the president for the opportunity to serve in his administration and to lead the Justice Department, which he will call the 'greatest honor of my professional life.' He will note he has loved the Justice Department since, when he was a boy, he watched how, under Attorney General Kennedy, the Department played a leadership role in advancing the civil rights movement. During his tenure as Attorney General, Holder has had Attorney General Kennedy's portrait in his conference room."
One former US government official told NPR that Holder, 63, has been increasingly "adamant" about leaving, and will do as much as soon as a successor is confirmed. According to the New York Times, plans were finalized with Pres. Obama during an hour-long conversation at the White House earlier this month over Labor Day weekend.
Holder "has no immediate plans once he steps down," Reuters quoted one official as saying, and NPR added that the process of appointing a successor could extend into next year.
Multiple major news outlets quoted an anonymous White House official who touted the attorney general's tenure to reporters ahead of Thursday's official announcement.
"Holder's accomplishments have established a historic legacy of civil rights enforcement and restoring fairness to the criminal justice system. Holder revitalized the Department's praised Civil Rights Division, protected the rights of the LGBT community, successfully prosecuted terrorists, and fought tirelessly for voting rights, to name a few," the source said.
The attorney general's legacy time atop the DOJ has not been without incident, though. Serving as the nation's top lawyer for the fourth-longest span of any attorney general in the country's history has also subjected Holder to a fair share of criticism, particularly over his role concerning the so-called Operation Fast and Furious gun-running scheme — which prompted calls by some members of Congress to hold him in contempt. Last year, Holder took heat after it was revealed that, on his watch, the Justice Dept. conducted investigations that targeted journalists from the AP.
From the White House on Thursday, Pres. Obama praised Holder for his term as attorney general and cited specifically the record number of prosecutions conducted by the DOJ in recent years with regards to human trafficking and hate crimes, as well as Holder's efforts on defending voting rights.
"No citizen...should have to jump through hoops to exercise their most fundamental rights," Obama said of the Holder's work on protecting the right to vote.
"He believes, as I do, that justice is not just an abstract theory. It's a living and breathing principle," Obama said of the outgoing AG.
You can share this story on social media: