​Personal Big Brother: US man wants drones for neighborhood watch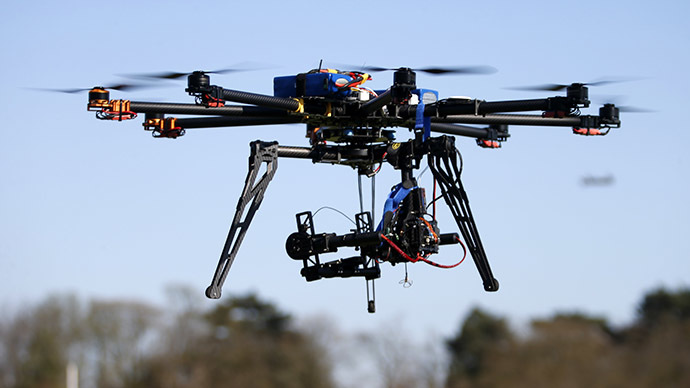 When someone thinks "neighborhood watch," it is unlikely that an army of drones hovering over a residential suburban home is what comes to mind. For one Mississippi man, though, that is exactly the kind of security he is trying to get.
In fact, Robert Estes of Southaven, Mississippi, told local WMC News that he is looking to "change the drone industry" with his new idea: a fleet of airborne drones outfitted with infrared thermal imaging that fly thousands of feet high.
His custom-built drones can even pick up movement inside a house or a car.
READ MORE:California man uses surveillance drone to keep an eye on cops from above
"You can do good things with this, or you can do bad things with this," Estes said, acknowledging that drones are not inherently a force for good, particularly when it comes to privacy.
Still, Estes insists his fleet of drones can be used to help the local community. He said his aerial vehicles have already been deployed in for emergency trainings, infrastructure inspections, and missing persons searches, which allow him to survey a 100-acre field easily.
Dude with tons of custom-made drones: "You can do good things with this, or you can do bad things with this" http://t.co/ZrsYWZQbZw

— Kia Makarechi (@Kia_Mak) November 7, 2014
Additionally, his actions are legal under the Federal Aviation Administration's current guidelines, which allow personal drones to fly anywhere under 400 feet in the air. The FAA continues to work on laying the groundwork for drones operating American airspace, though over the summer a report showed full integration would have to wait until after Congress' September 2015 deadline.
In Southhaven, though, some neighbors are already concerned over Estes' moves.
"I don't need someone looking inside my house," Dorothy Murray, a mother of six, said to WMC. "It's an invasion of my privacy."
Private force of surveillance #drones equipped with thermal imaging cameras for "neighborhood watch." http://t.co/nq3LteSl5g#privacy

— Harley Geiger (@HarleyGeiger) November 7, 2014
That sentiment was echoed last year by USA Today's Don Campbell, who argued Americans should be more concerned about personal drone use than they had been up until then.
"When you read or sunbathe in your backyard, which, in my case, is enclosed by a 6-foot wooden fence, you're looking for peace and quiet — and privacy," he wrote. "You don't expect a drone to hover overhead like a dragonfly, fulfilling someone's voyeuristic cravings. If you wanted to be observed, you'd move your lounge chair to the front yard."
READ MORE:Supreme Court justice warns of drones creating 'Orwellian' future
The Supreme Court also weighed in on the issue recently, when Justice Sonia Sotomayor cautioned drones could end in an "Orwellian world."
"There are drones flying over the air randomly that are recording everything that's happening on what we consider our private property," she said in September.
"That type of technology has to stimulate us to think about what is it that we cherish in privacy and how far we want to protect it and from whom. Because people think that it should be protected just against government intrusion, but I don't like the fact that someone I don't know…can pick up, if they're a private citizen, one of these drones and fly it over my property."