California Senate bans warrantless drone surveillance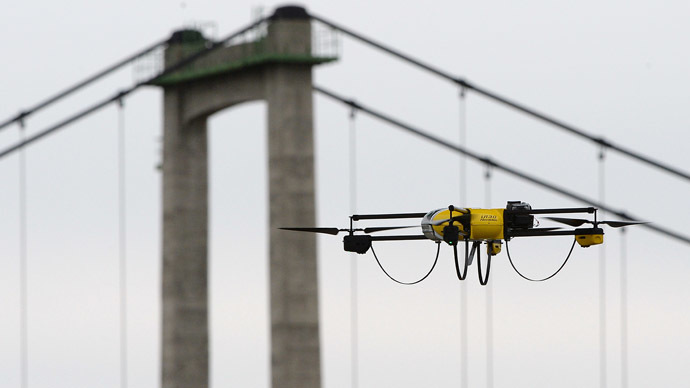 The California State Senate has approved a bill that will drastically restrict how law enforcement agencies from San Diego to San Francisco can use unmanned aerial vehicles, or drones, for policing purposes.
On Tuesday, the Senate voted 25-8 in favor of the legislation, AB 1327, setting it on course to go before the State Assembly once more for final approval of new amendments tacked on since lawmakers in that chamber last saw the bill in late January and passed it by a margin of 59-5.
Should the Senate give the bill another go-ahead, then the legislation will next likely land on the desk of California Governor Jerry Brown, a democrat, to be signed into law. Once enacted, it will limit law enforcement agencies from conducting drone surveillance by forcing police departments to obtain warrants before putting UAVs in the air, except in certain circumstances, like fires and hostage situations. Additionally, any footage recorded by these aircraft would have to be destroyed by the agencies that collect them within one year.
"The potential for abuse of drones is high and we need to be vigilant to ensure our Constitutional rights are protected," the bill's co-author, Democratic Senator Ted Lieu, told Reuters.
"I think it's very important that we have the external oversight that a warrant provides," Chris Conley of the American Civil Liberties Union's Northern California office told Capital Public Radio ahead of this week's vote. "It would help make sure that drones are used appropriately to help keep the community safe, and not in ways that could invade individual rights."
Despite the overwhelming support for the amendment from both the state's Assembly and Senate, however, the bill has not brought on board the endorsement of everyone, including police groups that oppose restrictions on their ability to conduct surveillance missions at the drop of a hat.
The legislation "is an inappropriate attempt to impose search and seizure requirements on California law enforcement agencies beyond what is required by the 4th Amendment of the United States Constitution," the Los Angeles District Attorney's Office said to Reuters in their opposition to the bill.
"We don't think you should have to go through a court process in order to deploy one of these things when it's the same technology that's on someone's cellphone," Aaron Maguire of the California State Sheriffs' Association added to CAP for a report published earlier this month.
And while dozens of law enforcement agencies across the US have expressed interest in using drones, the Los Angeles Police Department has been one of only a few, until now, with the means to do as much: in May, RT reported that the LAPD two Draganflyer X6 aircraft from the Seattle Police Department, which obtained the drones with federal grants but then ditched them about an array of concerns were raised by area privacy advocates.
"If we do deploy these, not sure we ever will, it'll be based on a strict set of written guidelines approved by the police commission," LAPD Cmdr. Andy Smith told the Los Angeles Times earlier this month with regards to the drones. "Absent approval from the police commission and public acceptance, we're not going to use them. Chief Beck said if it compromises public trust, we won't use them."
Nevertheless, the mere ownership alone of the aircraft has been enough to attract oppositions from privacy-minded Los Angelinos, who have formed a group called the Stop LAPD Spying Coalition, according to the Times, to rally against the use of police drones.
"As a community, we're not here to be experimented on," Jamie Garcia, a Boyle Heights nurse and member of the coalition, told the Times earlier this month.
"We don't need a discussion about their value, we don't need to come up with laws on how to use them—we just don't need them, period," Eden Jequinto, a law student at UCLA and anti-drone activist, told Vice's Charles Davis last week.
Meanwhile, LA Mayor Eric Garcetti said in June that the LAPD would keep drones grounded until a policy is in place that's adopted after sufficient input from the community.
"I don't want these things up in the air until we know for sure they're not going to be used against innocent folks," Garcetti said according to a local CBS station.
In September 2012, an Associated Press poll found that more than one-third of Americans fear their privacy will suffer if drone surveillance becomes a mainstream tool of domestic law enforcement. The Federal Aviation Administration has so far approved the use of drones for non-commercial purposes across the US with some restrictions while the FAA wrestles with adopting formal rules. By the end of the decade, the agency expects as many at 30,000 UAVs will use US airspace.
You can share this story on social media: