'Overtly racist' South Carolina exit poll asked if blacks are 'too demanding' of equal rights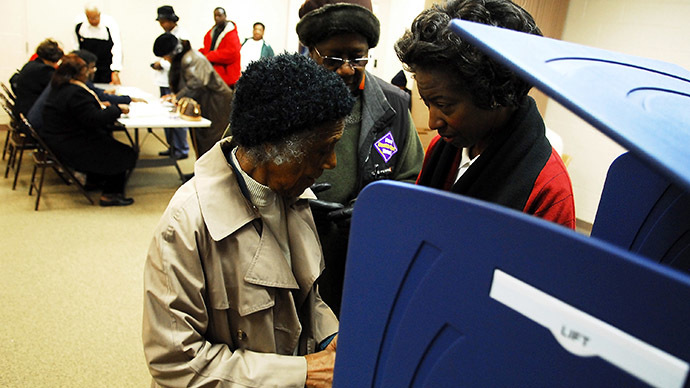 South Carolina voters are complaining that several of the questions in an exit poll conducted in the state on Tuesday were racist. They were asked, among other things, if African-Americans are still hindered by the effects of slavery and discrimination.
The poll ‒ conducted by David Woodard, a political science professor at Clemson University ‒ asked voters if they agreed or disagreed with statements such as: "Over the past few years, blacks have gotten less than they deserve," or "Blacks are getting too demanding in their push for equal rights."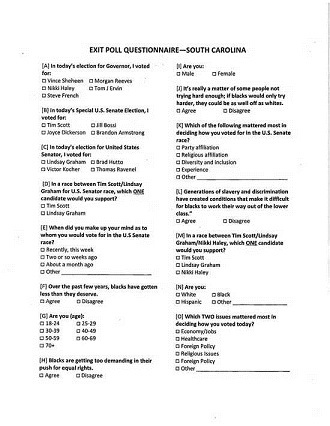 "I took this poll in Seneca," wrote Matt Alexander, on the WSPA Facebook page. "I didn't answer some of the questions. They were overtly racist."
"I actually thought it was a joke," wrote Bonnie Lemley. "Apparently, it wasn't."
Woodard told WSPA he was trying to prove that race has no bearing on whether or not whites vote for political candidates.
"It was designed to take advantage of a political moment of Senator Tim Scott's election as the first African-American from a southern state since reconstruction," he said. "It was not designed to be provocative."
Woodard said the controversial statements mentioned in his polls were taken directly from the Modern Racism Scale, which has been used by pollsters for decades. He was surprised by the reaction.
"We do this every day. We didn't think too much about it until we got it out in the field and saw that there was some reaction," he said.
Modern racism, according to the theory, is less about segregation and more about "voting against political candidates who are Black or sympathetic toward Blacks and voting on policies designed to assist Blacks, such as affirmative action and school integration programs," PJ Henry, an associate professor of psychology at New York University Abu Dhabi, wrote in the 2010 book 'The Encyclopedia of Group Processes and Intergroup Relations'.
In case you were wondering, racism is alive & well in SC. The fact the the poli sci prof saw no prob w/ Qs is absurd. http://t.co/p0mJJGS0oV

— Jessica Vitak (@jvitak) November 6, 2014
"The original intent of the [Modern Racism Scale] was to create a theoretically driven and more indirect measure of racism relative to old-fashioned, or blatant, forms of racism. The scale is typically administered using paper-and-pencil surveys or through telephone interviewing," Henry wrote. "The items capture the themes… such as agreement with the statement 'It's really a matter of some people not trying hard enough; if Blacks would only try harder they could be just as well off as Whites'."
That statement was, in fact, one of the questions the South Carolina exit poll asked.
One woman wrote about her experience in an email to AyDeeTheGreat at DailyKos.
"This was the first time I had ever been asked to do an exit poll so I will admit I was kind of excited. I hear about exit polls all the time on the news so I was happy to be able to say I had taken part in one," she said. Finding the questions "offensive in nature," she asked the pollster about them, and learned it was a questionnaire from a public university in the state.
"I was instantly confused because I thought she was going to give me a name of a governmental agency in Columbia that must be in charge. No. This was a faculty member at the institution I not only work at, but have a degree from," she continued. "Why would Clemson University be supporting such questions being asked at a poll? Can anyone just stand at a polling station, hand out questions and call it an exit poll? And honestly, the most glaring question to me is what type of research is this?"
An exit poll questionnaire in SC yesterday. This is shameful! pic.twitter.com/MiS0FatnU5

— Auztin (@troyauztin) November 5, 2014
But exit polling is used not just as a prediction of which candidates will win, but to find out why as well.
"The roll [sic] of an exit poll is not to provide data upon which weighty decisions are made. The roll of an exit poll is to determine why people voted the way they did," Bob Collins of Minnesota Public Radio noted. "Is it racist to try to determine if there's a racist component of the way people vote?" he then asked.
Woodard told South Carolina Radio Network that preliminary exit polling showed that Scott garnered support for a number of reasons, any of which could indicate he's a rising political star.
"I was really impressed with the range of reasons for why people voted for Tim Scott," Woodard said. "They were impressed with his position on the issues, they were impressed with his religious convictions, his social convictions, and his economic message. They were all across the board for supporting him."
Woodard partnered with Paul White Jr., a doctoral candidate in political science from University of South Carolina, on this project. About 1,000 exit polls were handed out. White conducted the survey in Columbia, but voters in Charleston, Greenville and Spartanburg also received the questionnaire.
"You had liberals getting offended. You had conservatives getting offended. It was all over the place," White told WSPA.
Woodard and White plan to publish the finding in a research paper slated for release in January.