N-bomb: NYC monthly under fire after calling Obama n****r in anti-racism piece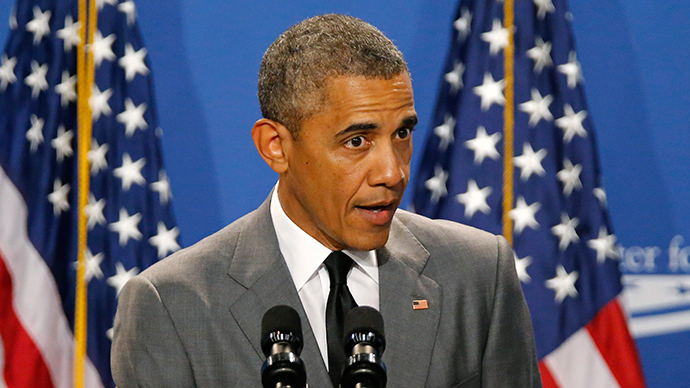 A New York city newspaper sparked controversy by publishing a piece criticizing allegedly racism-driven anti-Obama bias among conservative voters headlined 'The n****r in the White House'. Without the asterisks.
The West Village News is hardly denying that they used the word, which would be considered highly offensive by many of its readers, for the shock value, but says it was needed in order to draw public attention to the issue.
"[The author] Jim Collier is a straight talking man so when a few months ago he wanted to use the word 'nigger' in an article to shock us into accepting that there still are people who believe and use this outrageous word, our editorial staff took collective objection and we did not print it," said a preface to the article by editor and publisher George Capsis.
"The editorial staff continues to object. In this article however Jim reminded me that the New York Times avoids using the word which convinced me that WestView should," he added.
Collier's piece focused on Republican congressional primary last month, in which David Brat defeated House Majority Leader Eric Cantor. He argued that Brat's surprise victory stems from his campaign's wide use of Cantor's association with President Barack Obama, which undermined votes for the representative in Virginia's conservative constituency.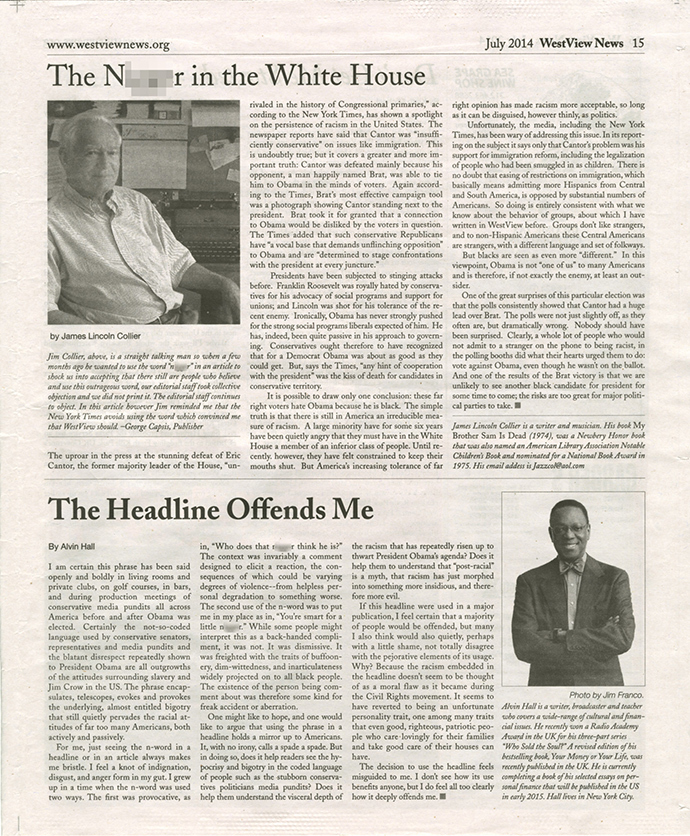 "It is possible to draw only one conclusion: these far right voters hate Obama because he is black," the author argued. "The simple truth is that there is still in America an irreducible measure of racism. A large minority have for some six years have been quietly angry that they must have in the White House a member of an inferior class of people."
He added that the disparity between opinion polls that favored Cantor and the actual result of the poll backed this assessment.
"Clearly, a whole lot of people who would not admit to a stranger on the phone to being racist, in the polling booths did what their hearts urged them to do: vote against Obama, even though he wasn't on the ballot," he said.
The controversially-titled article shares the page with another piece called 'The headline offends me' by author Alvin Hall, who sympathized with the Collier's message, but not its form.
"The decision to use the headline feels misguided to me. I don't see how its use benefits anyone, but I do feel all too clearly how it deeply offends me," he said.
Unsurprisingly, the newspaper issue raised some eyebrows in West Village when it hit the streets.
"It's disrespectful in any context to refer to the president of the United States as the N-word," local resident Eugene May told the New York Post.
Fellow West Villager Joe Megie, a self-described "black Republican," also blasted the headline: "My first take is, it's sad."
The headline plays on the notorious racist poem by an anonymous author published in US newspapers after President Theodore Roosevelt invited in October 1901 his African American adviser, Booker Washington, for a dinner in the White House. The move sparked condemnation from southern politicians and media.